The Chemical Valley Project at UNO Fest 2018. A review.
Intrepid Theatre's UNO Fest, now in its twenty-first year, runs May 9-19, 2018 in Victoria BC.  It features eighteen shows, including two as part of the new Family Fest Series, and a spotlight on women's indigenous voices with a guest indigenous curator, Yolanda Bonnell.

I'll be featuring interviews, previews and reviews during the festival. Follow http://janislacouvee.com/tag/uno-fest-2018/ for all my coverage.
While Indigenous land defenders and protestor allies line up against the Kinder Morgan pipeline in BC, elsewhere in the country similar actions are taking place.  The Chemical Valley Project by Kevin Wong and Julia Howman (Broadleaf Theatre) seeks to illuminate the murky territory of indigenous rights, environmental policy, reconciliation and decolonization.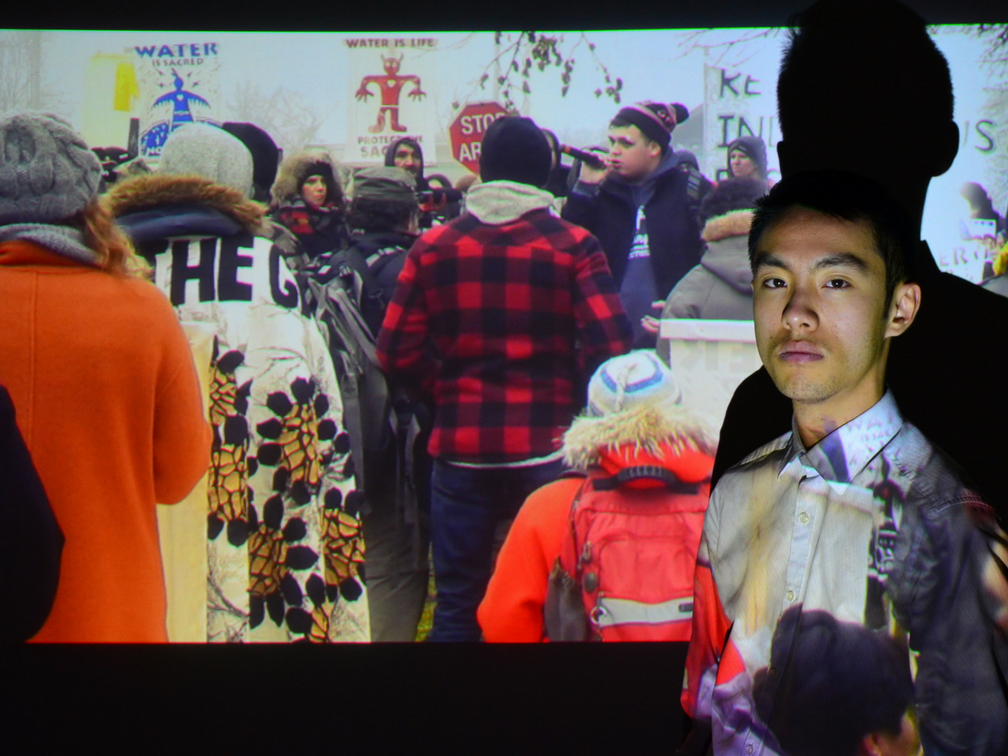 When bright and inquisitive minds encounter a story that demands to be told, the result is a unique blending of shadow puppetry for the digital age, documentary video and audio, and solo storytelling.  Wong uses deft manipulation of a small scale screen—unfolding and folding cloth to change the size of the image—and an ordinary gooseneck lamp to create multiple effects that astonish with their immediacy and intimacy.
Beginning with an initial encounter to Anishnaabekweg land defenders, Vanessa and Lindsay Gray from the Aamjiwnaang First Nation near Sarnia, via a YouTube video, Wong followed his natural curiosity down a rabbit warren of information, unravelling layers of cultural understandings very different from his suburban first generation Canadian upbringing in Scarborough.
His storytelling style is clear and heartbreaking in its chronicling of environmental destruction and catastrophe—the innumerable factories pumping chemicals non-stop into the air, pollution of the water, instances of chronic conditions far above the norm.
Throughout, Wong centres the story on the sisters and their battles to stop the Line 9 pipeline. He's a judicious ally who has incorporated video from Lindsay and Vanessa, and has taken their suggestions to amplify, rather than appropriate, their voices—the sisters are credited as dramaturgs.
At one point, conflicted about his right to tell the story and seeking guidance, Wong consulted Anishnaabe elder and theatre professor Dr Jill Carter who asked him where he was from (Hong Kong) and pointed out "you're from a colonized place too." Wong's studious examination of his relationship to the land and his status as an immigrant colonizer serves as template for anyone who wishes to begin or further their own reconciliation journey.
Despite the heavy nature of the subject, and the overwhelming realization there is much work to do to restore the framework established with the Two Row Wampum and original treaties, The Chemical Valley Project is hopeful and vital theatre.  Many years ago Maya Angelou said "when people know better, they do better".  Vanessa and Lindsay Gray, the Aamjiwnaang First Nation and a host of others across this country we call Canada, are counting on us to do so—to begin down a different path.
The Chemical Valley Project is moving and disruptive theatre, a call to action beautifully told and executed, and a must see for any modern Canadian.  A new generation of voices is ready for new audiences.
[vsw id="JfSOvQwxDkM" source="youtube" width="425″ height="344″ autoplay="no"]
In Sarnia, Ontario, an Indigenous community of 800 residents is smothered by the Canadian petrochemical industry. Two siblings from Aamjiwnaang First Nation, Vanessa and Lindsay Gray, have dedicated themselves to fighting environmental racism and to protecting their community's land, air and water.

A unique blend of documentary-theatre, playful projection design, and a charismatic script and performance engage and implicate audiences in "The Chemical Valley Project". This urgent production delves into difficult conversations on Indigenous treaty rights, the nature of contemporary Canadian identity and values, and Canada's notorious "Chemical Valley".
The Chemical Valley Project by Kevin Wong and Julia Howman, performed by Kevin Wong
Broadleaf Theatre Tkaron:to/Toronto
UNO Fest 2018
May 10 at 6:30pm, May 11 at 6:30pm, May 12 at 8:30pm
Tickets: $18
Documentary theatre/multimedia/Indigenous Voices
Rating: 12+
Duration: 65 minutes
Further reading:
http://www.broadleaftheatre.com/chemical-valley-project/
https://ojibwe.lib.umn.edu/main-entry/anishinaabekwe-na
http://anishinabeknews.ca/2015/01/07/sisters-host-toxic-tours-of-their-home-in-canadas-chemical-valley/
http://www.broadleaftheatre.com/chemical-valley-project/
https://aamjiwnaangsolidarity.com/
https://thelinknewspaper.ca/article/vanessa-grays-calls-for-allies-against-pipelines
Show History:
A workshop performance of The Chemical Valley Project won Theatre Passe Muraille's fall 2016 Crapshoot! receiving praise for its captivating projections, visual magic, surprising theatricality, and vital message. The full show debuted at the 2017 SummerWorks Performance Festival and was a Now Magazine Critics' Pick and also was an honourable mention for the Theatre Centre Emerging Artists Award.
Since 2014, Broadleaf Theatre has produced original theatre productions that explore local, national and global environmental issues from a Canadian perspective. Broadleaf Theatre creates immediate, accessible, and engaging theatre to raise awareness about local and little known environmental issues. Learn more about Broadleaf Theatre and their projects at broadleaftheatre.com.
The Chemical Valley Project tours to BC in May, to Germany in June, and throughout Ontario in 2018/19. To bring the project to your community contact broadleaftheatre@gmail.com.
Credits:
Kevin Matthew Wong – Co-Creator / Writer / Performer / Concept
Julia Howman – Co-Creator / Production Designer
Vanessa Gray – Dramaturgy and Advisement
Lindsay Gray – Dramaturgy and Advisement
Minha Lee & Michael Henley – Music
Disclaimer: I received a complimentary ticket to attend The Chemical Valley Project.