The Handmade Tale by Paper Street Theatre Co. Interview with Missie Peters.  February 17-20, 2016.
Paper Street Theatre Co, for the last show of their 2015-2016 season, focuses on the dystopian fiction of renowned Canadian writer Margaret Atwood.  What a challenge! Regular improv player Missie Peters kindly answered questions about this up-coming show.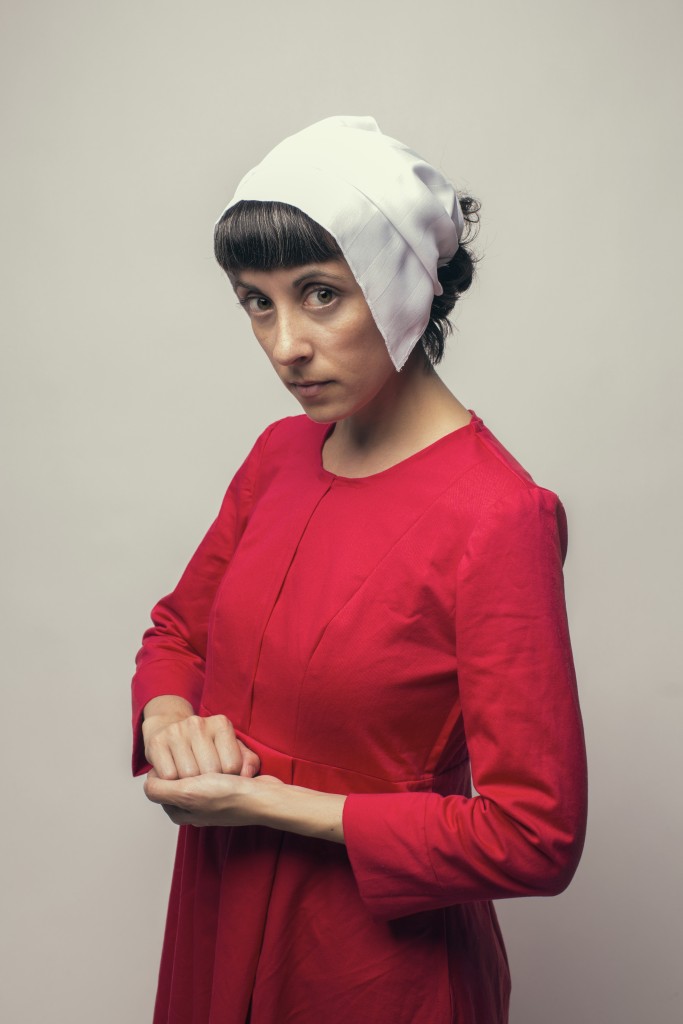 Photo: Derek Ford

Atwood's dystopian fiction started with The Handmaid's Tale, continued in Oryx and Crake, The Year of the Flood and MaddAddam. Then she wrote Positron and Stone Mattress (short stories). Which books did you read to prepare for The Handmade Tale?
We've read the Handmaid's Tale and Oryx and Crake. I'm a fan of Atwood, so I've also read some of her short stories set in the same world as the Handmaid, but I haven't read the rest of the triology. But we've read enough as a cast that we have a sense of how she approaches dystopian fiction.
Atwood herself called the fiction dystopian rather than science fiction. Can you comment on your interpretation and which aspects you will be highlighting in The Handmade Tale?
As with all Paper Street shows, we start with the language, so hopefully you'll hear her sentence structure, her love of description, her stark prose coming through in the show. As for how we'll approach exploring the dystopia, we'll be asking the audience for an event (like end of fertility, or corporate genetic modification) and then we'll explore the social implications of that.

The thing that is so beautiful about Atwood is she doesn't give you a linear narrative, she lets you piece it together yourself, so we'll be doing that too, through a series of vignettes or scenes.
Any quick search of Atwood and feminism will yield scores of scholarly articles with widely divergent points of view. As feminists, do you have a particular lens you will be filtering The Handmade Tale through?
Hmmm, I think as improvisers we draw from our own experiences (and yes I believe most of us would identify with feminism). As for how we'll approach the show as a cast, it will be more about exploring the impacts of catalysmic events that create dystopia – how does society change and who is most affected?

If shows like Improv is For Closers (inspired by Mamet), A Fistful of Improv (inspired by the Old West and westerns) and An Improvised Quentin Tarantino were heavy with a certain machismo and replete with roles more closely associated with men, does the opposite hold true for The Handmade Tale? What is the place of the male actor?

Certainly we chose this style, not only because we're fans of dystopic fiction and Atwood, but also to put our female improvisers front and center. So the lead will be a woman. But Atwood does a wonderful job of exploring the relationships of men and women within dystopia, so the male improvisers role will be to support the story and show that interaction.
Atwood is incredibly literary, mordant and witty. What aspects of her style appeal to you the most? How do they translate for an audience?
As a poet, her word play is what appeals to me most. She is so willing to take time out of the story to make a clever pun or find the double meaning in what she's saying. We're practicing that so we can do it on stage as well.
What inspired you in creating the costumes? Do you have comments on form?
I design the costumes and for this show I wanted the women's costumes to have that iconic handmaid red look, but also be comfortable to wear and evoke a feeling of future – because obviously we won't be in the same world as Handmaid. So the dresses are full length, long-sleeved, but made out of jersey and quite form fitting, with an asymmetrical overlay. I think they look great and quite startling.
Somehow, I imagine the music of a dystopian world to be a combination of ethereal and jarring—otherworldly. Are you able to provide any hints on composer Dan Godlovich's take?
This is where we are so in debt to Dan and his talents. He's working on creating atmospheric music that sounds something like chamber music that has been remixed or garbled – the past distorted by the future. It will be otherworldly for sure.
What has been the biggest challenge with this work? The biggest (most pleasant) surprise?
I think the biggest challenge has been reading Atwood's work – she is not a fun read. It's hard but important work. The biggest surprise is definitely the word play we've found in her work – she's a writer's writer!
What would you say to a potential audience member who is not at all familiar with Atwood's dystopian fiction?
I'd say that if you liked the Hunger Games, but were looking for something more adult, measured and thoughtful, you'll love Paper Street's approach to improvising Atwood. I think we're all familiar enough in today's society with dystopias that anyone will enjoy the show.
Anything else I need to know or should have asked you?
Just that tickets are on sale now at Eventbrite: https://www.eventbrite.com/e/the-handmade-tale-tickets-19355054489
The Handmade Tale by Paper Street Theatre Co
February 17-20, 2016 at 8pmIntrepid Theatre Club #2-1609 Blanshard Street (at Fisgard)
In a dystopian future Paper Street's improvisers struggle with gender politics and identity – and to stay alive. Inspired by the works of renowned Canadian author Margaret Atwood, this show captures her stark prose and her futuristic vision. If you've ever loved a book by Atwood, this is one show you cannot miss.