The Old Curiosity Shop presented by Company C October 19-22, 2017. An interview.
The largest Company C cohort ever—sixteen students–takes the stage October 19-21st at the CCPA Performance Hall in Simon Webb's adaptation of Charles Dickens The Old Curiosity Shop. Founded in 2005 to offer a third year repertory program to graduates of the Canadian College of Performing Arts, Company C provides these emerging artists with opportunities to not only perform onstage, but to also have a hand in the many aspects of creating a show. From costumes and choreography, to sets and lighting, music and sound, stage management and front of house, public relations and ticketing—each company member will have a multitude of responsibilities.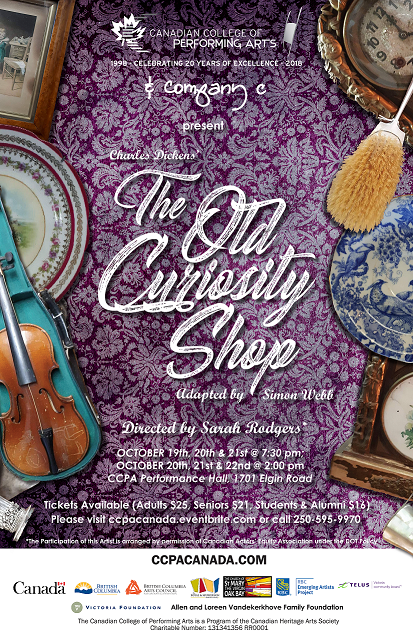 Every season, professional directors are engaged to work with the company. Sarah Rodgers, who directed the initial run of The Old Curiosity Shop at United Players in Vancouver, is thrilled to be working with a cast of trained musical theatre students, and has added more song and dance as a result (Kristina Roberts–choreographer).
Staged authentically to reflect the period—1825—sound will be created without the use of technology.  Musical director Darian Ngai relies on live foley and period instruments.
Rodgers (who Victoria audiences may remember as the director of Billy Bishop Goes to War and a cast member of The Number 14—Belfry Theatre) places great emphasis on natural storytelling and an earthy approach, again in keeping with the time period.  Audiences will notice a palette of greens and browns and the timeless appeal of the antiques in Grandmother's shop. Aspects from the 2014 United Players production have been adapted with permission of the designers—Carolyn Raponos (sets) and Pat Unruh (music).
The characters in The Old Curiosity Shop range from children (Nell played by Megan Littlejohn is 14) to young adults (Dick Swiveller—Willie Knauff–is in his 20s), adults (Quilp—Vinny Keats) and elders.  Each has a unique way of embodying their character.  Littlejohn notes that "Nell is really an old soul, while Grandmother is more of a child.  It's easiest if I believe I am 14 rather than try to play 14".
Knauff states, that of all the characters, Swiveler changes the most, and grows in emotional maturity—"as an orphan, he gets to come into his own age"—while Keats points out that Quilp (in  his 40s) is actually a lot more childish in his temperament, easily irked and seeking power.
Webb, who wrote the original adaptation because he was "told on good authority it was unadaptable, so of course I just had to" has rewritten aspects of the show to correspond to the talents of this ensemble. The character of Jarley, played by Raissa Souto, an international student from Rio de Janeiro, becomes an energetic Brazilian travelling through England with her wax works show.
Dickens wrote The Old Curiosity Shop as a wildly successful serial; there are tales of people storming the wharf in New York to find out what happened to Little Nell when the last installment was delivered.
People with no previous knowledge of The Old Curiosity Shop will find a complete cast of colourful, and archetypal, Dickensian characters—"we'll be looking after the audience, it's a big rich story, that unfolds clearly, we'll hold their hand and take them through it" says Rodgers.  "I love theatricality, but not at the cost of the story".
Company C is very pleased to present its first show of the season: an adaptation Charles Dickens' The Old Curiosity Shop, written by Simon Webb! Under the direction of *Sarah Rodgers, the company will take you to London, England in 1825, to tell the tale of Little Nell and her Grandmother, who embark on a journey across the English Midlands to escape Mr. Daniel Quilp, a cruel crook and loan shark who will stop at nothing to get his revenge. Also in pursuit are a rag tag group of comic characters, who Nell and Grandmother meet along the way.
The Old Curiosity Shop by Charles Dickens, adapted by Simon Webb
Directed by Sarah Rodgers
Company C, the Canadian College of Performing Arts
CCPA Performance Hall, 1701 Elgin Road
October 19 at 7:30pm, 20/21 at 2pm and 7:30pm and 22 at 2pm.
Tickets: $16-$25 via Eventbrite https://www.eventbrite.ca/e/charles-dickens-the-old-curiosity-shop-tickets-37771385230?aff=eac2