Victoria Fringe 2015 My local picks.
I am an avid supporter of the Victoria Fringe Festival, now in its 29th year. It didn't start out that way though. Other priorities took precedence and it wasn't really until 2006 that I became a Fringe fanatic. That year was the 20th anniversary and I saw more shows than in the 20 previous years combined. In the intervening years, I've caught up—I volunteered from 2007 to 2013, regularly see 30-40 shows every year, and last year, for the first time, posted snippet reviews under the headline "Dispatches from the Victoria Fringe". Look for more reviews this year.
I get to applaud local artists I've met over the years, and be introduced to people whose work is, as yet, unknown to me. During the rest of the year, I also attend theatrical productions, many from emerging companies and artists. These recommendations are personal—based on my knowledge and tastes. I hope you find them helpful.
Fringe is all about taking risks—this year's slogan is even "Fringe at Your Own Risk". We are fortunate indeed to have a series of festivals across Canada that is un-censored and un-juried. Take advantage of the opportunity to see original and live art for the modest price of $9-$11 (plus Fringe button $6 good for all shows). Did you know that all box office proceeds go to the artists?
The shows below are listed, by venue, as they appear in the Fringe program. I may add a few more after the Preview Night (Wednesday August 26th). Happy Fringing!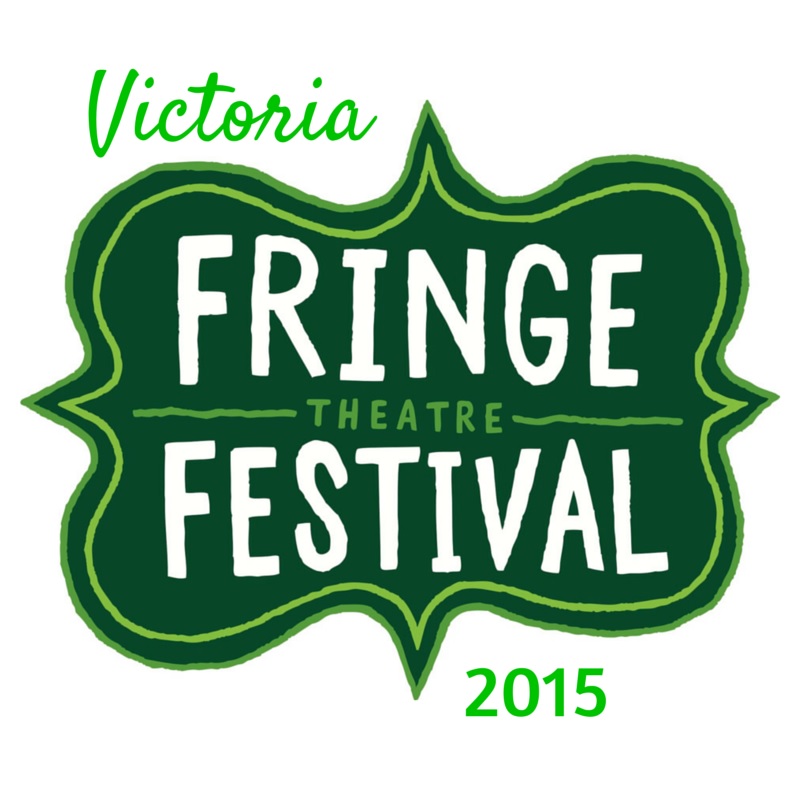 Venue 1 Victoria Event Centre 1415 Broad Street
Sperm Wars by Random Samples Collective with Jeff Leard
Jeff is a graduate of the University of Victoria's Phoenix Theatre, and an alumnus of the Story Theatre Company, founded over 30 years ago by his father Jim Leard.
His shows are highly kinetic—in fact when I think of physical theatre and the ability to conjure complete worlds with a paucity of props, by body alone, he is one of a handful of masters. Think zany and frantic—in the best possible sense of the words. The action zips along—it's brash, raunchy and funny.
Channeling sci-fi shows, including Star Wars, this is not a show for the easily offended. Leard has toured and honed Sperm Wars on the Fringe circuit since 2014.
Adult themes.
Sperm Wars takes place in a brutal, futuristic, utterly absurd universe. As sperm and eggs collide in the battle for Uteran supremacy tales emerge of love, loss, betrayal, spaceships, sword fights, life, and death before birth. The result is gametocidal tragedy, sci-fi hilarity, and one surviving oddly placed robot.
"?????An epic masterpiece" – Edmonton Journal
Ha! Created by Wes Borg and Chris Craddock
I first had a chance to see Wes Borg onstage in an earlier version of Ha! in 2008 shortly after he moved to Victoria from Edmonton where he was a member of the seminal comedy troupe Three Dead Trolls and A Baggie.
Since then he's become a regular in the local performing arts community as a member of Atomic Vaudeville, host and creator of the Phillips Comedy Night at the Victoria Event Centre, and creator of The Derwin Blanshard Show, among other gigs. He's also a musician with an impressive list of satirical songs to his name.
Wes is a multiple M Award winner and a nominee for the Canadian Comedy Awards.
Ha! is a present-day fairy tale told to a one-year old that tells the story of a couple of kids from Saskatchewan who leave the farm and move to Toronto to follow their dreams of becoming "Canadian Famous".
SOUL=??? written, created and performed by Maxine Fisher
The Hebrew word for soul, pronounced nephesh can also mean "living being, life, self, person, desire, passion, appetite, emotion."
Maxine Fisher is a musician, singer, actor, improviser and mother. Soul is her first solo show. I met Maxine when she performed in Ghosts of the Plaza in 2012 and was impressed with her lush voice. Onstage she brims with fun and enthusiasm, creating characters you can relate to easily.
Soul is a personal show that promises "a life-affirming journey with laughter, tears and everything in between".
All shows are fundraisers for Help Fill a Dream.
www.maxinefisher.com
The Problem With Facebook. Written and created by Ian Simms.
Simms is another UVic Phoenix Theatre alumnus, whose previous credits include, as playwright, The Stephen Harper Play (Victoria Fringe 2014) and Agency and Empathy (YOU Show Intrepid Theatre), in addition to roles with Langham Court Theatre (Pride and Prejudice) and Victoria's Shakespeare by the Sea (Hamlet). He has a rich and fertile mind that focuses on contemporary issues and mores.
The Problem with Facebook is "a show about honesty, the subtest that flows through every social media message, and our perspective through the lens of technology".
www.facebook.com/theatheatre
God Is A Scottish Drag Queen II written and created by Mike Delamont
Mike Delamont is a perennial Fringe favourite, gaining notoriety for his deft handling–as a cross-dressing, deity with an accent—of everything from hipsters, whales and Noah to camping and religion. His seemingly off-the-cuff delivery and conversational style endear him to audiences from Orlando to Ottawa, Winnipeg to Victoria. Quips flow easily. Above all, it's the ability to ask the questions most of us never think of, and his sharp observational skills that produce comedic gold.
Victoria audiences are fortunate that Mike calls this city home but don't take it for granted. Bigger stages are calling and this will be one of your only chances to see him in 2015-2016. Be sure to get your tickets now—shows will sell-out.
Winner – Best Solo Show – Orlando Fringe Festival
Winner – Best of the Fest – Orlando Fringe Festival
Winner – Best of the Fest – Edmonton Fringe Festival
Nominated for a 2014 Just For Laughs Best Comedy Award
www.mikedelamont.com
Venue 3 The Metro Studio Theatre 1411 Quadra Street
The Wyrd Sisters by Damnspot Theatre.
Written/created by William Shakespeare. Adapted/created by Alannah Bloch.
Many of the actors, performers and creative team behind The Wyrd Sisters will be familiar to attendees of UVic's Phoenix Theatre. I'm personally always intrigued by adaptations of Shakespeare, and this show, in particular, with its focus on the "wyrd sisters", caught my eye.
Benevolence and malevolence. Evanescence of smoke whispering across a moor. The glint of a dagger behind a curtain. The Wyrd Sisters is a collective movement theatre piece interpreting the magic of Shakespeare through dance and original sound composition.
All ages. (Don't discount younger children's ability to comprehend Shakespeare. This summer I was thrilled to see many young audience members at the Greater Victoria Shakespeare Festival—they were enthralled with the action and the language).
Two by Catador Theatre. Written/Created by Kat Taddei
Local company Catador Theatre has more often performed the work of playwright Laura Simmons but chose, for this year's Fringe, to highlight the work of emerging playwright Kat Taddei (The Bad Touch—Intrepid Theatre's OUTStages Festival).
Featuring two dramatically different versions of one life, set in parallel worlds, Two promises to be, at once, surreal and hyper-real.
www.facebook.com/CatadorTheatre
The Fringe Family Festival returns with two shows at the Metro Studio Theatre—Think Bigg by Trent Arterberry and Rumpelstiltskin…and other tales by Story Theatre Company featuring Jeff Leard.
Here's an opportunity to introduce your children and grandchildren to live theatre.
Skin in the Game, written and created by Tasha Diamant
This show has been cancelled for personal reasons.
Tasha Diamant has been performing at the Victoria Fringe since 2009 (as the lottery allows) with The Human Body Project—a solo performance piece that defies description or categorization in which she appears naked and unscripted. Moved by a profound need to promote vulnerability in a world that desperately needs healing, Tasha could see no other way to provoke people to listen and pay attention.
Tasha has taken to the streets with the Vulnerability Vigils where she is joined by like-minded individuals once a month, standing silently, naked or clothed.
Skin in the Game begins with Diamant clothed. The audience is encouraged to participate.
In this new show, through improvised facilitation, story telling, and disrobing, Diamant has a lot to say and reveal about the body and embodiment in a disembodied culture.
If the Fringe is all about taking risks, this emotional, to-the-heart piece may be the riskiest of all in its encouragement to drop masks and personas and get naked and real.
Venue 5, St. Andrews School, 1002 Pandora Avenue
Ian Fleming's Casino Royale. Adapted/created by David Elendune.
Who doesn't love a good Bond story or film? Local playwright David Elendune (1.9.8.4) has adapted the first of Ian Fleming's novels. Directed by Ian Case (Giggling Iguana Productions and The Greater Victoria Shakespeare Festival) with an all-star local cast filled with many familiar faces, this show promises to be replete with suspense, intrigue and danger.
Venue 6, Langham Court Theatre, 805 Langham Court
The Other Side of Alive. Whistling Kettle Improv
Victoria audiences are beyond fortunate—the city is home to at least SIX improv troupes, many of whom create long-form improvised theatre, as opposed to the short-form games and skits many people are more familiar with.
One of the newest groups is Whistling Kettle Improv. Run as a collective, with a social justice bent, they have most recently collaborated with local story-teller Linda Seigel on Improvising Community.
The Other Side of Alive dares to start the conversation about death—often a most taboo subject.
www.facebook.com/WhistlingKettleImprov
Venue 7, Fairfield Hall (1303 Fairfield Road)
Stories of Love and Passion, written/created by Trinda Reed
Rosie Bitts (aka Trinda Reed) is a burlesque performer and teacher extraordinaire who has now branched out into the world of solo story-telling, ably assisted by Suzanne Bachner (John Montgomery Theatre—Spitting in the Face of the Devil) as director and dramaturge.
Rosie is at once sultry, sexy, titillating and profoundly honest. Featuring live musical accompaniment by Jeff Poynter, Stories of Love and Passion has toured to the United Solo Theatre Festival in New York and on the Fringe circuit, and appeared at Intrepid Theatre's UNO Fest. Here's an earlier interview I did with Rosie.
Critic's Pick, Time Out New York
Venue 8, The Roxy Theatre (2657 Quadra Street)
The Improvised Tragedy, Lightning Theatre
Another local emerging improv troupe is Lightning Theatre, who performed at the 2014 Victoria Fringe. This year they will be exploring the world of tragedy—both in its artistic form, and in life.
For me personally, some of the riskiest theatre is to be found performing and watching improv. Things don't always go as planned, and that's half the fun.
What's it like to say "yes" to life even in its strangest and most painful episodes.
Site A: Macaulay Point Park (corner of Lampson and Munro in Esquimalt).
Lieutenant Nun, presented by Theatre SKAM, co-produced by Snafu Dance Theatre and Puente Theatre
The image is engraved in my mind's eye. Fleming Beach in Esquimalt. One of my usual haunts. Waiting with a crowd for the original site-specific production of Theatre SKAM's Lieutenant Nun. Out of nowhere appears a boat—rowed with long oars. The titular character disembarks.
Now, more than a decade later, and in celebration of Theatre SKAM's 20th anniversary, Snafu Dance Theatre and Puente Theatre, with a cast comprised of some of Victoria's most talented veteran and emerging actors and working with the playwright Elaine Avila, have re-imagined this story of gender-bending—the tale of a Spanish conquistador who turned out to be a nuns—with puppets, masks and music.
I am confident the results will be glorious. I know it's a bit of a trek and off the beaten Fringe track, but it will be worth it—I promise.