The Bomb-itty of Errors by Twenty Something Theatre currently playing in Victoria at the Belfry Theatre (August 5-24) is an explosion of sights, sounds, colours and music, that is sure to appeal to generations raised on hip-hop and rap.
The beats (original music Anami Vice) are laid down from the get-go, mixed with dextrous ease by DJ Oker Chen, and flow almost non-stop, save for the odd aside or soliloquy. A day later, and after a full night's sleep, I'm still bopping to the infectious rhythms that combined with clever, witty and lewd lyrics to create a full-length aural experience unlike any I have previously experienced. Volume levels were carefully modulated so as not to overcome the actors' voices or overwhelm the audience—some of whom are accustomed to very different performances.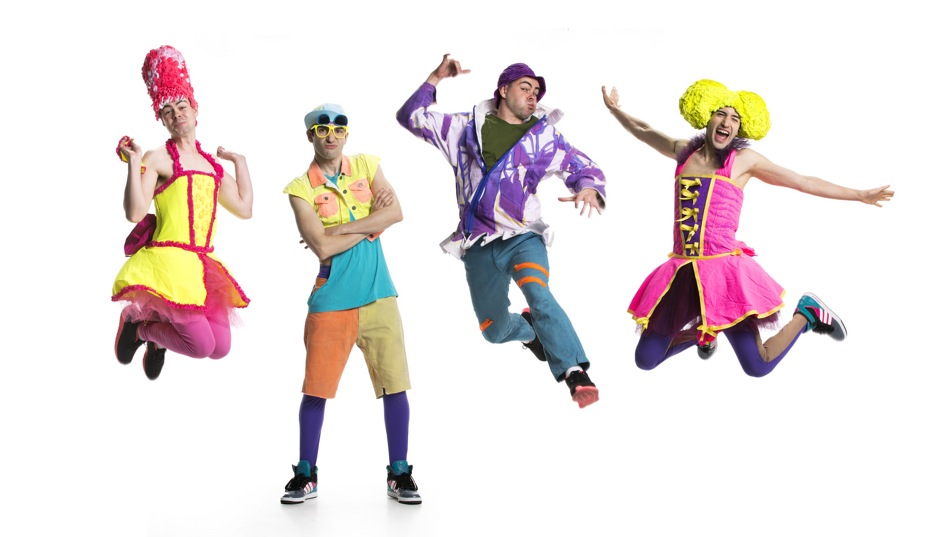 Photo: David Cooper
Costumes (Vanessa Imeson) are bright with acid hues that pop and extravagant features (flower-like wigs and head-pieces reminiscent of the costumes favoured by Brazilian singer Carmen Miranda, stripes that glow in the dark). True to Shakespeare's times, there is magnificent—and over-the-top—cross-dressing for the roles of Adriana (Jameson Matthew Parker) and Luciana (Niko Koupantsis).  One of the true crowd-pleasing moments (of which there were many) came as Antipholus of Syracuse (Brian Cochrane) declared his love for Luciana to the steady chant of her name as back-up singers (Parker and David Kaye) echoed the refrain.
Set design by Ian Schimpf (who is also the lighting designer) features a large corrugated metal back wall (complete with sliding doors) gaudily painted and tagged by Parker and a few of his friends.  Entrances and exits multiply easily from onstage and off (and at times, even through the audience) to further the confusion which is compounded not only by the costumes, but by the uncanny physical resemblance of Koupantsis and Kaye. I had a hard time keeping it all straight—and isn't that the entire point of the plot?
Surrendering to the flow is the only option—immerse in the beats and rhythms, the rhyme and melody—as the situation goes from one incredulous moment to the next.
These actors shimmy and shake (original choreography Joel Sturrock), break dancing with ease and busting moves in a frenzy of styles that leaves spectators breathless at the athletic prowess displayed. Just when one would assume to have it all figured out, more and more zany characters are added—MC Hendelberg (a Hasidic rapper), a wacky cop, a Rastafarian herbal doctor, a Californian bike messenger, and a Sports Nun.
Never fear—just like in the original, this comedy of errors ends happily, after many trials and tribulations, smack-downs and run-arounds, with twins and lovers re-united.
Written in 1999 as a hip-hop version of Shakespeare's Comedy of Errors, The Bomb-itty of Errors is an award-winning show that confounds genres and continues to win hearts, as evidenced by the enthusiastic and sustained applause on opening night. The technical and artistic mastery needed to produce a show of this nature is considerable. Under the original direction of Catriona Leger, this Bomb-itty of Errors is slick and rough at the same time—retaining just the right touch of edginess to make it believable.
Thanks to the creators for an unforgettable evening, and to the Belfry Theatre for continuing to push my artistic boundaries.
[vsw id="E5l4wWM9po" source="youtube" width="425″ height="344″ autoplay="no"]
The Bomb-itty of Errors by Jordan Allen-Dutton, Jason Catalano, Gregory J. Qaiyum, Erik Weiner, and Jeffrey Qaiyum
Belfry Theatre August 5-24, 2014
Tickets start at $23 and can be booked by calling 250-385-6815, or online at
Starring David Kaye, Jameson M. Parker, Brian Cochrane, Niko Koupantsis and DJ Oker Chen
Catriona Leger Director
Sabrina Everett Artistic Producer
Ian Schimpf Set & Lighting Designer
Vanessa Imeson Costume Designer
Anami Vice Original Music & Sound
Jennifer Swan Stage Manager
Erin Voaklander Assistant Stage Manager
Disclaimer: I was provided with complimentary tickets to opening night of The Bomb-itty of Errors. As always, I retain full editorial control over all content published on my website.