I love site specific theatre. For me, going to a play is visceral  – the sights (costumes, sets, décor) sounds, and sometimes smells (gunpowder) combining to create an emotional experience.  Adding the ability to live within the décor only serves to heighten this feeling.
Giggling Iguana and director Ian Case have been creating site specific work in Victoria since 2001 at Craigdarroch Castle, beginning with Ian's adaptation of The Fall of the House of Usher by American Gothic author Edgar Allan Poe.  To celebrate their 2nd decade they return to this original production.
Most of us have studied Poe's work in high school or college. I remember The Cask of Amontillado and its terrifying dénouement but I had no knowledge of The Fall of the House of Usher other than a few notes from Craigdarroch's website.
The narrator of the story (Tim Sutherland) is summoned by his old pupil and friend, Roderick Usher (Rod Peter Jr), to come to his country estate in the hopes of lifting his depressed spirits. What he discovers there will remain with him for the rest of his life.
Thursday night's premiere found us huddled at the entrance to the Castle (masquerading as The House of Usher), under the porte cochère, with eager anticipation of the spookiness to come.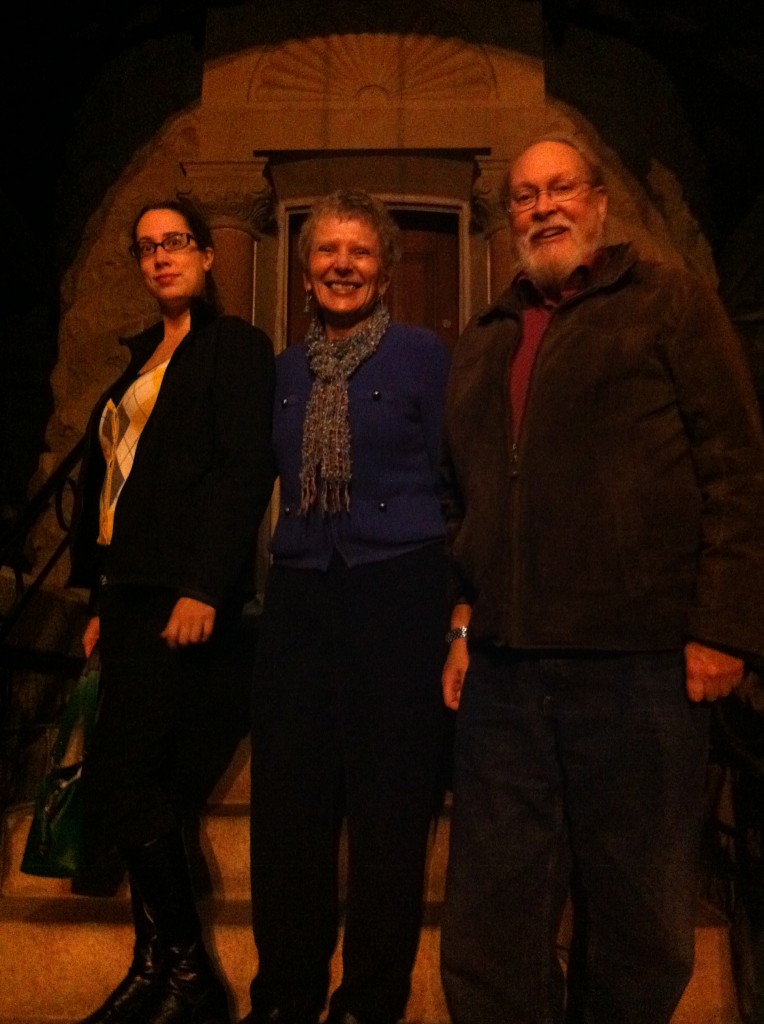 Eager audience awaits! Photo: Elliott Loran used with permission
A servant (Ian Case) bids us enter, and in clipped tones admonishes and instructs us on the proper etiquette for the evening's proceedings. Another servant (Theodore Sherman) assists. Later we learn that the first servant is actually a doctor, attending to the Lady Madelaine (of whom the narrator is unaware).
We are rounded up and herded from one spot to another, upsetting any sense of ease we have about what is to come.
Then arrives the Narrator, and spins the beginning of a tale in rich, precise and descriptive language. Tim Sutherland has a way of drawing us in immediately, and capturing our full attention by his considerable command of the complex period language; we begin to see the House of Usher come alive beneath our very feet. His character serves as a counterpoint to the tortured fantasies to come.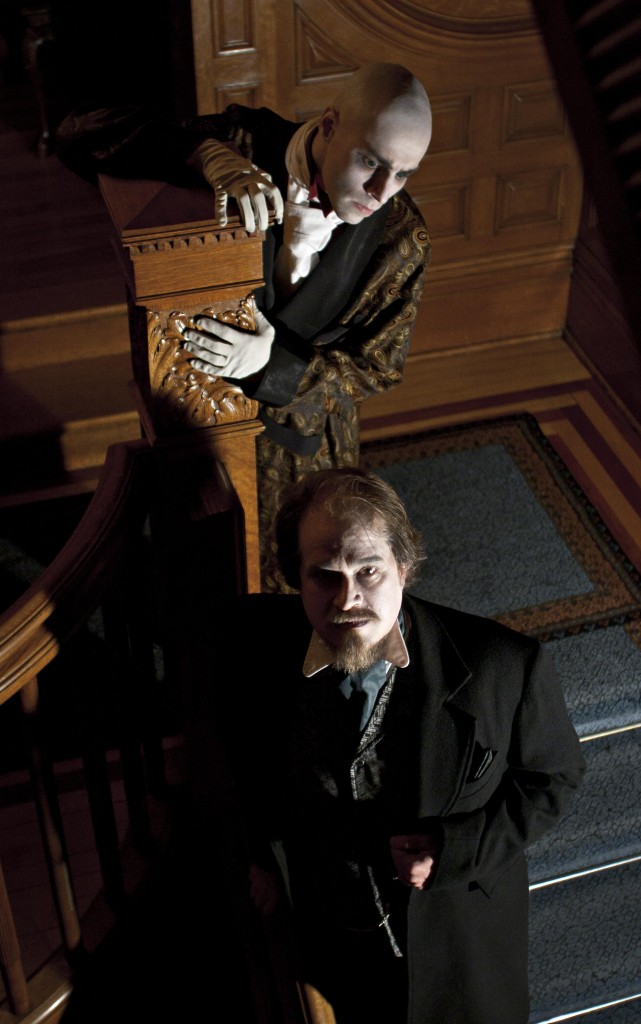 Roderick Usher (Rod Peter Jr) and The Narrator (Tim Sutherland)
We ascend to meet Roderick Usher (Rod Peter Jr) in an uppermost room filled with bizarre apparatuses. What a shock to me to discover the identity of the actor! What a departure from the usually frenetic and widely drawn characters he has played with Atomic Vaudeville and Random Selection of Chairs (The War of 1812). His Roderick Usher is a study in meticulous control, laying out the logic of an extremely disturbed mind in a way that makes perfect sense to his audience. Slowly the House begins to work its spell on us too.
Then comes the Lady Madelaine (Natasha Enquist), the unknown twin – wandering aimlessly and silently from place to place as her fragile health declines. Enquist exerts a powerful presence in this role – completely silent. It's a considerable accomplishment.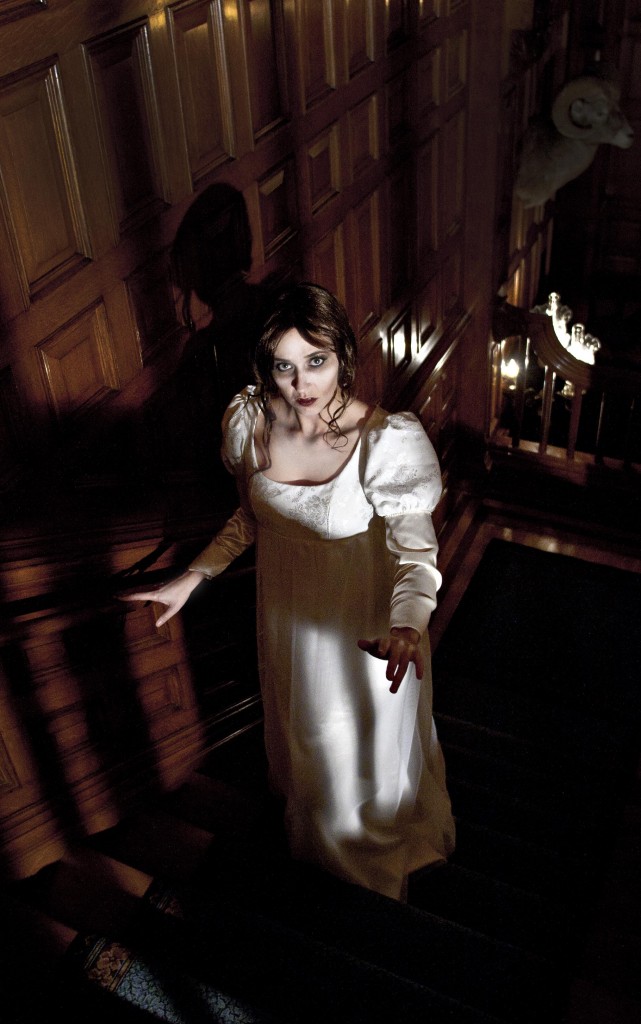 Lady Madelaine (Natasha Enquist) Photo: Ian Case used with permission
Sounds clang and screech in a restrained and jarring cacophony, setting a darker and darker mood. Readings from Poe's work, intended to calm Roderick and the Narrator, further unseat us.
I cannot fully describe the events of the evening, for to do so would detract completely from the terrifying ending. Know this – I jumped 5 feet!
Pay attention to the special effects – the detail lavished on one pop-up book is simply incredible.  Kudos to Theodore Sherman for their execution.
Director Case is to be commended for avoiding the typical Halloween clichés. This theatrical offering is NOT  your typical Haunted House. Case's direction and esthetic return us to the true origins of horror – those that lie in the imaginings of our minds.
The Fall of the House of Usher plays nightly at Craigdarroch Castle until October 31st.
Be fore-warned, it does sell out! Tickets via Ticket Rocket $22 and $25.