Joan by Matthew Payne of Theatre SKAM, SPARK Festival 2017. A review.
Joan by Matthew Payne of Theatre SKAM, at the Belfry Theatre SPARK Festival 2017 (March 17-26) is a rich and beautiful testimony to a much-loved iconic figure and to a unique friendship.
For over 30 years Joan Mans was a fixture, not only in Victoria's arts scene, but also in the city's bars and small restaurants—she volunteered at the Victoria Conservatory of Music, the Belfry Theatre, Pacific Opera, the BC Festival of the Arts (to name but a few of the many organizations she supported with her time and energy) and was a regular habitué of Paggliachi's and Swan's (mainly for the music).  Sporting her signature "look"—hair in a straight bob and bangs secured with a bobby pin, floral house dress and comfortable sweater—and moving ever so gently to the music, Joan never seemed to sleep.  When I first met her, at a festival in Market Square, she informed me she regularly walked home from downtown at 2 am.  I admire plucky old women, having had the good fortune to know many in my lifetime, and soon began to spot Joan around town.  Then I noticed she was being squired by Matthew Payne of Theatre SKAM and remember thinking "when I get old, I want to be like Joan Mans".  Little did I know the backstory.
Originally titled My Memory's Not So Good (when it was workshopped at a previous SPARK Festival in 2012), Joan takes us on an adventure—through the details of her life (or, as much as Payne was able to tease out) and the science of memory.  Three actors play Joan at different ages—Lynda Raino as the Joan most Victorians remember is uncanny in her portrayal, particularly (as befits a dancer/choreographer) in her characteristic shuffle-dance and clipped speech; Treena Stubel as the young woman who joined the WRENS, wrote code and then travelled with the foreign service to exotic lands is cheeky and mischievous; Hannah Janz as the child Joan is haunting in her silence—hinting at the many mysteries and dropped threads of Joan's life.  Payne is both  narrator and participant in the story.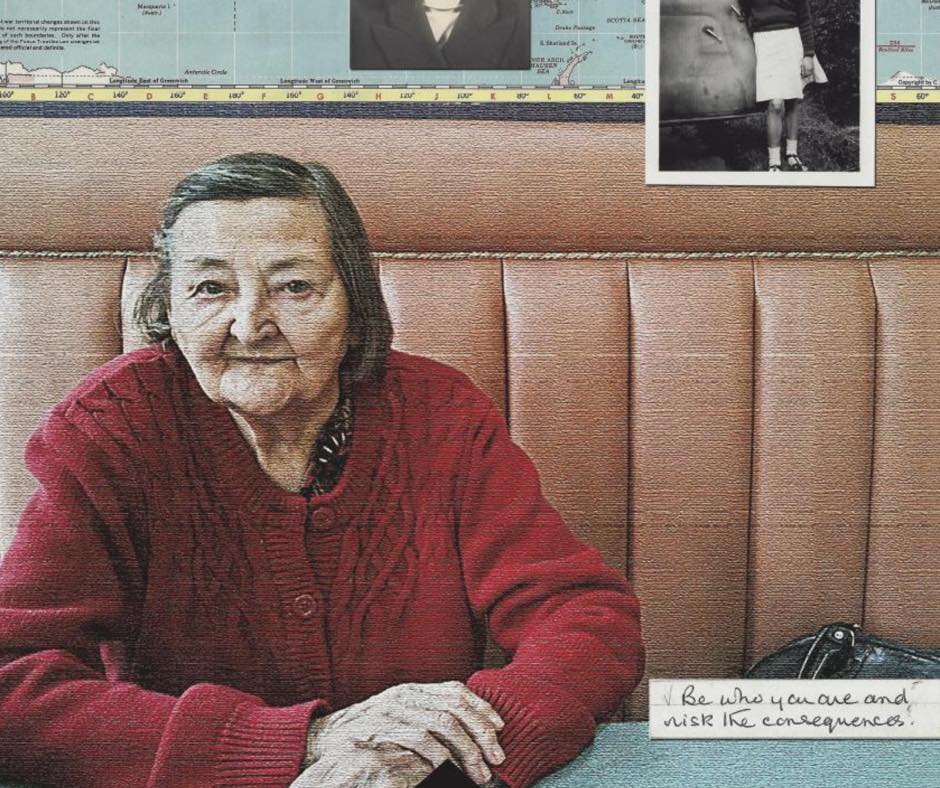 Promo Image: Pamela Bethel Poster Design: Rayola Creative Joan Collage:B.A. Lampman
Director James Fagan Tait has a formidable task with the material which includes not one but two choirs (a children's ensemble of 13 and The Choir of 12 adults) and a narrative arc that jumps back and forth through time and space, in Joan and in Matthew's lives.  As with memory, these jumps begin to make sense, the more is revealed.
Society has always had people who live on the margins, who have solitary lives yet manage to build community in unexpected places—it's the aspect of Joan's life that inspires and one that Payne pays homage to with this quirky tale. As is often the case, he and his contemporaries, theatre students at the University of Victoria in the early 1990s, tried at all costs to avoid contact with Joan who had a habit of trapping people into long one-sided conversations.  Gradually though Payne stopped seeing Mans as a nuisance to be avoided, and their friendship was cemented.
Archival photos, video clips (the two began working on the project long before Mans' death in 2010) and projections (Conor Moore) provide a sense of an independent woman who had many adventures before settling down to "retirement" in Victoria in 1976 (by way of Prague, Bangkok, Bagdad, Bahrain and Ottawa).  Mans' original poetry is set to music by Brooke Maxwell (like Payne, one of Joan's "boyfriends") and sung by the choirs in an uplifting moment of reminiscence.
In an effort to understand what was happening with Mans' failing memory in the last years of her life, as they struggled to unearth details that either eluded her or were deliberately forgotten, Payne began to research the science of memory. Facts and anecdotes from the work of Elizabeth Loftus and celebrated neurologist Oliver Sachs, details from the life of Jill Price—the woman who remembers everything–, musings from Proust, and even lyrics from Ani de Franco's song Little Plastic Castle are woven around stories of Joan's adventures.
Our cultural grandmother is gone; Joan celebrates her remarkable life and ensures she lives on in collective memory. Many years in the making, it's been well worth the wait. Rich, complicated, tangential and slightly wacky (as befits Mans' British heritage) Joan at times aches with loss, a loss further compounded by the fact of the inevitable conclusion—no matter how well one knows a person, one never ever truly knows everything about their life.  Perhaps Joan will serve to galvanize people into long needed conversations with those who it is sometimes all too easy to forget or brush off.
Joan by Matthew Payne
Theatre SKAM at the Belfry Theatre SPARK Festival
March 17-26, 2017
Metro Studio Theatre (corner of Quadra and Johnson)
Tickets: $15/$25 at Ticket Rocket online, in person (101-804 Broughton St) or by phone 250-590-6291
Directed by James Fagan Tait
Performed by Matthew Payne, Lynda Raino & Treena Stubel
Sound Design and Composition by Brooke Maxwell
Lighting and Projection Design by Conor Moore
Costume Design by Patricia Reilly
Assistant Costume Design by Pauline Stynes
Choir Direction by Marc Jenkins
Stage Managed by Sandy Cumberland
Production Management by Shannon Macelli
Featuring SKAM Studio's Children Ensemble and Marc Jenkins & The Choir and Friends
Development History
March 19, 2012 play reading at the Belfry Theatre SPARK Festival
April 17-20, 2014 workshop of Joan, invitation by participation in the IndieGoGo campaign
March 17-26, 2017 premiere of Joan as part of the Belfry Theatre SPARK Festival.
Joan has been supported in part through "The Collaborators – at the National Arts Centre".
Disclaimer: I was offered a complimentary ticket to attend Joan.