Langham Court Theatre sets the bar very high with their current production, Rabbit Hole, the Pulitzer-prize drama by David Lindsay-Abaire. From the moment I entered the theatre, to the moment I left, I was drawn into a world few of us would intentionally inhabit, even if many of us, unfortunately, do.
Long before film, there was theatre. Long before reality TV, there was theatre. Long before the Belfry Theatre, Theatre Inconnu, Intrepid Theatre, Blue Bridge Theatre, the Phoenix Theatre – there was the Victoria Theatre Guild and Langham Court Theatre.
If I were a spry and vital 83 year old – like many of our local "senior" citizens who contribute continuously to the community, I think I'd be tired of hearing just how inspirational I was.  How I have re-invented myself, yet again.
So it must be for Langham Court.
Over the years, they've been known for French farces and British bedroom comedies, Canadian classics like Salt Water Moon and Jitters, not to mention the last play I saw (decades ago in university) – Three Penny Opera".
Of late the choices have become more contemporary – last season's The Laramie Project and Elizabeth Rex, and this season's Rabbit Hole.  The Victoria Theatre Guild, who oversees Langham Court Theatre, has carefully approached controversial topics – the gay-bashing death of Matthew Shepard in The Laramie Project and now, in Rabbit Hole, a family coming to terms with grief at the unexpected loss of a child.
The play itself is brilliant, with dialogue so true you could well imagine your family there on stage, arguing over birthday cake and the minutiae of American political dynasties.
Set designer Toshik Bukowiecki has created a remarkable family home for the characters to inhabit, complete with walls that telescope to reveal a second floor bedroom.  Small touches like the children's books, plants in the window sill, and even the tiled kitchen backsplash appealed to me visually.
Entranced, I was now curious.  This realistic set demanded much realism and truth from the cast.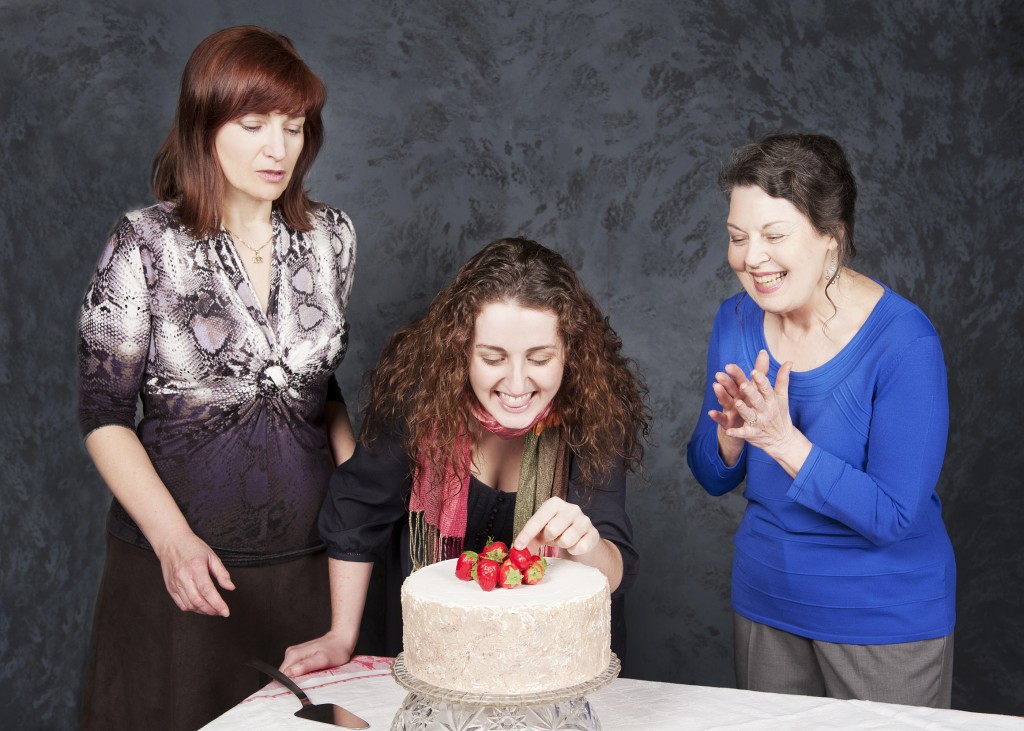 Lorene Cammiade (Becca), Kate Harter (Izzy), Gloria Snider (Nat). Photo: David Lowes, image provided
Pugnacious Izzy (Kate Harter, in herLangham Courtdébut) regales her older sister, Becca (Lorene Cammiade) with her latest adventures. Four letter words fly as she dances around the true issue – life continues even when we want it to stop.
Becca and Howie (Eric Holmgren) are living every parent's nightmare, attempting to go on after the sudden death of their toddler Danny.  This is difficult theatre – providing a lens through which to experience or re-live our own grief.
Cammiade and Holmgren make a very convincing couple – struggling to re-connect, mired in guilt, attempting to reach out.  Even in grief, life is not always bleak – the challenge for the actors in Rabbit Hole is to carefully balance contrasting emotions without falling into the trap of blackmailing their audience.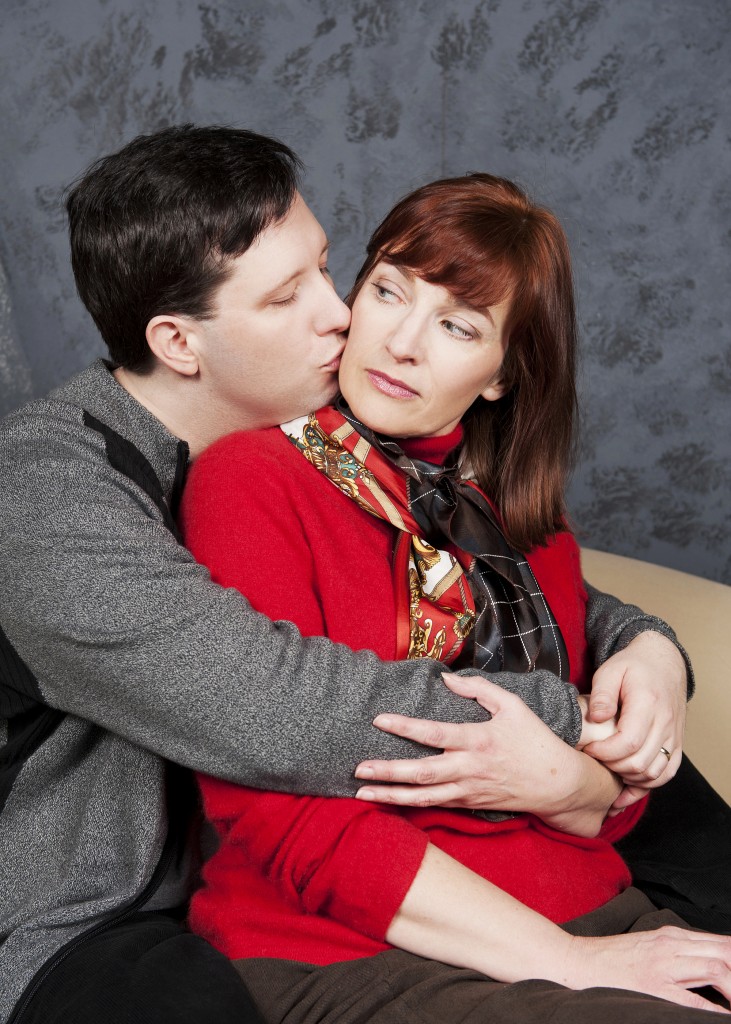 Eric Holmgren (Howie) and Lorene Cammiade (Becca). Photo: David Lowes, image provided.
With naturalistic style (ably assisted by set design, and costumes by Vinnie Chadwick) director Sylvia Rhodes steers the ensemble carefully – old hurts re-surface, tempers flare, arguments begin, sparked by a mis-placed word or thought.
A haunting exchange between Becca and her mom, Nat (Gloria Snider), compares and contrasts the nature of grief.  As one who has sat in grief's shadow, this moment shone with clarity in its truth.
Malcolm McLaren, as Jason, in all his youthful gangly awkwardness, wants his absolution and catharsis too. Yet, his very presence, though well-intentioned, only serves to disrupt the contrived peace this family is attempting to reach. McLaren succeeds in a difficult role – the instigator who we would rather vilify. His earnestness and relief are palpable.
If you believe in the transformative nature of theatre, and the power of the arts to illuminate the human condition, Rabbit Hole is a show to see.
The hard-working, never-compromising team of actors, director, designers and crew is to be congratulated on delivering a product of very high quality for our viewing pleasure.
Rabbit Hole runs until March 24th
Langham Court Theatre
805 Langham Court
Victoria, BC
Single tickets
$19 for Adults
$17 for Students/Seniors (65+)
$14 per for groups 10 or more
Tuesdays, Mar 13 & 20
2 for $20 for Students & Seniors
Schedule (Mar 7-Mar 24, 2012)
Mar 7 to 10: Wed thru Sat
Mar 13 to 17: Tues thru Sat
Mar 20 to 24: Tues thru Sat
Nightly showtime at 8:00pm 
Matinees Mar 17 & 24 at 2:00pm
No shows Sun or Mon
Parking is available on side streets: Pentrelew Place (across Rockland from the entrance to Langham Court) and Revercomb Place between Moss Street and Langham Court. If you don't mind a longer walk, parking is always available on Moss Street between Rockland & Fort, and on Fort Street itself.