TRUNK by Kerploding Theatre.  August 10th in Victoria BC, August 16th at the Gabriola Theatre Festival.

I was first introduced to the work of Kerploding Theatre at the Victoria Fringe in 2013, where they won "Pick of the Fringe" for TRUNK.  In the fall I had the opportunity to attend Amelia and the Dwarves, produced as part of the Student Alternative Theatre Company (SATCo) at the University of Victoria, and then this spring watched WordPlay as part of Intrepid Theatre's YOU Show.  Kerploding Theatre creates fun and engaging theatre experiences that are sure to be enjoyed by children and adults alike.  If you don't have children of your own, borrow some and plan on attending.  The antics of these loveable characters are sure to put a smile on your face.  
You can read an interview with Mollison Farmer about Kerploding Theatre's projects and approach here.
Be sure to check out their Victoria Fringe Festival show Tatterhood August 21-24 and August 28 and 31 at Fairfield Hall (Venue 6).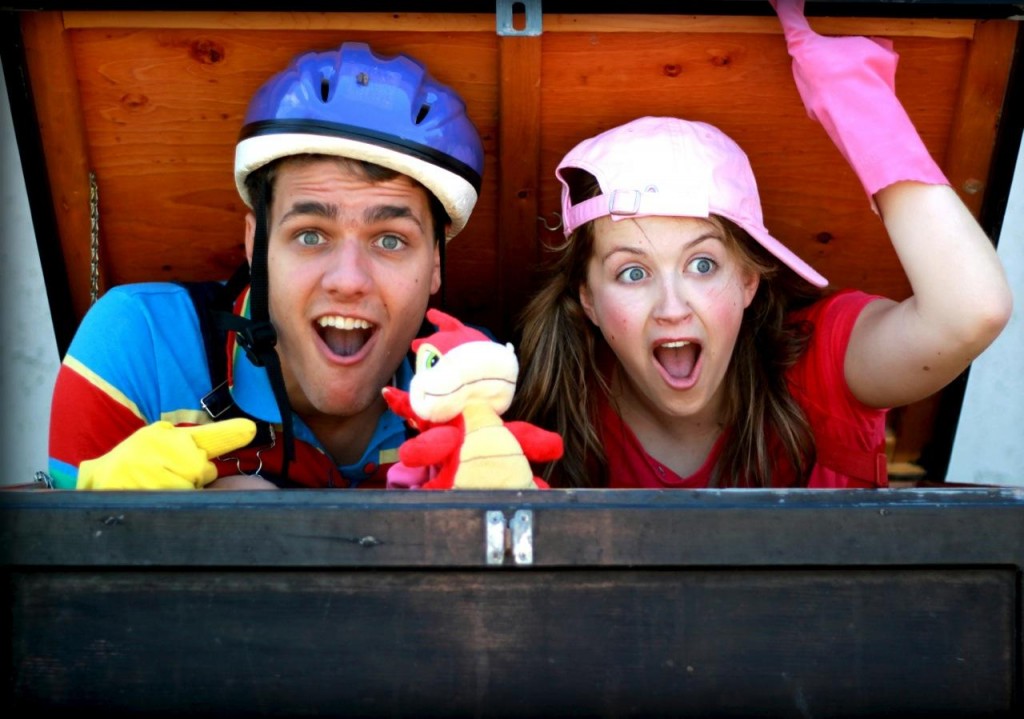 This wacky musical show is based on stories written by local children aged 6-12 . Through workshops at schools and libraries in the community, the cast have turned their amazing stories into an adventure that's fun for the whole family!

The Pick of the Fringe winning production features an original score by Francis Melling (Unity 1918, Phoenix Theatre 2014, Good Person of Setzuan, Phoenix Theatre 2012), and choreography by Molison Farmer, TRUNK! provides something for everyone.

Jump into the magical trunk with twins Daisy and Oliver and go along with them on their quest to save the Kingdoms from the evil witch Gwilana. With a little bit of courage, some brains, and of course some help from their best friend Decision Dragon, Daisy and Oliver learn some important lessons and have a whole lot of fun! Explore the Sky Kingdom, meet the Swamp Queen, and even take some time to learn a little French! The sky's the limit with this special trunk!

The close ensemble, made up of students and recent graduates of the UVic Phoenix Theatre's Theatre program, have worked collaboratively to create the script. With inspiration taken directly from children themselves, Kerploding Theatre is excited to produce a musical comedy that is sure to entertain kids from one to ninety-two!
"I just saw Trunk! and LOVED it! It was made for children, but as an adult, I was thoroughly entertained. It was fun, silly, educational, had a great message without being overbearing about it, AWESOME music, great performers, and a nice story to boot." –Audience Review
TRUNK by Kerploding Theatre
August 10th at the Intrepid Theatre Club (11:30  am, 3pm, 7pm) in Victoria BC
August 16th at the Gabriola Theatre Festival 10:30 am
Tickets: $10