UVic Phoenix Theatre 2016-2017 season
The University of Victoria Phoenix Theatre celebrates 50 years of educating theatre artists this season, beginning in October with a three week 50th Anniversary Alumni Festival featuring TJ Dawe in Slipknot, Charlie Ross with a One Man Marathon–Lord of the Rings, Star Wars Trilogy and Dark Knight: A Batman Parody–, and Shannan Calcutt in Burnt Tongue and continuing with an Anniversary Alumni Reunion (November 11-13, 2016) and exhibitions and other events. Be sure to check out the 50th Anniversary website with interactive timeline at www.phoenixtheatres.ca/50th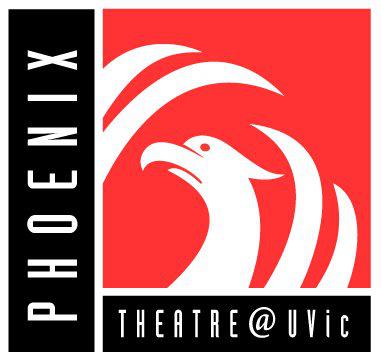 ANNIVERSARY ALUMNI FESTIVAL
One-Man Marathon
October 11 – 17, 2016
Written & Performed by Charles Ross
Directed by TJ Dawe
Lord of the Rings
Star Wars* Trilogy
Dark Knight: A Batman Parody

The Slipknot
October 18 – 22, 2016
Written & Performed TJ Dawe
Burnt Tongue
October 25 – 29, 2016
Written by Shannan Calcutt & Sue Morrison
Directed by Sue Morrison
MAINSTAGE SEASON
Les Liaisons Dangereuses
November 10–26, 2016
By Christopher Hampton
Directed by Fran Gebhard
A chilling tale of sensual decadence and revenge among the French aristocracy, played as a high stakes game of life and death.
Gut Girls
February 9 –18, 2017
By Sarah Daniels
Directed by Alix Reynolds (MFA Candidate)
This story of brash, unrefined women who toil in Victorian-era slaughterhouses cuts to the heart of women's struggle for emancipation.
The Inspector
March 9 –18, 2017
By Nikolay Gogol
Translated by John Lawrence Seymour & George Rapall Noyes
Adapted & Directed
by Linda Hardy
This 19th-century satirical farce about greed and government corruption is no less relevant when set in our current political landscape.
Phoenix Box Office Opens: October 6 in person or by calling: (250) 721-8000.
Season subscriptions: Available now: $39 for 3 plays & $52 for 4 plays and $125 for all 8 shows!
Details & order forms at www.phoenixtheatres.ca
Generations of Phoenix alumni have become successful artists, working across the world and playing important roles in Canada's cultural institutions, including Michael Whitfield, Resident Lighting Designer for 35 years at the Stratford Festival; Denis Garnhum, most recently the Artistic Director of Calgary Theatre and soon to be at The Grand Theatre in London ON; and Nathan Medd, the Managing Director of English Theatre at the National Arts Centre. Many other alumni have created their own theatre companies that have become part of Canada's cultural landscape, including Britt Small and Jacob Richmond of Atomic Vaudeville and the Broadway-bound hit Ride the Cyclone; Peter Balkwill of Calgary's Old Trout Puppet Workshop; Ingrid Hansen and Kathleen Greenfield of the now Toronto-based SNAFU Dance Theatre; national three-time Canadian Comedy Award winners and CBC comedy writers Chris Wilson and Peter Carlone of Peter N' Chris; and Kate Braidwood of Portland's Wonderheads.

Here in Victoria, our faculty and alumni have been a driving part of the theatre community for the past 50 years, beginningin the early days with the Campus Players, Company One, and the adventurous city-wide fine arts festival, VictoriaFair (1969-71). Our alumni have founded enduring Victoria theatre companies like Theatre Inconnu (1978), Story Theatre (1981), the Fringe Festival and Intrepid Theatre (1986), the Greater Victoria Shakespeare Festival (1991), Theatre SKAM (1995), Giggling Iguana Productions (1998), and more recently workingclasstheatre (2009) and Impulse Theatre (2011). A complete history of the department's growth, play productions and faculty, including many successful alumni is now available on an interactive timeline at www.phoenixtheatres.ca/50th.

The Department of Theatre is also planning many other activities during the year, including an exhibition of Phoenix play posters at the UVic Archives, a human library event and historical displays. See backgrounder on history of the department on next page.