Dispatches from the Victoria Fringe 2014. Day Four. Reviews of I, Claudia, So…What About Love, Saudade, Selkie Tales, Spilling Family Secrets, Paleoncology. See a complete list of shows at Victoria Fringe.
Purchase tickets through Ticket Rocket online, at the Fringe box office, or at the venue.  Remember that the final weekend is always busy, and shows sell out. If you want to be assured a seat, purchase tickets in advance.
Read all my Victoria Fringe 2014 coverage HERE.

There are always a good number of "coming of age" shows at the Victoria Fringe Festival—sweet, harrowing, angst-filled, or poignant.  Sundays viewing presented the opportunity to view a number of them. I, Claudia, written by Kristen Thomson, directed by Joanne James (who performs in Rope of Sand) and starring Nikki Bell, is at a Bring Your Own Venue (BYOV), Oaklands Community Centre (Site A in the program).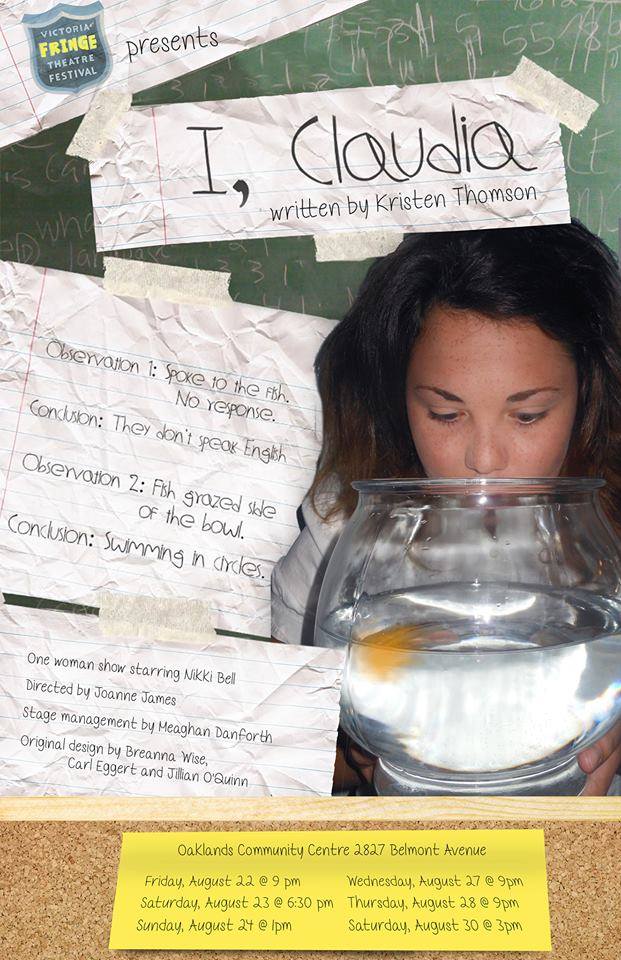 Director James makes good use of the pre-school space, introducing us to 12 year old Claudia who has been in hiding in her secret place (the boiler room of the school). Over the course of the next 60 minutes, we'll learn more about her fears, and insights, and be introduced to some of the adults who inhabit her life—the school custodian, her grandfather and soon-to-be step-mother Leslie.
Most Fringe shows are self-produced and written; I, Claudia is one of the exceptions this year.  The script is tight and well-defined, and Bell does a great job of bringing the various characters to life—the slow and doddering steps of a senior, the sleek self-possession of a career woman planning her wedding and plotting her new life, the accents of the immigrant custodian.
Claudia is at her precocious best when she shares her view of the world, and the challenges of being almost 13 as the child of divorced parents.  If we dig far enough in our earlier memories, most of us had a secret diary, and skulked about looking for clues to the adult world around us. I, Claudia presents the bittersweet along with the anger of being unable to—as yet—completely determine one's destiny.
I, Claudia by High Wire Theatre. Directed by Joanne James and starring Nikki Bell
Oaklands Community Centre (1-2827 Belmont), Site A
Upcoming performances:
Wednesday August 27-9pm
Thursday August 28-9pm
Saturday August 30-3pm
So….What About Love?
This modern Canadian musical was first produced by DaPoPo Theatre and presented at the Atlantic Fringe Festival in 2009.  Performers Avery Brennan, Brittney Wernicke and Mark Dozlaw are all students (or graduates) of the Canadian College of Performing Arts. Direction is by R.J. Peters, a CCPA alumni and co-founder of local music theatre troupe Gotta Getta Gimmick.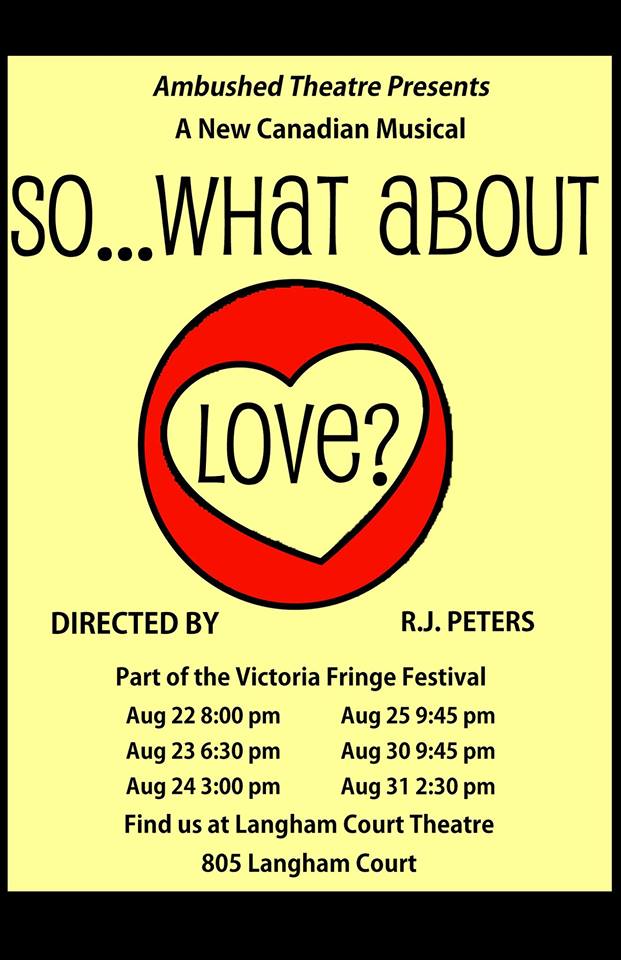 So….What About Love? fills a void often expressed by young people who find that the tropes of standard musical theatre fare do not reflect the pre-occupations and realities of a new generation. I wouldn't expect anything less than well rehearsed routines and numbers from CCPA students, and I was not disappointed at Sunday's performance.
Working with a table and three stools for the majority of the show, Brennan, Dozelaw and Wernicke kept my attention with fine vocal pairings and engaging movement. Accompanists are often over-looked; keyboardist Matthy Poon is outstanding.
Songs treated every aspect of love—casual hook-up culture, learning to love yourself, exploring sexual orientation, falling in love, and the love of beloved pets.  Lyrics are fresh, sometimes risqué, and often tongue-in-cheek, and the score a pleasure with its unusual harmonies and tempos. The performers move through a wide emotional range with gusto and verve.
So….What About Love? is bright, frank, and brimming with possibilities.  If you enjoy musical theatre, this is a show you'll want to put on your list. PG 14+ for coarse language and adult themes.
So….What About Love? by Ambushed Theatre
Langham Court Theatre, Venue 5 Upcoming performances:
Monday August 25-9:45pm
Saturday August 30-9:45pm
Sunday August 31-2:30pm
Saudade by Theatre Plexus, written and performed by Caitlin McCarthy
Every year, there are one or two performances that resonate on a deep level with my own emotional life. For 2014, it is Saudade. If you've ever experienced deep loneliness, a sense of not being at ease in your own skin, or really, really wanting to matter, you will understand Erica, the 17 year old living in Napanee in her graduating year.  Nothing makes sense, and her silent screams for attention go largely unheeded, or are glossed over by the adults in her life.
McCarthy has the quirks and mannerisms of her multiple characters—frenemi Nicky, teachers, principal, guidance counsellor—down pat. The writing is intelligent and honest, exploring issues of identity, sex, secrets and misdeeds. The ending comes as a surprise and will please people who don't like easy answers. Even teenagers are capable of terrible acts of revenge beneath placid and sometimes vapid exteriors.  Thankfully, our own desire for revenge can be played out through characters like Erica, rather than in real life.
Saudade is a Portugese word that describes the longing of an absent something. It has no translation in English.
Saudade by Theatre Plexus
VCM Wood Hall, 907 Pandora, Venue 4
Upcoming performances:
Monday August 25-6:30pm
Wednesday August 27-8:15pm  
Saudade is also at this year's Vancouver Fringe. Details HERE.
Selkie Tales by Voice Box Theatre
Voice Box Theatre present whimsical contemporary circus storytelling as they bring the tales of their native Scotland to a North American audience for the first time. Watching the show, with its hand-made air, I couldn't help but reflect on how much we've lost to sleek technology and perfection. Once upon a time, entertainment was the stories we told around the kitchen table, or, the excitement as a small group of travelling players pulled in to town.  People used their imaginations to fill in the blanks.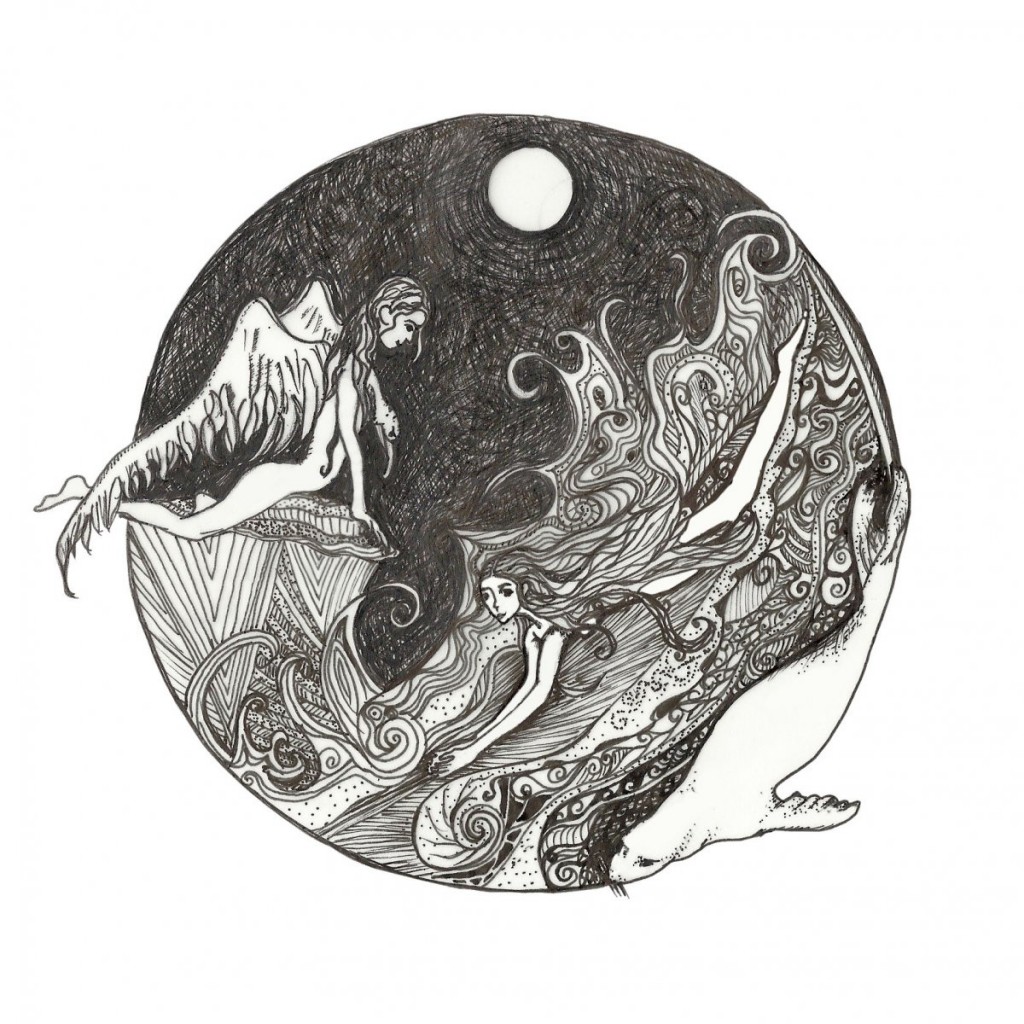 Selkie Tales captures the feel of a bye-gone era with lacy back curtains, and multiple drop screens, in a series of three stories re-enacted.  The Seal and The Cormorant is a graceful shadow dance with spoken word, The Blue Men of The Minch recaptures the style of a 20s silent movie, and The Selkie Wife features projections, movement, prose and song.
The performers excelled in shadow dance and acrobatic movement with graceful and accomplished tricks and turns.  The blustering sailors in Blue Men were a big hit with the children in the audience, as they juggled and blundered their way about the stage. The Selkie Wife featured the most complex elements visually with background underwater projections, supplemented with gorgeous large stick puppets of undersea creatures.  I easily drifted into this entrancing world, wishing, like a selkie, to live there forever.
To supplement the sensory experience, the performers used a large fan (imagine Roman slaves) to push scents of lavender into the venue.  They drifted up to my back row and pulled me further into the story.
After Victoria, Voice Box Theatre will be travelling down the west coast to Mexico where they will undertake an educational performance project with young people, culminating in a performance and festival celebrating Mexican and Scottish cultural exchange. Learn more here if you'd like to support their endeavours.
Selkie Tales by Voice Box Theatre
Metro Studio Theatre, 1411 Quadra, Venue 3
Upcoming performances:
Wednesday August 27-7:45pm
Thursday August 28-6pm
Friday August 29-10:30pm
Saturday August 30-2pm
Spilling Family Secrets, written and performed by Susan Freedman
Susan Freedman is an accomplished story teller who presents a polished slice-of-life as she examines her parents' love letters and marriage and measures them against her own romantic adventures. How did they manage to remain married for over 60 years when she was divorced and re-married twice by her 30s?  What clues can the love letters—written over a period from the late 1920s to the late 1930s—yield?
Backdropped by images and pictures of family life, Freedman moves easily from one episode to the other. She's not afraid to poke fun at her own foibles, nor shine a light on the hard realities on life during the Great Depression. Along the way her audience learns a great deal about Jewish immigration and life in Winnipeg, roles of women, her family's place in Winnipeg and Manitoba history, and the enduring expression of her parent's love.
Spilling Family Secrets is history writ small with incredible flair, a deft touch and a sense of the universality of human experience. Nostalgia is hard to handle well; Freedman's view is clear and captivating. Stories from older performers at Fringe festivals present a richness of lived experience, and another way of viewing the world. Spilling Family Secrets is a fine example.  I hope that younger audiences take the time to listen.
Spilling Family Secrets,written and created by Susan Freedman
Downtown Activity Centre, 755 Pandora, Venue 2
Upcoming performances:
Monday August 25-9:30pm
Friday August 29-7:45pm
Saturday August 30-10:45pm
Paleoncology, Moon Dinosaur Theatre, written and performed by Kira Hall
Was your sibling your best friend against the world of parents and other adults?  Did you ever inhabit an imaginary world in order to make sense of what was going on around you? Even as an adult? If so, you'll definitely connect with 20-something Lea, now living back home after dropping out of university and waitressing for five years.   Propelled back to the safety of the family nest by the sudden cancer diagnosis of her beloved older brother Daniel, Lea struggles to come to terms with his impending demise, and retreats to a familiar and comfortable world—that of her idolized dinosaurs.
Using projections, found objects and puppets, Hall acts out episodes of Lea's childhood with Daniel.  Dressed in a dinosaur suit ("Well at least it's comfortable") she attempts to rationalize her odd behaviour to her therapist Tammy. Dark and human, Paleoncology is not an easy story to tell. Portraying the reality of a 29 year old refusing treatment and dying of cancer, all the while using child-like props, requires lucid writing and performance not to appear maudlin. Hall accomplishes this in spectacular fashion. Musing on life, death, family relationships with wit and an air of detachment, she hits all the right emotional notes.
The road-trip, complete with toy car and dinosaurs, is especially poignant. Life is what happens when you're busy making other plans. Ultimately, Lea takes tentative steps to honour her brother by getting on with her life.  There are no blinding moments of revelation. Paleoncology is truthful, honest and a great use of puppets to illuminate painful transitions.
Paleoncology by Moon Dinosaur Theatre; written and performed by Kira Hall.
Downtown Activity Centre, 755 Pandora, Venue 2
Upcoming performances:
Monday August 25-7:45pm
Saturday August 30-9pm
Sunday August 31-12:15pm
Paleoncology will also be at the Vancouver Fringe. More information HERE.
Disclaimer: I am attending the Victoria fringe Festival 2014 on a media pass, graciously provided by Intrepid Theatre.