Vancouver Fringe Festival 2014 suggestions (mostly) from the Victoria Fringe.
It wouldn't be an overstatement to say I'm a bit of a Fringe fanatic – over the years since I got back in to fringing, I've gone from seeing a handful of shows in 2006 to 42 shows at this year's Victoria Fringe Festival. For the first time I also contributed 32 reviews.
Here are my recommendations for shows that were in Victoria this year (or last), either at the Fringe Festival, Intrepid Theatre's UNO Fest, or Winterlab..  However, my taste in theatre may not be yours. Caveat emptor!
I've listed the shows alphabetically. Please note that three of the shows –Human Body Project, Paleoncology and The Show Must Go On—are NOT in the program but are listed on the website.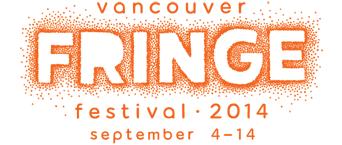 Caws and Effect—Mind of a Snail
Projections, puppetry and live animation made for a most entertaining spectacle when Mind of a Snail presented Against Gravity at this year's Winterlab. They'll be in Victoria in September for the Pacific Northwest Puppetry Festival and you lucky folks get to see them first.
Crows are re­-dreaming the world. Is the future all it's cracked up to be?

Mind of a Snail's new large scale shadow theatre production is an exploration of survival and extinction from a bird's eye view. Funny, beautiful and unique, with handmade layered projections, puppetry, masks, and original music. The story can be seen as a modern fable, a tongue­-in­-cheek nature documentary, or the animated dream of a sleeping bird.
Patron's Pick, Winnipeg Fringe 2013

The Dark Fantastic—Martin Dockery

Dockery arrived on the Fringe circuit in 2009 with Wunderlust, a masterful display of storytelling.  Based on my memories of this show alone (from the 2010 Victoria Fringe), I have eagerly awaited the rare opportunities to see him in Victoria. Last year he performed Bursting Into Flames and The Pit with Vanessa Quesnelle. Dochery has a blistering delivery and often explores deep philosophical questions in his stories.
The Dark Fantastic is an immersive storytelling experience.
Accompanied by a musical score, the audience journeys to a solitary house in the middle of the desert where they are told the tale of an old man, the woman he loves, and her son, a boy who has two hearts. The story moves forward and backward through time, from a car crash in a barren landscape to a jammed photocopier in a hastily constructed city, bringing together three disparate characters (the audience being one of them) in a world that is as fantastical as it is mundane, and as terrifying as it is alive with wonder.
Patron's Pick—Winnipeg Fringe 2013
Winner of multiple Pick of the Fringe, Patron's Picks and Best of Fests for his shows.
For Body and Light
Personally, this show ranked as the most beautiful visually at this year's Victoria Fringe Festival—combining as it does impressive choreography with singular lighting to create an underwater wonderland. Add the spoken word and music of Ian Ferrier and you have a unique performance experience—"an intimate communion with a holy tide".  Inspired by the tidal bore in the Bay of Fundy.  My review here:

High Tea—James and Jamesy
Precise, exacting and absurd physical theatre involving the entire audience.  My review here. Clever jokes, asides and references seem in endless supply, both verbally and physically (Titanic references as the ship flounders, the chairs floating away).
If you have a sense of the absurd, and a love of fun—High Tea is the show for you.
Pick of the Fringe—comedy—Victoria Fringe 2014
Patron's Pick—London Fringe 2013
Outstanding Show—London Fringe 2013
Best Script—Montreal Fringe 2013
Human Body Project—Tasha Diamant
Since 2009 performance activist Tasha Diamant has shown up—naked and unscripted as a sign of vulnerability to engage with theatre audiences.  Relevant, risky and life-changing encounters have followed.
In 2012 she made the decision to begin staging monthly vulnerability vigils, and invited people to join her. She will host a Human Body Project Workshop and Vigil in Vancouver on September 12th.
"The Human Body Project Vulnerability Vigils ask us all to consider our place on the planet—in a non-threatening and life-affirming manner."
I'm thankful that the ethos of Fringe festivals allows artists like Tasha Diamant a place to stage their work.
Jem Rolls ATTACKS THE SILENCE
Jem Rolls is a Canadian Fringe Festival institution—he will perform at his 100th fringe at the Vancouver Fringe this year.
His unique style of spoken word—torrents unleashed on the audience—combined with pungent and biting political and social commentary will keep you on the edge of your seat. Over the years his poetry has made me sit up and question, entertained me with its lucidity, and moved me with its beautiful construction.
Uncomparable, uncompromising and original, Jem Rolls sells nothing and lives solely through live performance.
My full review here.
Magic Unicorn Island—Jayson McDonald
Jayson McDonald first popped up in Fringe consciousness the year Giant Invisible Robot played the Intrepid Theatre Club (and promptly sold out). Since then he's become a regular not only at the Victoria Fringe Festival but also at UNO Fest. Audiences love his lanky physical presence that moves with such ease from one character to another, his sense of humour, and the dark edge to his writing. Nothing is ever quite what it seems in McDonald's shows and Magic Unicorn Island is no exception.
Magic Unicorn Island is bleak and brilliant writing, a difficult cautionary tale that wallops with a hard gut-punch.  It cries out, "pay attention, wake up" with every vignette presented.
My full review here.

A must-see.
Pick of the Fringe—New Play—Victoria Fringe 2014
May and Alia do Pirates of Penzance
Never fear for May and Alia are here—to not only save the day when the rest of the cast doesn't show, but to also enlighten the audience on the many plot points and intricacies of the Gilbert and Sullivan classic.
Funny, informative and very well sung—you'll laugh at their antics and shenanigans. Featuring great songs that even the most uninitiated will recognize like I Am the Very Model of a Modern Major-General.
A two-person romp.
Peter n' Chris and the Kinda Ok Corral
Peter n' Chris don't need much of an introduction to audiences. Since cutting their teeth on the fringe circuit in 2009 they have created 5 shows and won awards at festivals across the country with their signature style that blends physical theatre, improvisation and sketch comedy. Regular sell-outs so get tickets early.  Non-stop laughter guaranteed.
2013 Canadian Comedy Award Winners-Best Sketch Troupe
winners of more than 10 Best of Fest and Pick of the Fringe awards
The Quitter—Al Lafrance
Al Lafrance became so enamoured with the idea of the Fringe that he wrote a solo show and toured it!
In his easy-going, conversational style he sets out to teach us his life's philosophy—quitting is not synonymous with failure.  Audiences cheer at the audacity to fail forward, and pursue dreams.  Watching Lafrance perform is like sitting around with a buddy, drinking beer at the local watering hole, nodding at the similarities in our life's stories.  The Quitter is self-aware and funny.
My full review here.

Just for Laughs award—best English language comedy—Montreal Fringe 2014
Paleoncology—Kira Hall
Propelled back to the safety of the family nest by the sudden cancer diagnosis of her beloved older brother Daniel, Lea struggles to come to terms with his impending demise, and retreats to a familiar and comfortable world—that of her idolized dinosaurs.
Paleoncology is truthful, honest and a great use of puppets to illuminate painful transitions.
My full review here.
Pick of the Fringe—Favourite Drama—Victoria Fringe 2014
Best Solo Production-Montreal Fringe 2014
Roller Derby Saved My Soul—Nancy Kenny
Kenny is a 12 year veteran of the Fringe circuit who won the CAFF touring lottery for 2014 and toured her hit show to 9 cities this summer.
Amy is a lovable goofball and geek more inclined to spend the night on the couch until she encounters roller derby, and finds not only community but love.
Anyone who has ever stepped outside their comfort zone to take on a physical challenge involving team sports knows what a journey of self-discovery it represents.  Roller Derby Saved My Soul is a great life-affirming reminder.
Full review here.
She is also producing a full-length documentary film of the Fringe experiences—On The Fringe—in order to give audiences a better idea of what life on the fringe festival circuit is like for performers.
Outstanding Fringe Production – Les Prix Rideau Awards – Ottawa 2012
Best in Fest – Ottawa Fringe Festival – Ottawa 2011
Juror's Honorable Mention – Ottawa Fringe Festival – Ottawa 2011
Best in Venue – Hamilton Fringe Festival – Hamilton 2011
Saudade—by Theatre Plexus, written and performed by Caitlin McCarthy
Every year, there are one or two performances that resonate on a deep level with my own emotional life. For 2014, it is Saudade. If you've ever experienced deep loneliness, a sense of not being at ease in your own skin, or really, really wanting to matter, you will understand Erica, the 17 year old living in Napanee in her graduating year.  Nothing makes sense, and her silent screams for attention go largely unheeded, or are glossed over by the adults in her life.
Full review here.
Shakuhachi Quest—Jim Sands
You may have seen Sands' last show Charlie-A Hockey Story. He's a gentle story-teller with a gift for capturing a life-time in a moment—in this case, the moment is an unfortunate accident on his way to work and the life-time is his friendship with Dan Meichel, and the journey to the soul of music.
Incorporating live music, performed by Sands and Michel Vles, Shakuhachi Quest illuminates a century of music as seen through the eyes of a small circle of friends.
TES—Steve Larkin
Steve Larkin performed this re-imagined Tess of the Dubervilles at the Victoria Fringe in 2012 and I sat in an 11pm show, rapt and mesmerized by the images of urban decay, and a civilization slowly crumbling. His hypnotic litanies roll over the audience like waves. Dark, disturbing and highly recommended.
The Show Must Go On—Jeff Leard
Based on the misadventures of touring children's theatre performers spanning 30 years. A show ABOUT children's theatre, but definitely NOT suited to children. Jeff is a likeable and kinetic actor, quick with quip, and action. If you have ever had a connection with performers—you will be doubled over in laughter.
Outstanding Show of  2013—Calgary (of all the shows produced in the city in 2013)
Outstanding Performance, Toronto Fringe, 2013?
Producer's Pick, London Fringe, 2013 ?
Critic's Choice, Ottawa Fringe, 2013
Best Male Solo, Victoria Fringe, 2013
Unfortunately I did not see The Hatter and Deranged Dating. My apologies to the performers. Too much Fringe, too little time.