Wolf in the Mirror by Impulse Theatre, June 19-22, 2014. A review.
Take a journey in movement and music, through myth and magic in Wolf in the Mirror—the latest (and most ambitious) creation of Victoria's Impulse Theatre (currently onstage June 19-22 at the Metro Studio).
This bold young company, comprised of performers in their early 20s, has never been afraid to blur artistic boundaries in the many works they've produced since their student days at the University of Victoria (over ten to date).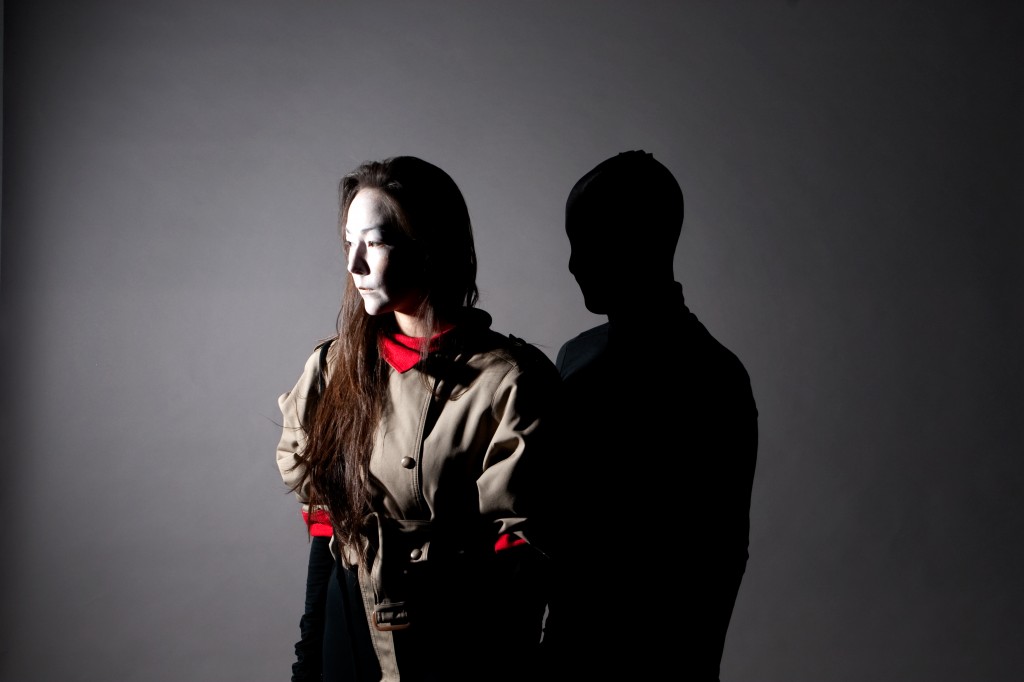 Emily Piggford as The Witch. Photo: Pamela Bethel
In particular, as a dance-viewing neophyte, I'm attracted to Artistic Director Andrew Barrett's motto "Bring what you want; take what you need" and his emphasis on the fact that there is no "correct" interpretation of the work.
Entering the theatre, audiences will be beguiled by the set design (courtesy the award-winning Paphavee Limkul who also designed the lighting)—a jumble of chairs and table, several large sculptural features, a mirror, and clouds floating weightlessly.  Dark shadow figures loom and stand guard in the rows of seats in discomforting fashion.  Are they a menace?
As the show begins, the titular wolf (Lucas Hall) appears, complete with head piece that echoes Northwest First Nations art, and transforms to his human shape. The shadows morph into scenery, trees and rocks, as two sisters (Emily Piggford, Kathleen O'Reilly) journey happily into the forest.
The pulsing sound track (Bjork, Susanne Sundfør and Iamamiwhoami (Jonna Lee), underscores, heightens and drives the action onstage.
Themes of personal identity, light and darkness, transformation, the shadow self, power, romantic and sibling love are revealed and explored.
The witch (Emily Piggford), transfixed by the Wolf or Dark Lord undergoes a metamorphosis, made all the more dramatic for the kabuki-inspired costumes (Halley Fulford) and make-up she dons.
In one particularly fine scene aesthetically, the shadows gather dis-embodied limbs and head (white for effect), and re-create a giant puppet-like being who becomes, in successive versions, the people they once were. The air of regret and sadness is palpable.
Through trails and tribulations, the battle for hearts and souls rages—without words, the audience taps into visceral emotion to create the story-line.  For me personally, this is one of the most satisfying aspects of this work—the ability to attend a production with friends, and then afterwards discuss the many possible interpretations and nuances. Rather than provide my explanation, I would invite readers to take a risk.
Wolf in the Mirror is a little over an hour in length, yet I felt transported into a world beyond time and place, attentive and focussed on every slight variation in gesture and motion.
Impulse Theatre is part of the current great cultural shift; Wolf in the Mirror returns to the touchstones of story to help audiences narrate and bring sense to their lives.
WOLF IN THE MIRROR
at the Metro Studio (corner of Quadra and Johnson)
Shows:
Thursday, June 19th, 2014 – Pay What You Can Preview 8pm
Friday, June 20th, 2014 – Opening Night 8pm
Saturday, June 21st, 2014 – 2pm
Saturday, June 21st, 2014 – 8pm
Sunday, June 22nd, 2014 – 2pm
Tickets: $25/$15 through ticketrocket.org
Presented with the support of the BC Arts Council, a creation residency at Dance Victoria, Metropol, and Grindstone Cafe.
The innovative and awe-inspiring Impulse Theatre invites you to the premier of its full length, dark and visceral WOLF IN THE MIRROR. Follow a Witch and a chorus of shadows as they try and bring down the tyrant who stole their bodies. A physically engaging piece that blends theatre, dance, and design to create a visceral and transformative experience.
CREATIVE TEAM
Direction – Andrew Barrett
Set and Lights Designer – Paphavee Limkul
Costumes Designer – Halley Fulford
Assistant Costume Designer – Lulu Fulford
Stage Managed by Jessica P. Wong
CAST
Alyssa Bell
Lucas Hall
Gordon Hunter
Samantha Lynch
Mily Mumford
Kathleen O'Reilly
Emily Piggford
Levi Schneider
Disclaimer: I was offered complimentary tickets to attend the preview of Wolf in the Mirror. As always, I retain full editorial control over all content published on this website.