Andrew Bailey presents Brain Machine one night only July 9th 2018 in Victoria BC. Preview.

Now that Andrew Bailey has departed Victoria for Vancouver, it is rare to have him back on local stages except during festivals like the Fringe or UNO Fest, and on occasion performing with Atomic Vaudeville.  I read about his Vancouver shows with anticipation and regularly ask when we'll have the chance to see his latest work.  Wait no longer eager fans!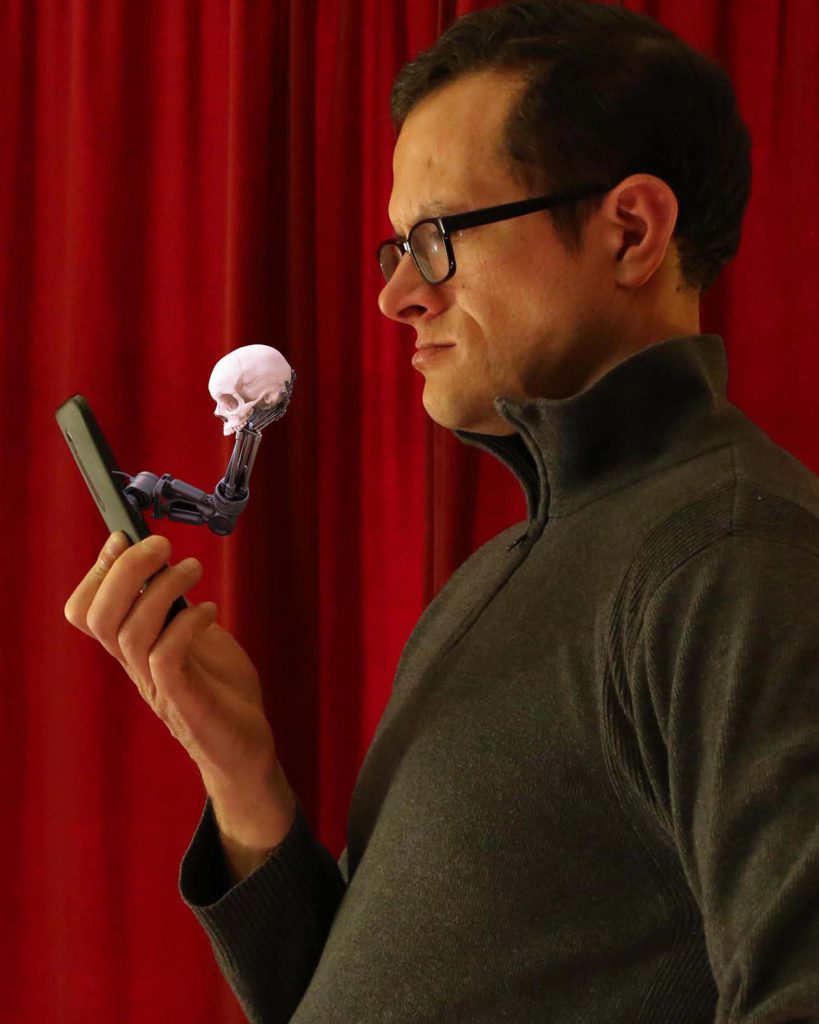 Andrew Bailey in Brain Machine. Photo: Natalie Watson

BRAIN MACHINE. One night only!  Andrew Bailey's latest solo show explores the creation of the Web and how he went viral.SOLD OUT RUN – 2017 Vancouver Fringe

Fringe and local favourite Andrew Bailey gives a ONE NIGHT ONLY performance of "Brain Machine", a solo show that interweaves the story of the Web's creation with his own tale of going viral online. "Brain Machine" premiered at the 2017 Vancouver Fringe where it SOLD OUT ITS RUN. "Brain Machine" plays Monday, July 9 at the Victoria Event Centre. Doors at 7:30. Show at 8pm.

"Go, learn, laugh, take hope." -The Georgia Straight

Three of humanity's greatest minds spend nearly five decades on their brain machine, hoping to augment the human intellect, bring true "harmony and understanding" between peoples, and prevent thermonuclear war. Humankind uses the invention to attack intellectualism and raise Donald Trump to leader of the free world. Andrew Bailey, a technophobe who lives in a cabin in the woods, writes a satirical monologue attacking the trope that men being sexually assaulted is hilarious. The monologue goes viral, and the aftermath nearly drives Andrew insane.

"Finally, a storyteller with something to say." –The Edmonton Journal

Bailey's other solo shows (including "Me, The Queen, and a Coconut", "The Adversary", and "Limbo") have won awards and played to sold out audiences across the country. His comedic work with Victoria's Atomic Vaudeville Cabaret has been acclaimed for over a decade and yielded the satiric monologue "Why Rape is Sincerely Hilarious", which has more than 2.3 million YouTube views and is featured on websites including Upworthy, Jezebel, and Vice. Bailey's first novel, "The Rite of James Biddle", is published by Bayeux Arts.
Brain Machine
Running time: 60 minutes
Audience: General (13+ recommended)
Victoria Event Centre
1415 Broad Street
Monday, July 9
Tickets: $10
Showtime: – 8pm
Doors – 7:30pm