From beginning to end, a sustained sense of unease and dread permeates Theatre SKAM's Concord Floral (currently playing July 31-August 26). Not only is it disquieting to be in an abandoned retail space—once home to a bustling Staples outlet—design elements magnify the sensation; the mystery hidden behind panels of plastic hung across openings, dim lighting (Tori Isaak), echoing sound hinting at familiar memories (Carolyn Moon).
It's easy to imagine the vast empty spaces as the eponymous Concord Floral greenhouses, made all the more real by references in the text to falling down through chutes—the audience descends now-inactive escalators to a lower floor.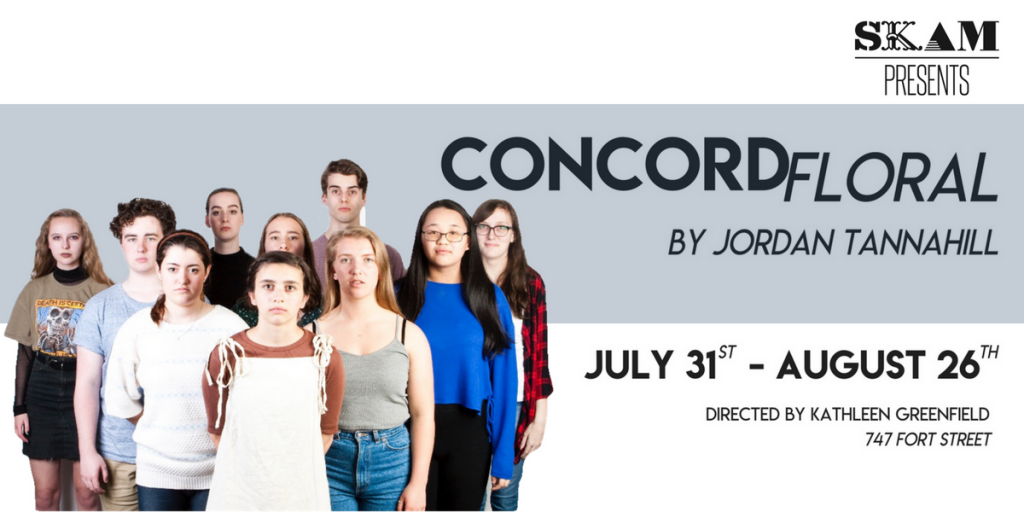 Tannahill's script is a wonderful mixture of the frank and open—teens' revelations reminding us of our own transitions on the path to adulthood—with surreal poetic passages calling up the natural world, giving voice to characters like Bobolink, Fox, Couch and Concord Floral itself.
Neko Smart as Greenhouose is stoic and serious—within these walls all manner of unmentionable acts have occurred, the current episode the latest in a long string of dubious adventures.
Long after parents have gone to bed, imagining their teens safely tucked away for the night, said youngsters come out to play—running free and wild through the neighbourhood, pulled by a tantalizing force to the forbidden places.
Stumbling around in the dark at Concord Floral, Rosa (Emily Bourbeau) and Nearly (Haylee Macpherson) encounter something truly terrifying (and completely believable).  Their reactions however are puzzling—rather than reveal the incident, they hide it from the friends they've come with, pretending nothing has happened.
Vignettes introduce us to the pre-occupations of the group—and serve as somewhat painful reminders of the excruciating choices to be made.  Meet Bobby (Emily Case) in her awkwardness at trying to fit in, John (Finn Kelly) with his love of bird-watching, Just Joey (Nick Harrison) coping with a mom who is ill, Irene (Lauren Alberico) awakening to sexual desire.
It's refreshing to watch this young ensemble—there's an urgent high stakes immediacy in the telling of the stories.  The sense of otherworldliness is heightened by giving voice to animals and inanimate objects—Bobolink (Andrew McClure) is frantic in a frightening sequence linking him to John, Fox (Rose McTavish) prowls the edges and observes the actions of man with amusement, Couch (My-Le Vu) has seen it all.
Guilt eats at Rosa and Nearly—fractures appear in their once-strong bonds, tension builds and builds into a startling dénouement.
Concord Floral is a fine example of collaborative work under accomplished direction (Kathleen Greenfield assisted by Kai Taddei). The actors, while young in years, come to this endeavour with many years of training and performing.
Concord Floral is gripping and frightening, a theatrical experience to be remembered.
Theatre SKAM presents the Vancouver Island premiere of the national hit, Concord Floral by Jordan Tannahill, in classic SKAM fashion: in an abandoned retail outlet. This site-specific production will feature two rotating casts of ten local Greater Victoria teens in a production that will remain in the minds of Victorians for years to come.

Concord Floral is a million square foot abandoned greenhouse and a hangout for neighbourhood kids. But something has happened there. Something nobody wants to talk about. Concord Floral re-imagines Giovanni Boccaccio's medieval allegory The Decameron in a contemporary Canadian suburb, in which ten teens must flee a plague they have brought upon themselves. The play was written by Governor General Award-winning playwright Jordan Tannahill and originally created by Erin Brubacher, Cara Spooner and Jordan Tannahill with a cast of teenagers in Toronto.

This shows features two casts, named "Concord" and "Floral" which present two interpretations of this resounding play and you can check out both back-to-back!
Concord Floral by Jordan Tannahill directed by Kathleen Greenfield
Theatre SKAM
July 31st-August 26th 2018
747 Fort Street
Tickets: $25 (adults) $15 (students and seniors)
Note: features language and partial nudity.  Advised for audiences 13+
__________________________
Previews:
July 31st and August 2nd 7pm: Concord
August 1st 7pm and August 3rd 9:30pm: Floral
__________________________
Concord Cast:
Runs Friday August 3rd at 7pm and all other Fridays at 9:30pm.
Saturday August 4th at 9:30 and all other Saturdays at 7pm.
Tuesdays and Thursdays at 7pm.
Floral Cast:
Runs Friday August 3rd at 9:30pm and all other Fridays at 7pm.
Saturday August 4th at 7pm and all other Saturdays at 9:30pm
Wednesday and Sunday at 7pm.
__________________________
No shows on Mondays.
__________________________
Concord Floral has two separate casts to accommodate the large number of exceptionally-talented youth in the Greater Victoria area.
Both Concord and Floral perform on Friday and Saturday night, and alternate weekdays.
Show times during the week are 7pm, and 7pm and 9:30pm on Friday and Saturday.
Disclaimer: I was offered a complimentary ticket to attend the opening night of the Floral cast of Concord Floral.