Not all shows at the Victoria Fringe Festival take place in a theatre.  Local comedians Abdul Aziz and Shawn O'Hara paired up in 2017 for a comedy walking tour—the wildly-popular Fake Ghost Tours (of downtown Victoria) and they're back this year.
My recommendation—buy tickets in advance if you are planning on going. This show was a sell-out for its entire run in 2017.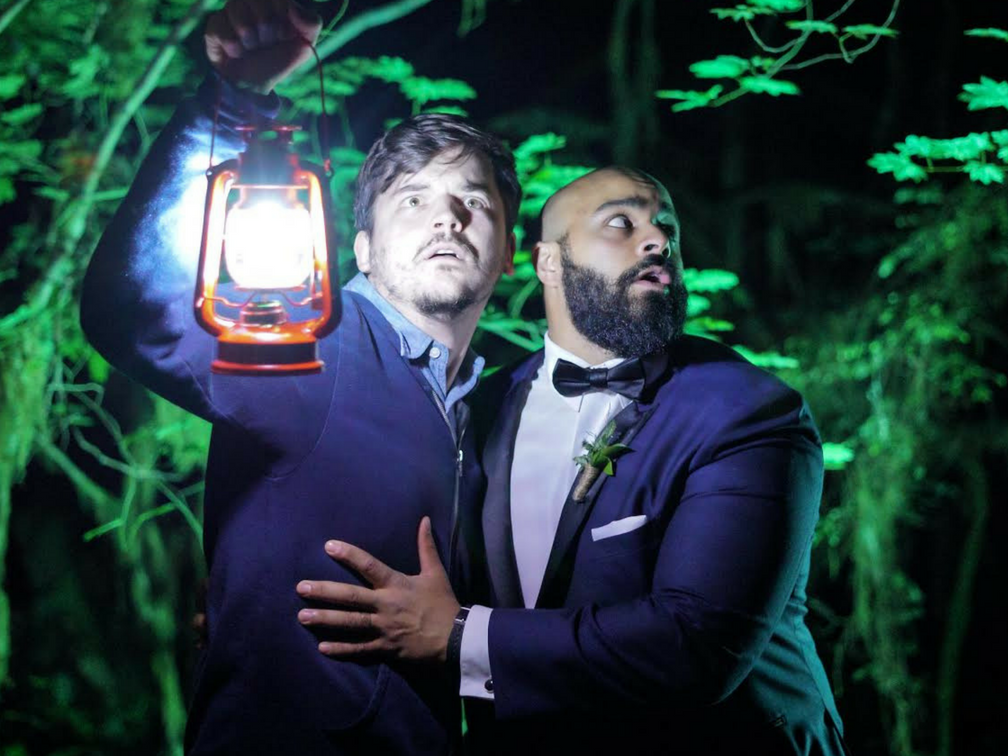 Abdul Aziz shared more about the show.
How long have you been producing work on the Fringe circuit?  As an artist/company?
This is the second year of Shawn and I doing Fake Ghost Tours but Shawn has been fringing with his Field Zoology 101 show for 3 years now.
Is this your first visit to Victoria?
Not at all! Shawn is a Victoria native and I went to UVic. We've been writing together since we met doing standup comedy in 2013.
Have you been (or will you be) taking the show to other Fringes?
Yes! We'll be doing the Vancouver Fringe as well.
Is your show a new work, or has it been performed elsewhere?
It's a totally new show. Completely different from the one we wrote last year (save for the characters themselves of course). In fact the comedy walking tour format itself is completely unique. We haven't been able to find anyone else in Canada doing the same kind of show.
Significant awards or accolades? (not just on the Fringe circuit) 
We won Best Duo last year and got Runner up for Best Comedy at the Victoria fringe.
And we were also selected by JFL Digital to develop the show into a web series.
Can you speak to the creation process of this work?

Shawn and I have been writing and performing together for about 5 years now and our process is VERY casual. In essence, we spend our writing sessions trying to crack each other up. The stuff that makes us laugh the hardest gets written into the show.

Who will your show appeal to?
Anyone who loves to laugh!
What would you say to entice a potential audience member to come?
I would say that they MAY see a ghost and short of that, they'll DEFINITELY laugh a lot.
What do you hope to inspire in your audience?
I think the message in everything we write is to try to get the audience to take everything a little less seriously. In our experience it certainly makes everyone a quite bit happier 🙂
Is there anything I've missed asking you, or that you would like to comment on?
Not that I can think of, thanks so much!
Ghost hunting brothers Abdul Aziz and Shawn O'Hara return with a walking tour so accurate and frightening that you'll wonder how you'd never heard these unquestionably true stories before. From the history of Victoria's first ghost business owner to the city's most haunted payphone, no rock will be left un-toured. Winner of Best Duo at the 2017 Victoria Fringe.

Note, the meeting point for this show is in CRD Square on the Government Street side (near to the statue of Dr. Sun Yat-Sen).
Fake Ghost Tours 2: Tour Fast Tour Furious by Abdul Aziz and Shawn O'Hara (Victoria, BC)
Site E: CRD Square, 625 Fisgard Street (Corner of Fisgard & Government),
Tickets: Advance price: All Seats $11 + s/c  Door price: All Seats $11
Duration: 50 mins
Rating: All ages
Genre: Comedic Walking Tour
NOTE: All ticket holders 13 + must have a Fringe Button to use their ticket. A $1 surcharge applies per ticket (this fee directly supports the Victoria Fringe). Advance sales cut off 3 hours prior to show time. At door tickets go on sale at venue 1 hour prior to show time, cash only (half of all tickets are reserved for at door sales). Fringe Buttons can be purchased in advance at Fringe HQ, Ticket Rocket and at every venue. No latecomers, exchanges or refunds.
Showtimes:
Aug 28 Tuesday 06:30 pm
Aug 28 Tuesday 08:15 pm
Aug 28 Tuesday 10:00 pm
Aug 29 Wednesday 08:30 pm
Aug 29 Wednesday 10:15 pm
Aug 30 Thursday 05:45 pm
Aug 30 Thursday 07:30 pm
Aug 31 Friday 06:30 pm
Aug 31 Friday 08:15 pm
Aug 31 Friday 10:00 pm
Sep 01 Saturday 05:00 pm
Sep 01 Saturday 06:45 pm
Sep 01 Saturday 08:30 pm
Sep 02 Sunday 06:30 pm
Sep 02 Sunday 08:15 pm
Sep 02 Sunday 10:00 pm
About the artist/company
Shawn and Abdul met at Victoria's Ratfish Comedy Show in 2013, swiftly becoming friends and writing partners. They have performed on stages across Canada, including JLF NorthWest, and appear together on the Spout Lore podcast.
Credits
Abdul Aziz – co-writer/performer
Shawn O'Hara – co-writer/performer