The War of 1812, a Fringe classic, returns with a stellar cast comprised of award-winning artists—all of them locals who have now established themselves as true Fringe stars on the CAFF (Canadian Association of Fringe Festivals—which includes festivals in the US) circuit. How could a show with Wes Borg, Morgan Cranny, Mike Delamont and Rod Peter, Jr be anything else but hilarious? I can guarantee sold-out houses. They arrive August 29th from the Edmonton Fringe and I recommend getting advance tickets now to avoid disappointment.
Morgan Cranny took time out of their touring schedule to answer questions about the show.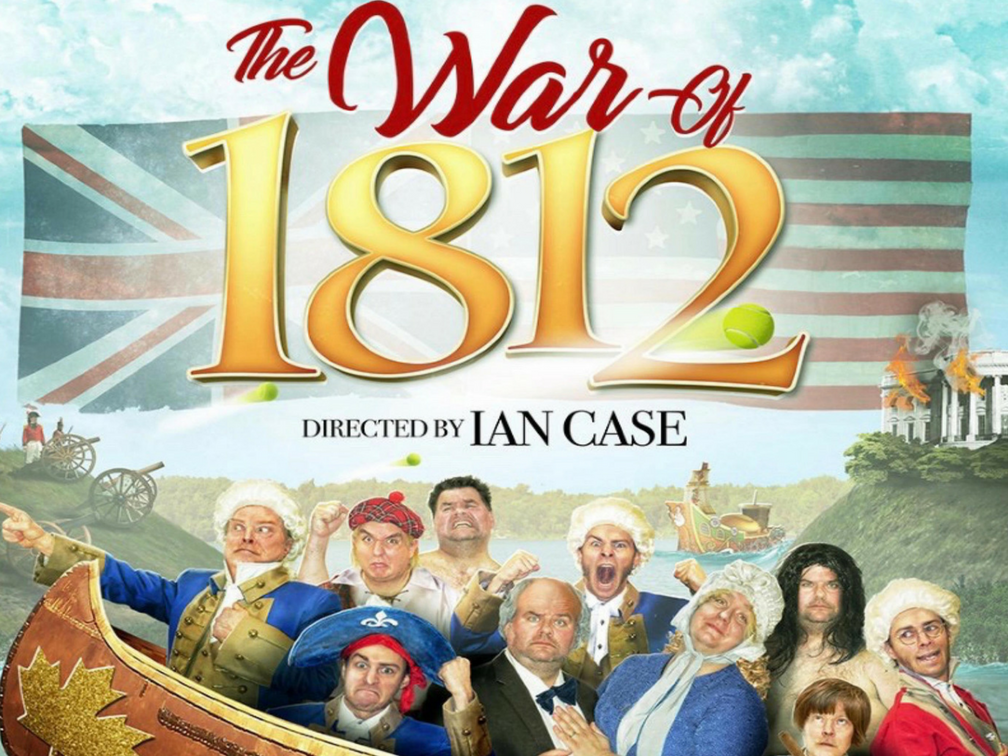 How long have you been producing work on the Fringe circuit?  As an artist/company?
The first show that I produced was in 2010, The Money Fast with Wes Borg.
Is this your first visit to Victoria?
Nope, I'm "local", this has been home since 2000. (editor's note:  the other performers—Wes Borg, Mike Delamont and Rod Peter Jr are also local—the stars have aligned to have them all in one place at one time for this show!)
Have you been (or will you be) taking the show to other Fringes?
This will be the 3rd stop (of 3) for this show this year. It will have been to Winnipeg and Edmonton this year.
Is your show a new work, or has it been performed elsewhere?
It was written by Wes Borg and Paul Mather in 1995 and performed in 1996 with Joe Bird and Donovan Workun back in those days. Mike Delamont, Rod Peter, Jr., Wes and I did it in 2009, then there was another go with David Radford taking Rod's place in 2011, then a version with Wes, Paul Oppers, Kelly Hudson and me in 2014 (Edmonton)
Significant awards or accolades? (not just on the Fringe circuit)
Won best comedy at Victoria Fringe in 2009, not sure if it won awards in its early days.
Can you speak to the creation process of this work?
Well, as this was an existing work I can't speak to that process but this group with the help of director Ian Case has put its own stamp on it including reducing it from 75min to 60min for this tour. The script is/was great but we're all pretty creative and lots of lucky accidents and improv moments have found their way to the script.
Who will your show appeal to?
The show has pretty broad appeal, it's funny, it's silly and you might just learn something. It's a bit like loony toons, some folks like it because it's so fun and physical and there's lots of jokes that may go over younger heads but appeal to the mature audience. It's definitely for people who like to laugh and enjoy their history delivered at breakneck speed. If you're looking for a serious drama, we're not the right fit.
What would you say to entice a potential audience member to come?
I've been doing funny shows for 18 years and it's one of the funniest things I've ever been in. You'll leave with a smile on your face and likely the lyrics to a silly song in your head… and we burn the Whitehouse down.
What do you hope to inspire in your audience?
Joy, fun and maybe a little pride
Is there anything I've missed asking you, or that you would like to comment on?
I don't think so, it's lots of fun and people should see it 🙂
Wes Borg, Morgan Cranny, Rod Peter Jr and Mike Delamont bring you the funniest history lesson of a lifetime! A young boy hates Canada until the ghost of Pierre Burton  takes him on a tour of Canadian History, from the tennis ball battle fields of York to a Laura Secord mega musical, all in a Birchbark Time Canoe!
War of 1812 created by Wes Borg & Paul Mather
Langham Court Theatre (Fringe Venue 5) 805 Langham Court
Tickets: Advance price: All Seats $11 + s/c  Door price: All Seats $11
Duration: 60 mins
Rating: All ages: Coarse Language
Genre: Comedy
Country: Victoria, BC
NOTE: All ticket holders 13 + must have a Fringe Button to use their ticket. A $1 surcharge applies per ticket (this fee directly supports the Victoria Fringe). Advance sales cut off 3 hours prior to show time. At door tickets go on sale at venue 1 hour prior to show time, cash only (half of all tickets are reserved for at door sales). Fringe Buttons can be purchased in advance at Fringe HQ, Ticket Rocket and at every venue. No latecomers, exchanges or refunds.
Showtimes:
 
Aug 29 Wednesday 07:00 pm
Aug 30 Thursday 09:15 pm
Aug 31 Friday 07:15 pm
Sep 01 Saturday 12:00 pm
Sep 02 Sunday 08:15 pm
About the artist/company
Fringe super stars and Atomic Vaudeville favourites Wes Borg (Three Dead Trolls In a Baggie), Morgan Cranny (Vasily Djokavich) Mike Delamont (God Is A Scottish Drag Queen) and Rod Peter Jr (Kitt & Jane) return for a remount of one of the most hilarious comedies on the Fringe!
Credits
Directed by Ian Case
Written by Wes Borg & Paul Mather
Starring Wes Borg, Morgan Cranny, Mike Delamont, and Rod Peter Jr
Produced by Mike Delamont & Morgan Cranny