Ghosts of Rorschach dance and photo event July 26 2014
I'm a big fan of collaborative, border-crossing arts events and have come to know the dancers of Broken Rhythms from their performances at the Victoria Fringe Festival.  Now, together with photographers Alina Sotskova and Ian Sparks, and with the assistance of Dance Victoria, they will unveil the Ghosts of Rorschach photography series, and present dance works inspired by this theme, in an evening of dance, art, photography and conversation.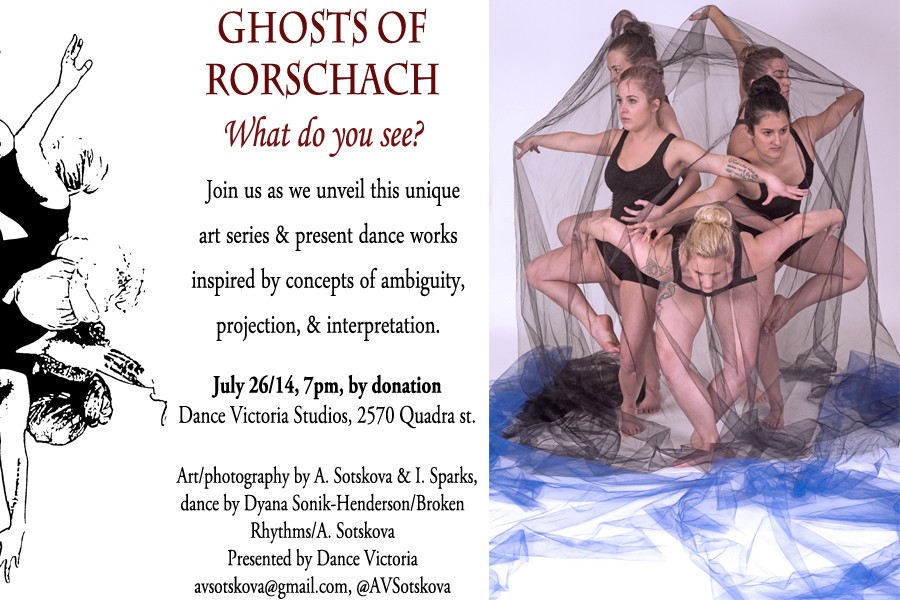 The themes of individual projection and making meaning cut across all the disciplines that study human expression and experience, embracing psychology, art, philosophy, and dance.

On July 26, the artists hope to create a space for these disciplines to meet and interact. Everyone is  invited to join in conversation that transcends the boundaries of "audience" and "artists," and engage with the works in a way that moves beyond the traditional way of consuming art: detached, disconnected from the artist.

"What do you see?" was the question that Hermann Rorschach posed as he administered the mysterious-looking ink blot test for the first time over 90 years ago. Since then, the Rorschach psychological test has become a cultural symbol. The theme for this event is inspired by the ambiguity of the Rorschach ink blots, the notion of projecting one's unconscious thoughts and wishes onto others, and the peculiarity of individual perception, our idiosyncrasies in making sense of the ambiguous and complex world we live in. I see the ambiguity of the ink blots as beautiful. What do you see?

Social media played a huge role in the development of the project. Alina Sotskova was the visionary behind the project. She had seen Broken Rhythms' work in Fringe, workshops, and other projects. She sent out a tweet on twitter hash tagging both Dance Victoria and Broken Rhythms with the line "want to collaborate on art making #bodies into #inkblots?"

The rest of the project developed organically, with Broken Rhythms artistic director Dyana Sonik-Henderson, eager to engage in a collaborative project, promising her dancers and herself to a photo shoot. Dance Victoria twittered back with space availability. "I think it was a full two weeks before anyone wrote more than 130 characters to each other," Dyana recalls. Ian Sparks, who has worked with Alina on many photography series (although he is used to be the only one behind the camera) was inspired by the idea and thus a two-photographer, three hour, five dancer photo shoot became so much more than that first little tweet.

This cross disciplinary exploration of art and support from Dance Victoria really pushed Alina, Ian Sparks and Dyana to open this connection up to the community.
Ghosts of Rorschach
Saturday July 26, 2014 7pm
Dance Victoria Studios, 2750 Quadra Street
Admission: By donation (after covering costs proceeds will be donated to local charity)
Artists presenting the event: Alina Sotskova, Ian Sparks, Broken Rhythms