Perk Up Pianist at UNO Fest 2018. Interview with Sarah Hagen.
Intrepid Theatre's UNO Fest, now in its twenty-first year, runs May 9-19, 2018 in Victoria BC.  It features eighteen shows, including two as part of the new Family Fest Series, and a spotlight on women's indigenous voices with a guest indigenous curator, Yolanda Bonnell.
I'll be featuring interviews, previews and reviews during the festival. Follow http://janislacouvee.com/tag/uno-fest-2018/ for all my coverage.
Sarah Hagen answered questions about "Perk Up Pianist".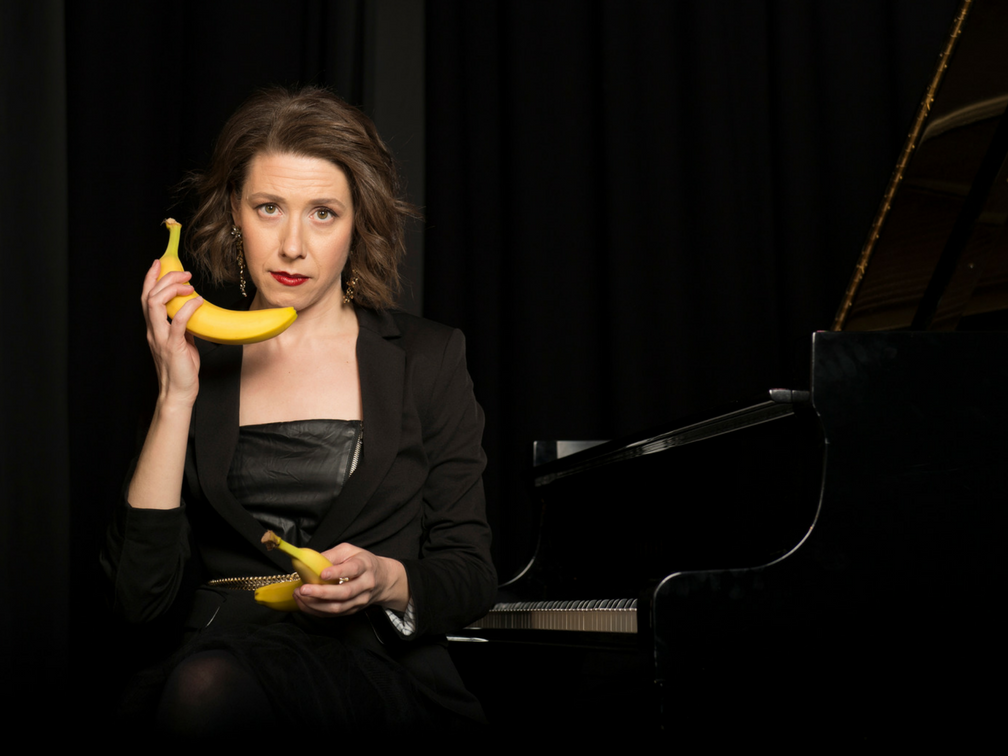 What sparked the creation of this show? Can you speak to the creation process?
Burnout! ha ha!. I was touring so much as a classical pianist… or maybe touring too much without taking care of myself. I woke up one day and thought, I need a break or maybe I even need to stop playing forever. I had the show in mind a bit before that and had entered the Toronto Fringe Lottery for which I was drawn first on the waitlist. I made the decision to cancel my upcoming season and then had the difficult task of phoning every venue to tell them that. Around three weeks later I received a call from the Toronto Fringe saying there was a spot for me if I wanted it. I had also decided to move to Toronto by that point, so EVERYTHING was happening, even though I was so burnt-out that I was longing for nothing to be happening. oy!
Life was so busy in those weeks…. I was finishing my performances in BC  for the season, packing up, moving, and then had a stressful three weeks in Toronto waiting for my belongings and my beautiful grand piano which had become stalled somewhere in the prairies. By the time I got to my tech rehearsal I still hadn't finished writing the first draft. So my stage manager set all the cues and I wrote the rest to fit the lighting cues. Probably not the best way to go about things!
I toured "Perk up, pianist!" through fringe festivals for two summers, and constantly rewrote it until I got to the finished(?) state it is is in now.  I have also been grateful for fantastic direction from Rick Roberts in Toronto.
Is this your first one person show? Yes!
When did you debut the show (or is this its debut), and how has it changed since the debut?
The show debuted in a way at the 2016 Toronto Fringe, but it barely resembles that anymore. Now it feels more like a subtle parody of classical recital…. As if I'm playing and letting the audience in on a kind of imaginary "thought bubble" over my head.
Can you comment on the design aspect of your show, its esthetic?
At the core of the show is the beautiful music which I feel so honoured to play. And I have taken to referring to my style of comedy as crockpot humour… Sloowwww. People tell me they find themselves laughing about things later when they get home. I  tell people they may even find themselves laughing during someone else's show…
What do you hope to inspire in your audience?
Ultimately it is a show about being true to oneself, and forgiving oneself for failure, and about living in an authentic way.
Who will be interested as a potential audience member?  What would you say to entice someone to come?
The show is Victor Borge meets Carol Burnett meets Betty White. Basically I'm an 80 year-old trapped in a 40 year-old's body. What could be more enticing?!  Oh! And there is piano playing.
What's next?
I'm touring a full-length version of the show over the next several years! It's a dream come true!
Significant accolades or awards?
At the Toronto Fringe I was awarded "Most Awkward Tap Dancing Done While Seated On A Tiny Bench Simultaneously Playing Toy Piano And Blowing Into A Melodica." haha.
In my concertizing life:
Ontario Contact's 2017 Artist of the Year
BC Touring Council's 2015 Artist of the Year
A First Prize Winner in the 2013 Bradshaw & Buono International Piano Competition awarding me the opportunity to perform solo at New York City's Carnegie Hall.
Is there anything I haven't asked you that it would be important to know?
I'm really honoured to be a part of UNO Fest! I played solo with the Victoria Symphony some years back and I have performed a few times with Ballet Victoria. I have many roots in the city and it feels in a way like I'll be playing for a hometown audience. I am also really glad that my pal Chris Gilpin will be there to see the finished show, as he was the one who really encouraged me to write it in the first place.
One Night Only! With an enthusiastic performance schedule that has taken her all the way to Carnegie Hall, Sarah Hagen transforms her award-winning role as "concert pianist" into a stand-up, or rather, sit-down comedy. Pairing anecdotes with music, "Perk up, Pianist!" takes you deep inside the world of a classical musician as she shares her earnest efforts to keep her spirits up amid troublesome times!

"Her comic timing is as solid as her musical meter." -Edmonton Journal

"If this performance doesn't perk you up, there's likely not much else that will."
-VueWeekly
Perk Up Pianist by Sarah Hagen (Charlottetown)
UNO Fest 2018
Metro Studio Theatre, 1411 Quadra Street
May 15 at 7:30pm
Tickets $20 through Ticket Rocket
Duration: 55 minutes
Rating: 14+
Genre: Cabaret/Comedy/Concert Pianist