Pearle Harbour's Chautauqua at OUTstages 2018. Interview with Justin Miller.
Justin Miller IS Pearle Harbour—a drag tragicomedienne with an impressive list of credits. Learn more about her latest show, Chautauqua, below.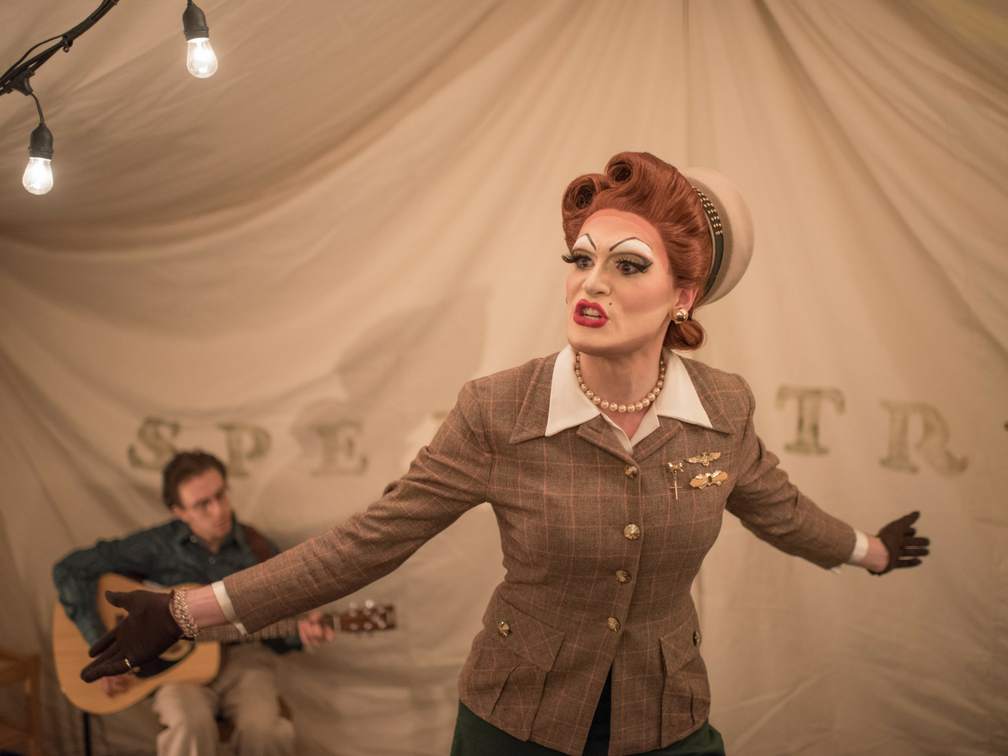 What sparked the creation of this show and can you speak to the creation process? Also—when did Pearle make her first appearance?
I had just come off a run playing Hedwig & the Angry Inch (directed by my longtime collaborator Rebecca Ballarin), which was my first time in drag, and I was a changed man/woman after that role. Drag does something to people. It gives you powers over them. I truly believe the relationship of a queen to her audience channels an instinctive and ancient connection, like a priestess around the fire, or a fool in the court. The oddest thing in the room that is somehow more relatable and more honest than you'd ever expect. We've always counted on these people to tell us about the world, like it really is, even when it's painful to hear it.
Pearle was born on August 6th — the anniversary of the bomb dropping. It was four years ago in Rob Ford's Toronto, in Stephen Harper's Canada. I didn't think it could get much worse. (Boy was I wrong.)
You developed Chautauqua at The RISER Project 2017. How has it changed since the debut?
The turning point for Pearle Harbour's Chautauqua was a rinky-dink tour of the play in its early iteration (then called Sunday School), to Guelph ON. The lack of lighting and set made it impossible for audiences to distinguish which of Pearle's questions were rhetorical, and which were literal, so they just answered them all. It was a goddamn hoot. I asked my dramaturge, the great Sandra Balcovske, what we could do to create that closed, intimate space where questions are always literal, and the drama revolves around the audience from start to finish. She thought a moment and said, 'what about a tent?'
The show, Tent and all, premiered at the RISER project in April 2017. The spirit was right, not all the details were. When we revisted the play in preparing for SummerWorks, any moment that relied on staged 'drama' or contrived conflict was cut. When you invite the audience to engage eye to eye that directly, they can see (and feel) what's real and what's phony. Everything must be sincerely in the moment.
Can you comment on the design aspect of your show, its esthetic? (I'm fascinated by the "part cabaret, part tent revival, part tragi-comedy" description)
The Chautauqua Tent—designed by Joseph Pagnan and built by Haley Reap—is at the heart of the show. A 20'x25' canvas tent hangs from the theatre grid, and an intimate audience of 40 are taken through an old-time revival for a post-Truth world. After about 5 minutes in the Tent, the rest of the world melts away entirely.
Pearle is a drag tragicomedienne, which is really just a good way to hedge her bets—even if you don't laugh, she still will have succeeded.
What do you hope to inspire in your audience?
Chautauqua isn't a play you watch, it's something you go through together. So after all the call-and-response, sing-alongs, puppets, and exorcisms, my hope is that after the show, maybe two people who didn't know each other before, will start talking about this gonzo experience they just shared, and they'll share a little more of themselves with each other.
The show changes with every audience, its collective and individual personalities, so each Chautauqua is unique, and special, something only those 40 people will have gone through.
Who will be interested as a potential audience member?  What would you say to entice someone to come?
Chautauqua is for everybody who feels like the world is falling apart. But don't worry, Pearle will show you there's more that unites us than divides us! Also, Creamsicles, there are Creamsicles.
What's next?
Up next for Pearle is Chautauqua at the Cultch, Vancouver, June 28-30, presented by the Pi Theatre Provocateur series!
Pearle Harbour's Chautauqua then returns to Toronto, opening Theatre Passe Muraille's 2018/19 season.
And finally, look out for more about my concert extravaganza Pearle Harbour's BATTLE CRY—Songs of Warfare and Gaiety, in development with Buddies In Bad Times Theatre. It's proper propaganda to get your toes tappin' and feet marching!
Significant accolades or awards? (beside what's on the website?)
Awards include Audience Choice at SummerWorks, Outstanding Solo Performance (My Entertainment World), lots of NOW Magazine best of fests and yep, they're all on the website!
Is there anything I haven't asked you that it would be important to know?
#Pearlegoeswest is just proof that Pearle's destiny is manifest destiny, so get ready West Coast, a bombshell is coming!
Further reading:
Chautauqua was an adult education movement in the United States, highly popular in the late 19th and early 20th centuries. (Wikipedia).  It is currently experiencing a revival.
https://en.wikipedia.org/wiki/Chautauqua
https://www.chautauqua.com/about-us/history/chautauqua-movement-history/
http://chq.org/about-us/history
Pearle Harbour's Chautauqua created by Justin Miller (Toronto)
OUTstages 2018
Metro Studio Theatre (corner of Quadra and Johnson)
Saturday June 23 at 9pm
Sunday June 24 at 6:30pm and 9pm
Tickets: $25
Duration: 80 minutes
Genre: Drag, Tragicomedy
The Audience Choice Award Winner at SummerWorks, Pearle Harbour's Chautauqua is an immersive extravaganza: part drag, part tragicomedy, part old-time tent revival. The world may be falling apart, but Pearle will show you there's more that unites us than divides us.

Be honest: how are you doing, really? Are you behind on your emails? Are you worried? Afraid? Lost?

You are not alone. And connection is the cure for what ails ya. Come gather together, under the milky folds of Pearle's beautiful tent, and be sheltered from the inharmony of our troubled times. Catch your breath, speak your truth, and feel the people power! You betcha!

"Outstanding Play, Outstanding Production, Outstanding Performance, Outstanding Direction and Outstanding Design" – NNNN, Critics' Pick, NOW Magazine (Toronto)

"A+++++++ … "This is everything I want to see, everything I want hear, everything I want to be." – My Entertainment World (Toronto)