RECOVERY SHOW: A powerful story of personal and political recovery comes to Victoria Fringe (media release)

Racks of dead bodies in the Murambi Genocide Memorial Centre. Government conspiracies to sell brain-space real estate. Comings to terms with the diagnosis of schizophrenia.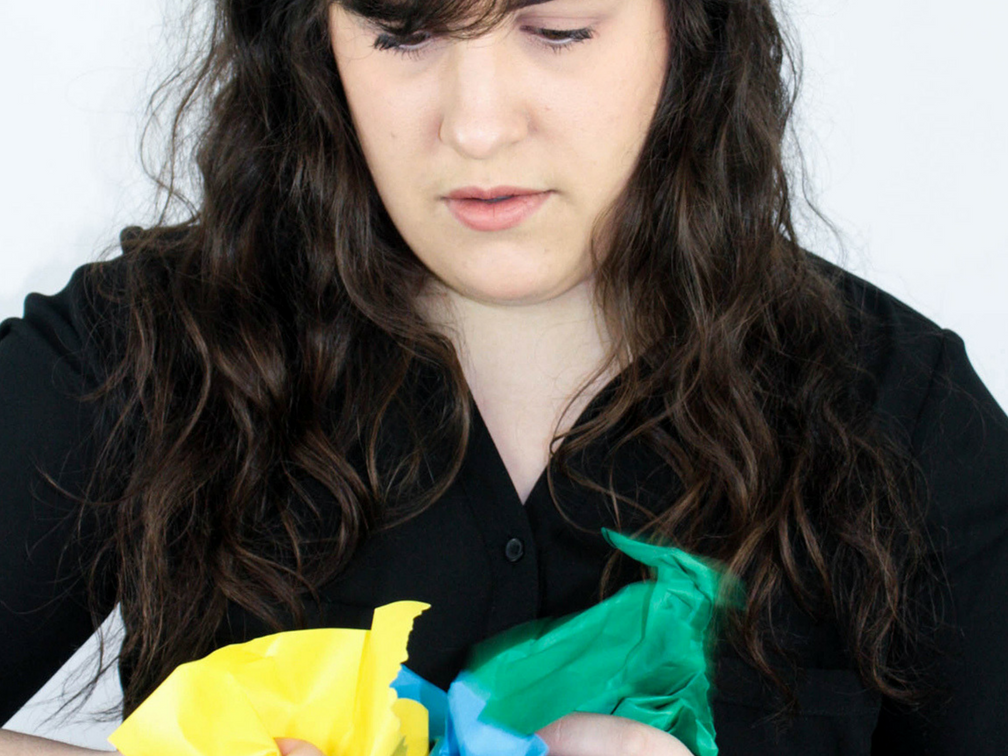 Recovery Show is a riveting solo performance based on Clara Madrenas' own experiences of psychosis during a field study of the Rwandan genocide and the near-death illness of her partner (and show director) Jeff Preston. Transforming trauma, violence and stigma into poetry and creative expression, Madrenas portrays three distinct characters weaving together an examination of reality and what it means to 'recover' in community with one another.
Through Recovery Show, Madrenas invites audiences to spend an hour within her own mind – traversing the poetic, humorous, and destabilizing experiences of discovering you see the world differently than everyone else. Part political statement, part intimate confessional, Recovery Show urges audiences to interrogate commonly held beliefs about mental illness, the developing world, and how we silence and push 'the Other' to the margins.
First premiering this summer in her home town during the 2018 London Fringe Festival, Madrenas donated the entire box office to the United Way of Elgin & Middlesex to support community wellness programs in London. Madrenas was also invited to reprise the show at the Schulich School of Medicine and Dentistry's GlobalMINDS Institute.
Now, for the first time out of Ontario, Recovery Show is coming to Victoria for a 6-show run during the Victoria Fringe Festival.
Recovery Show was awarded funding and made possible through the London Arts Council Community Arts Investment Program, the Ontario Arts Council Recommender grants, and the Taking It Global Youth Service Corps grants.
"…one of the most open, honest, and visceral productions to be mounted on a Fringe stage in years."
Jay Menard-Theatre in London
Recovery Show by Clare Madrenas (London, ON)
Venue 7 – St. Andrew's Kirk Hall (680 Courtney St)
Tickets: ADVANCE PRICE: Regular $11/ St & Sr $9 + s/c DOOR PRICE: Regular $11/ St & Sr $9
DURATION: 60 mins
RATING: PG 14+
GENRE: Solo Drama
NOTE: All ticket holders 13 + must have a Fringe Button to use their ticket. A $1 surcharge applies per ticket (this fee directly supports the Victoria Fringe). Advance sales cut off 3 hours prior to show time. At door tickets go on sale at venue 1 hour prior to show time, cash only (half of all tickets are reserved for at door sales). Fringe Buttons can be purchased in advance at Fringe HQ, Ticket Rocket and at every venue. No latecomers, exchanges or refunds.
Showtimes:
Thu Aug 23 – 6:15pm
Fri Aug 24 – 5:30pm
Sat Aug 25 – 8:15pm
Thu Aug 30 – 7:30pm
Sat Sep 1 – 2pm
Sun Sep 2 – 1:30pm
About the artists:
Clara Madrenas Playwright/Performer
Clara Madrenas has participated in over 30 theatrical productions in the London area since becoming interested in theatre at a young age. Her 2012 London Fringe Festival solo science fiction musical about Canadian politics, entitled NOT: A BEV ODA MEMOIR, received a local Beat: Dish Award. Prior to that she has written two 24 Hour Rush theatre pieces fundraising for local gallery and theatre space, The Arts Project. She also wrote and performed in DRAW, a 2007 London Fringe play about a school shooting, and in 2009 presented a staged reading of HANDALA, a story of a Palestinian family coping with disruption in their concept of home. Diagnosed with schitzoaffective disorder in 2013, RECOVERY SHOW is Clara's first time talking publicly about her experiences with mental health.
Jeff Preston  Director
Jeff Preston got his start directing NOT: A BEV ODA MEMOIR for the 2012 London Fringe Festival and is ecstatic that Clara has welcomed him back for another directoral turn. He is currently an Assistant Professor of Disability Studies at King's University College @ Western University, where he teaches classes on popular culture, policy and subjectivity.
Credits
Written and performed by Clara Madrenas, directed by Sydney Gilchrist and remixed by Jeff Preston, visual concept and photography by Rima Sater.