Shop Talk by Theatre SKAM, October 13-23, 2016. A review.
Theatre SKAM (founded in 1994) built their reputation with off-the-wall, edgy site-specific theatre, at times even drawing attention from the police when the action became a little too "realistic".  Having hit the big Two-O, the company is definitely not settling down, as signalled with the latest production—Shop Talk, a troubling mind-and-gender bending look at life in a scene shop.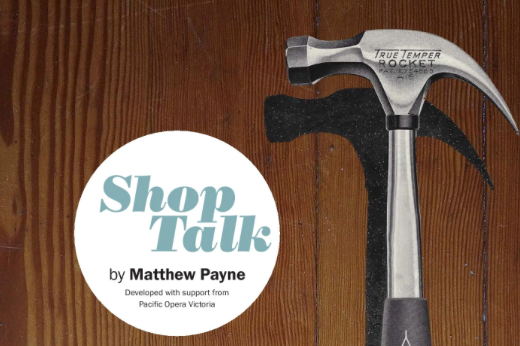 Playwright Matthew Payne imagines an alternate reality—a world where women rule the shop floor and men are relegated to household duties; where Sophie Gregoire-Trudeau is prime minister and Donald Trump is running for office as the first male president.   Originally scheduled for the Pacific Opera scene shop, the show was moved at the last moment to an empty warehouse in Quadra Village (2713 Quadra Street) thanks to some quick work on the part of a local realtor and sympathetic landlord.  A functioning scene shop has been assembled, and the audience views the proceedings from a second floor mezzanine. The actors sport wireless mikes, and the audience headphones (sound—Carolyn Moon) which greatly adds to the impression of being a fly on the wall, witness to the type of uncomfortable and sexist conversations not typically encountered.
As the day begins and the carpenters file in, it's clear there are alliances and animosities.  Designer Terry (Connie McConnell) is under pressure to deliver a completed project but needs to rely heavily on forewoman Pat (Jennifer Ault) to ensure the work gets done on time. Pat needs to balance the hormone-laced atmosphere and personalities to do so, all the while managing her romantic entanglements with Dee (Jason Clift). Blustery Nic (a menacing Karen Lee Pickett) harbours a deep-seated grudge against easy-going Al (Geoff Ewert) over a contract; dangerous tension crackles.  Given an environment where everyone is using power tools and saws, a sense of unease and foreboding quickly develops.  Sal (Diana Nielsen) is trying to solve the problems of the world in a straightforward and self-evident manner and holds out, at length, to anyone who will listen.  Max (Jess Amy Shead) rambles on with a series on nonsensical questions that are actually profound.  Ad (Sarah Carlé) is a lascivious lecher; Cam (Kelly Hudson) the jokester who loves to hoodwink the others.  Conciliatory Pat (Stephanie Dolan) just wants to be seen as the "good gal" while Matty (Grace Le) quietly suffers the ongoing onslaught of racist remarks. Sam (Sarah Cashin) loves to strut her stuff and ogle the eye candy; Toby (Amelia Petscheleit) wants to work and avoid confrontation.
Director Chelsea Haberlin pulls a large cast and fraught polemic together in an absorbing 90-minute show with multiple levels of engagement and many possible directions. It's great to see strong women and strong characters in an unusual situation, and all the sadder when realizing that women have had a history of working in industrial jobs in British Columbia—this history to some extent overwritten once World War II ended and men returned to the work force. (for a fascinating read—Plywood Girls: Women and Gender Ideology at the Port Alberni Plywood Plant 1942-1991).  In a world where gender is beginning to be seen as fluid, it still remains disturbing to hear women mouthing "men's words" and it is none the less disturbing to see them portraying "male" attitudes, which then begs the question of whether "female" attitudes are not as unconscionable.
Shop Talk confronts and provokes, raising questions at a time when attitudes are coming under the microscope and people are beginning to challenge the status quo of gendered relations. Its realism is deliberately disconcerting and sure to stimulate many pointed discussions.  What a wonderful example of what theatre can be. Thanks to cast and crew of Shop Talk for daring to stretch boundaries in this fraught exposé.
A group of misfit carpenters assemble a set for a Halloween mall display. They shoot the shit, tell dirty jokes, and solve the world's problems- all while conducting a never-ending quest for the perfect rock radio station. A little drama unfolds.

The production takes place in a real 4,000 square foot carpentry shop. The audience observes from a mezzanine level, wearing headphones so they can listen in on the goings on.

A play that dares the audience to consider a different perspective, Shop Talk is a unique theatrical experience.
Shop Talk, written by Matthew Payne
Theatre SKAM
2713 Quadra Street, Victoria BC
October 13-23, 2016
Tickets: $20-$25 via Eventbrite.
(If you cannot ascend a flight of stairs, please call us to make arrangements: 250-386-7526.)

Creative:
Directed by Chelsea Haberlin*
Costume Designer, James Insell
Sound Designer, Carolyn Moon
Set Designer, Patricia Reilly
Stage Manager, Claire Friedrich*
Cast:
Jennifer Ault Andy
Sarah Carle* Adrienne
Sarah Cashin   Sam
Jason Clift* Dee
Stefanie Dolan            Pat
Geoffrey Ewert* Al
Kelly Hudson Cam
Grace Le Matty
Connie McConnell  Terry
Diana Bridget Nielsen Sal
Amelia Petscheleit Toby
Karen Lee Pickett Nic
Jess Amy Shead Max
 
Technicians: Graham Croft, Zoe Hibbert, Alex Sangster, Karen Stack, and Geri Weir
* The participation of these Artists is arranged by permission of Canadian Actors' Equity Association under the provisions of the Dance-Opera-Theatre Policy.
Disclaimer: I received a complimentary ticket to attend Shop Talk.