Victoria Fringe Festival 2017. My local picks.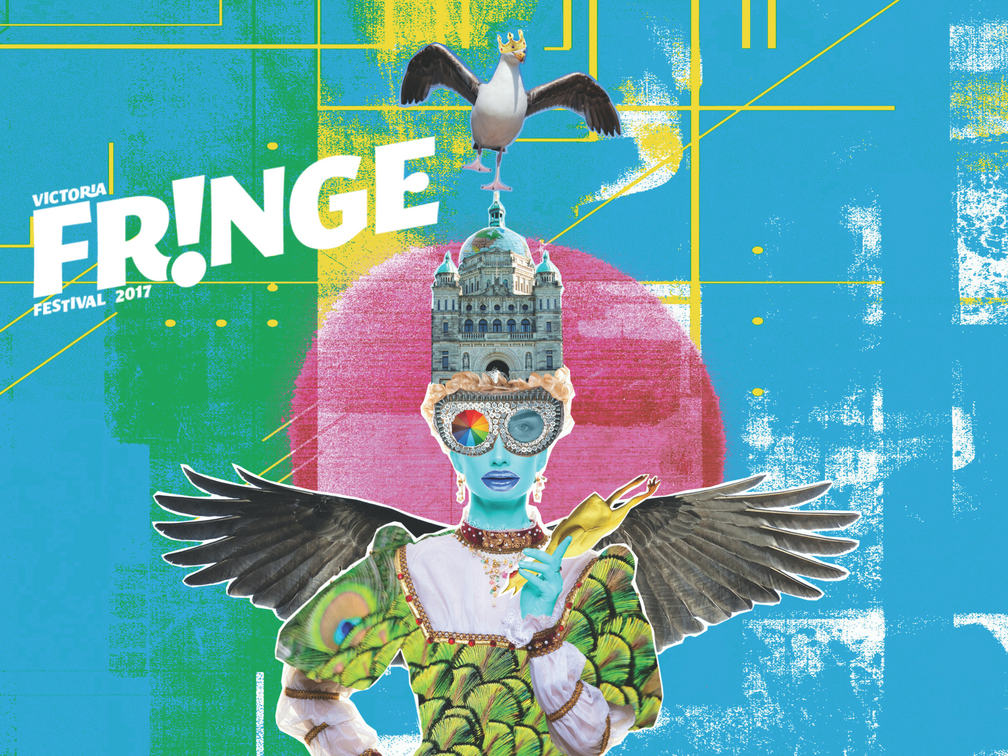 I've been fringing now seriously since 2006 (which really isn't very long when you consider the Victoria Fringe Festival celebrates 31 years in 2017). In any given year I'll attend 35-40 shows at the Fringe and 90-100 during the year.  My recommendations are based on seeing previous iterations (in development at Intrepid Theatre's YOU Show, UNO Festival, the Belfry Theatre SPARK Festival, UVic SATCo or fully fledged during an initial run), and often, on the continued body of work of performers, playwrights and companies. However, the Fringe wouldn't be the Fringe without taking a chance.   My preferences might not be yours.  Celebrate this truly democratic theatre initiative and go see a show which might not be your first choice—I will!
I have listed my picks as they appear in the program.
A reminder: patrons need a Fringe button ($6) to attend shows. It is good for all shows. Proceeds benefit Intrepid Theatre, producers of the Fringe, and help defray the costs of producing the Fringe. ALL ticket sales go to the artists.
HINT: 50% of tickets are reserved for advance sales. Some of the more popular shows will sell out of advance tickets, particularly near the end of the Fringe. 50% of tickets are available at the door although it may mean lining up well in advance. If you have decided on your schedule, it is well worth buying a 5-Show Munch Pass ($57) that you can even share, and which will allow you to pre-book tickets with no service charges.
Venue 1: Victoria Event Centre
A Woman's Guide to Peeing Outside & Other Adventures by Holly Brinkman
Have you ever lived in a small town? I grew up in Ucluelet, Holly in the Kootenays, but when she relates episodes of small-town life—they have an uncanny similarity to my experiences. If you've ever had to pee outside ladies, you'll relate.  Tales of coming-of-age will resonate with many audience members. Holly developed A Woman's Guide to Peeing Outside through Intrepid Theatre's YOU Show and then toured it to the Montreal Fringe.
Jukebox Drive, produced by Enigmatic Events
Chris Rudram, the founder of Enigmatic Events, loves games. And, he loves incorporating games and improv with theatre. A fervent supporter of the Fringe, he initially hosted artists and wrote the occasional review.  Producing a show represents a big step.  The cast is comprised of regulars in Victoria's improv community—you'll be in good hands.  Read my interview with Chris here: http://janislacouvee.com/jukebox-drive-enigmatic-events-victoria-fringe-2017-interview-chris-rudram/
War: Improv is Hell by Paper Street Theatre Co
Two time Pick of the Fringe winners for The Playful Eight 2016 and audience favourite for An Improvised Quentin Tarrantino 2013, Paper Street Theatre Co are back with a completely improvised show (so good some people are convinced it's scripted) that channels war movies like Full Metal Jacket, Heart of Darkness, Platoon and Apocalypse Now. One thing is certain—don't delay in getting tickets as their shows sell-out consistently.
Venue 2: Downtown Community Centre
After the Beep by Pamela Bethel in association with Theatre SKAM
Pamela Bethel kept all her old answering machine tapes (remember those) from her teen age years and has turned their messages into an intriguing coming of age story. Reminiscences and ruminations from the now-adult Bethel are tinged with wry humour.  I've seen After the Beep twice and appreciate its non-indulgent, self-aware tone.
Monica vs. The Internet (Tales of a Social Justice Warrior) by Monica Ogden and Ann-Berniece Thomas
Monica Ogden is one of the bravest young women I know—the founder of Fistful of Feminism, a YouTube channel, she is not afraid to speak her truth to power, and is constantly seeking to bring an intersectional feminist lens to discussions.  Partnering with former City of Victoria Youth Poet Laureate Ann-Bernice Thomas, she's written a show that takes snippets of comments from her channel.  I can guarantee that it will provoke audience reaction.  The co-creators are part of a new wave of theatre creators who will not be silenced by the pre-dominant narrative.  Thankfully the Fringe provides a venue for them.  Ogden is a regular and seasoned performer with Paper Street Theatre Company.
My interview here: http://janislacouvee.com/monica-vs-internet-tales-social-justice-warrior-victoria-fringe-2017-interview/
Naked Ugly Dancing by Tasha Diamant, the Human Body Project
Tasha Diamant, founder of the Human Body Project, presented at numerous Victoria Fringe Festivals, is back with her newest explorations in vulnerability, sparked by her diagnosis with, and treatment of,Stage Four gynecological cancer.  Performance art is an under-appreciated discipline in Canada; in Victoria most people will never get an opportunity to experience work of    this nature. Everyone should take the chance once to sit with the questions that Diamant raises about the state of the world today.  It's not "theatre" as defined by most, but it is necessary.  Under our various guises and disguises, who are we, and what does it mean to be human?
My interview here: http://janislacouvee.com/naked-ugly-dancing-tasha-diamant-victoria-fringe-2017-interview/
The Great Pretender: Autobiography of a Faker by Trent Arterberry
With over 40 years of performing, as a mime and children's entertainer, Arterberry enters new territory with this autobiographical tale for adults.  Polished, genuine and a former Pick of the Fringe. http://janislacouvee.com/great-pretender-trent-arterberry-victoria-fringe-2017-interview/
Vasily Djokavich Russia's # 1 State Approved Comedian by Morgan Cranny
Musn't get "shot in face".  Vasily Djokavich began life as a character in Atomic Vaudeville skits before Morgan Cranny decided, in 2016, to write a complete show around this dead-pan comedian who launches dig after dig at Russian life.  He's performed locally and toured on the CAFF circuit to Orlando, Toronto, Edmonton and Winnipeg to howls of laughter and great reviews.  Dead-pan Cold-War-era humour that is never mean, and often hilarious.
Here's an earlier interview from 2016:
http://janislacouvee.com/vasily-djokavich-russias-1-state-approved-comedian-interview-with-morgan-cranny/
Venue 3: Metro Studio
Interstellar Elder by SNAFU, performed by Ingrid Hansen
Devotees of Little Orange Man, rejoice! Ingrid Hansen is back with a new episode in the life of her central character Kitt.  Expect odd ball humour and quirky and zany situations as this now-grandma becomes custodian of a spaceship of cryogenically frozen humans, the last survivors of environmental destruction.  Hansen is touring the country, again to great reviews.  Appealing to everyone's inner child, this dark tale is, however, PG 14.
My interview here: http://janislacouvee.com/interstellar-elder-snafu-victoria-fringe-2017-interview-ingrid-hansen/

Reviews:
Montreal http://montrealtheatrehub.com/2017/06/14/fringe-review-interstellar-elder-a-powerful-interactive-piece-of-physical-comedy/
Toronto https://nowtoronto.com/stage/toronto-fringe-festival-2017/fringe-review-interstellar-elder/
Edmonton http://www.edmontonfringe.ca/play/interstellar-elder/
LEER by David Elendune, produced by Outpost 31
David Elendune has set himself the challenge of adapting work in the public domain, successfully producing Casino Royale (2015) and Winnie The Pooh (2016) at past Victoria Fringes. Now, he sets his sights on none other than the Bard of Avon as he adapts Shakespeare's King Lear for a gender-bent cast with the action set in Hell.  With well-known Victoria actor Wendy Magahay in the central role, and an accomplished supporting cast, this is sure to be a very "hot" ticket.
My interview here: http://janislacouvee.com/leer-outpost-31-victoria-victoria-fringe-2017-interview-david-elendune/
The Gift by John Aitken and Gail Noonan, surrounded by Owls Productions
Some of the most important theatre work in the country is being performed on Fringe festival stages.  John Aitken's non-verbal, physical theatre show The Gift is a must-see for anyone who wishes to explore their own stories, reconciliation and healing. Of mixed ancestry, settler and Indigenous, Aitken grew up not speaking until the age of eighteen. This is his story.
My interview here: http://janislacouvee.com/gift-john-aitken-victoria-fringe-2017-interview/
Venue 4: VCM Wood Hall (907 Pandora)
"Get Me the F#ck out of Edmonton" by Wes Borg
Fringe veteran Wes Borg (of the legendary Edmonton-based troupe Two Dead Trolls & A Baggie) regales audiences with tales and songs.  Borg is a part of Fringe history. He's also a seasoned and accomplished performer who loves to improvise. You'll be in good hands!
Edmonton:
https://12thnight.ca/2017/08/15/fringe-review-get-me-the-fck-out-of-edmonton/
http://edmontonjournal.com/entertainment/festivals/fringe-review-get-me-the-f-out-of-edmonton
Winnipeg: (note–the link says Gerard Harris, but it is a review of Wes' show)
http://www.cbc.ca/news/canada/manitoba/winnipeg-fringe-review-gerard-harris-attention-seeker-1.4205914
Venue 5: Langham Court Theatre
George and Gracie: A Love Story, Where's Noonan
I'm a big fan of the wit of George Burns and Gracie Allen and can't wait to see what husband-and-wife team David MacPherson (who last directed The Crucible at Langham Court Theatre) and Melissa Blanc (last appearing in Proof at Langham) have in store.  It's a busy fringe for MacPherson who also plays one of the central roles in Bema Productions Horowitz and Mrs Washington.
Venue 6: Fairfield Hall, 1303 Fairfield
Six Magicians by Andrew Brimstone
Brimstone aka Andrew Brimmell is a regular cast member with Paper Street Theatre Company. Here he draws on his experience as a magician to give us six different takes on various types of magician and magic. Sure to appeal to fans of magic.
My interview here:
Site B, Temple Emanu-El, 1461 Blanshard
Horowitz and Mrs Washington by Bema Productions
Winners of best drama at last year's Victoria Fringe, the team at Bema Productions can be counted on to provide superbly directed and acted dramas with a thoughtful human touch, leavened with humour
My interview here: http://janislacouvee.com/horowitz-mrs-washington-bema-productions-victoria-fringe-2017-interview/
Site C, 2% Jazz at the Hudson (off Fisgard)
Due to unforseen circumstances the show below has been CANCELLED.
Café Soap Operas Season 2 by workingclass theatre
Site E, Banfield Park off Craigflower Road
Gruff by Puente Theatre, created by Mercedes Bátiz-Benét, Judd Palmer and Brooke Maxwell
Do you remember the tale of the Three Billy Goats Gruff and the Troll who hid under the bridge? What happens when the talented local team of Mercedes Bátiz-Benét (Puente Theatre), Judd Palmer (Old Trout Puppets Workshop) and composer Brooke Maxwell (Ride the Cyclone) turn it into a musical, with puppets, for kids from five-years and up (and their adults)?  Fun is sure to ensue. Staged outdoors in Banfield Park. I saw an earlier version at the inaugural Family Theatre Festival (Kaleidoscope Theatre) and kids were completely engaged. Besides—singing goats!
I'm also intrigued by Daddy Issues by Human Voltage Theatre (devised by Colette Habel and team), produced by Pick of the Fringe award-winning company Vino Buono, (Venue 3: Metro Studio), lolcow by Hawk Mom (written by Robbie Huebner) and O, Come All Ye Faithful by Bragi Theatre (written by Nicholas Guerreiro) both at Venue 5: Langham Court.
All three are alumni of UVic with multiple writing and creating credits, including some at the Victoria Fringe. All three relish the exploration of complex ideas.
My interviews are here:
http://janislacouvee.com/daddy-issues-human-voltage-theatre-project-victoria-fringe-2017-interview-colette-habel/
http://janislacouvee.com/o-come-all-ye-faithful-nicholas-guerreiro-victoria-fringe-2017-interview/
http://janislacouvee.com/lolcow-by-hawk-mom-productions-victoria-fringe-2017-interview-robbie-huebner/