ILLICIT A Shadow Story July 11 2018 at the Belfry Theatre
Victoria Performance & Dialogue on the Opioid Overdose Crisis
A collective of frontline responders to the opioid crisis from Vancouver's Downtown Eastside will share their community play, ILLICIT, at the historic Belfry Theatre's Studio A on the evening of July 11, 2018. The play, which features stories and shadow theatre sourced from the actors' lived experience, will be followed by a dialogue on themes raised by the performance.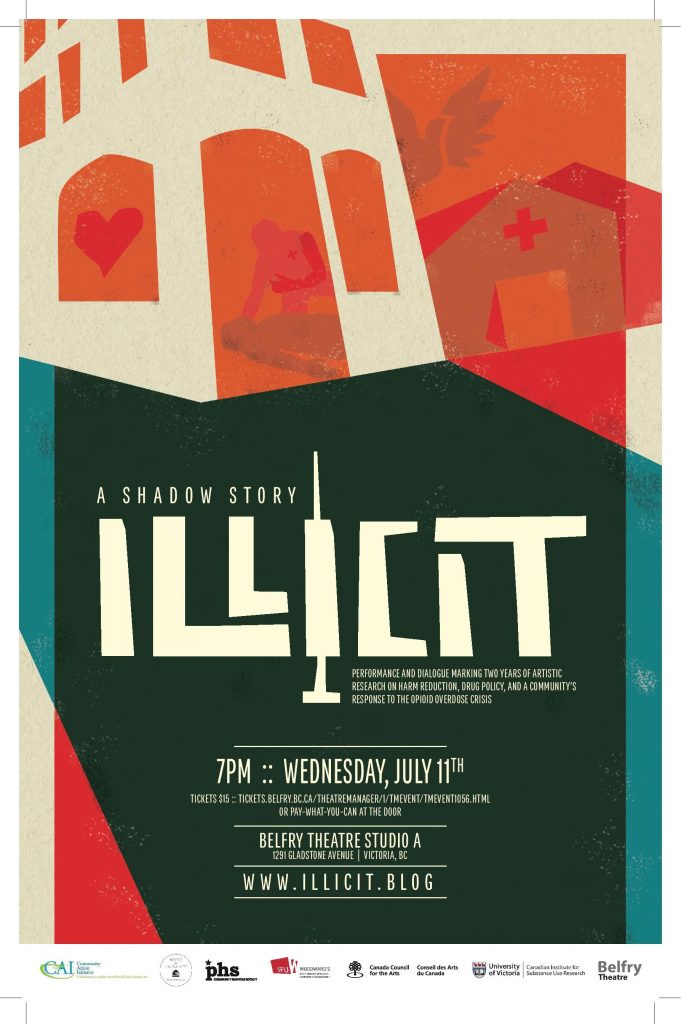 The play features a soundscape designed by Juno-award winning composer Devon Martin, and was directed and dramaturged by film and theatre artist Renae Morriseau.
ILLICIT: A Shadow Story
Wednesday, July 11, 2018 7pm
Belfry Theatre Studio A
1291 Gladstone Avenue
Victoria, BC V8T 1G5
Tickets: $15 in advance at belfry.bc.ca/tickets/
Or pay-what-you-can at the door – no one turned away for lack of funds
Facebook: https://www.facebook.com/events/278787559348637/
Website & Video: illicit.blog
Performer Nicolas Leech-Crier's interview on Global: https://globalnews.ca/video/4307065/play-aims-to-raise-awareness-about-opioid-crisis
Performer Tina Shaw's interview on CBC's On the Coast: http://www.cbc.ca/listen/shows/on-the-coast/episode/15554201 begins at 01:27:10
Shadow Director David Mendes' interview in the Georgia Straight: https://www.straight.com/arts/1099256/downtown-eastsides-illicit-theatre-group-goes-road-gritty-reality-fentanyl-crisis
From the creators of the play:
"We believe that the arts can play a significant role in harm reduction because they have the ability to reveal a shared humanity. Our hope is to, with imagination and honesty, fight the stigma that still surrounds people who use illicit drugs and alcohol – stigma that impedes our ability as a society to effectively respond to and prevent tragedies like the overdose crisis.
We gratefully acknowledge that we live, work, and create on the unceded traditional homelands of the swxwú7mesh (Squamish), selílwitulh (Tsleil-Waututh), and xmkym (Musqueam) Nations. It is our honour to share this performance on the unceded traditional homelands of the Lekwungen peoples."