Theatre companies in Victoria are launching 2013 with a number of dark plays (some of them dark comedies) deemed "suitable for mature audiences", as well as ground-breaking trans-media and immersive experiences at the new Winterlab Festival. Families will be happy to hear of a new Family Theatre Festival, and lovers of multi-cultural story telling will want to check out WorldPlay (re-scheduled to March 7-10th)
Sin City returns for a third season, the Derwin Blanshard Show continues on the 4th Sunday of the month, and a new comedy sketch show, Watch for Bones debuts.
Diversion is a new variety show scheduled for the 2nd Wednesday of the month.
Epiphany Productions, the new company created by CCPA graduates Noelle Antonsen (Hamlet, Greater Victoria Shakespeare Festival) and Joseph Goble (Love is for Superbeasts, Victoria Fringe), if offering a Sunday evening series of play readings for thespians who want to brush up on their classics.
Paper Street Theatre enters their third year with a Jane Austen themed show in April (check back for the Spring of Theatre post) and This is Twisted Theatre celebrates its first full season.  Gotta Getta Gimmick has been quietly producing musical theatre cabarets – Sondheim in February will be their seventh (stay tuned for a definite date).  The YOU Show, a project of Intrepid Theatre, returns for a fourth year with original productions by emerging Victoria-based theatre artists.  Theatre SKAM celebrates their 18th birthday and announces a new season (there's a show in February).
Look for more story-telling and puppet related theatre at Merlin's Sun Home Theatre with the advent of Family Sunday on the last Sunday of the month. For more information email Tim Gosley.
If you like to support the arts beyond attending shows, there are fours arts fundraisers scheduled too – Theatre SKAM's 18th Birthday Bash (January 12th), CCPA's Casino Royale 4 (February 2nd), Shakespeare in Love: Scenes of Love from Shakespeare (Feb 6-14) by Giggling Iguana and the Greater Victoria Shakespeare Society, a fundraiser for the latter, and Mary Walsh in Dancing With Rage (February 19th), a fundraiser for Intrepid Theatre.
This post was originally intended to cover January to the end of May, but given the number of theatrical offerings, I have arbitrarily decided to divide it into two. This post will cover January and February, and the next will begin with Let's Make An Opera/Little Sweep (a Belfry Theatre – Pacific Opera collaboration) and the SPARK Festival in March and continue to May's end and UNO Fest
Every Sunday
Play Readings with Epiphany Productions, 6:30pm St Matthias
Come and expand your play repertoire, improve your cold reading skills, and enjoy an evening with friends! We provide the plays, which you keep in order to expand your play library, we then cast it and read it aloud together.
Every 4th Sunday, Derwin Blanshard's Extremely Classy Sunday Evening Programme, Victoria Event Centre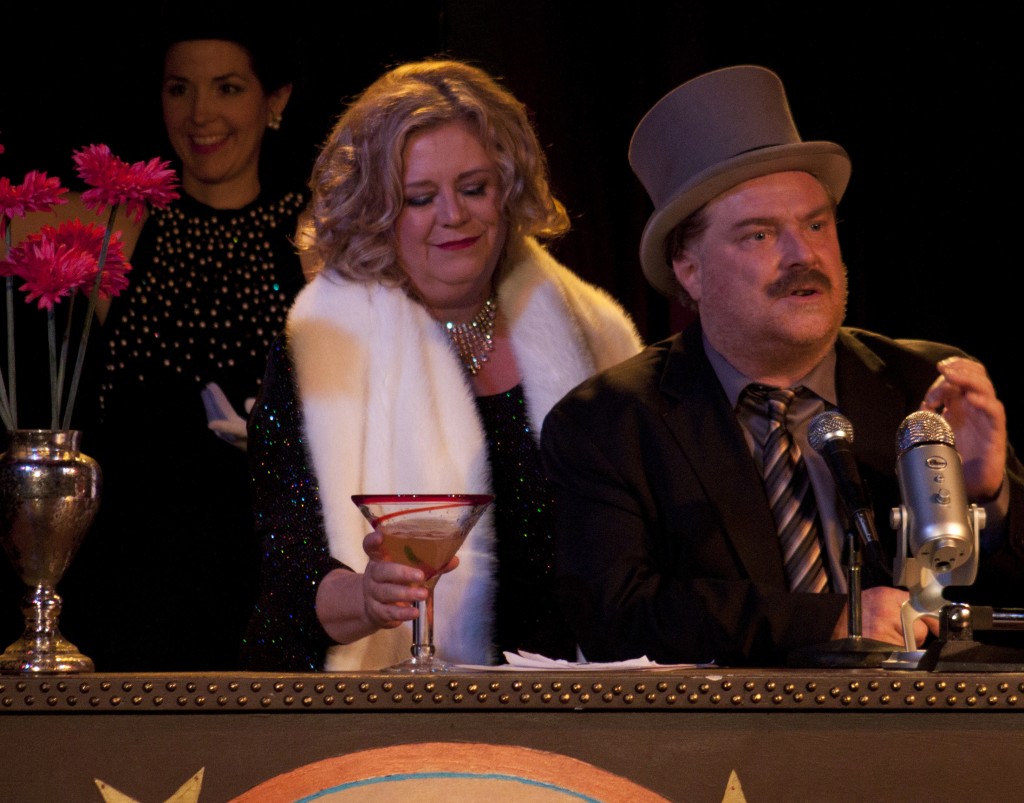 The Derwin Blanshard Show (for short) is a new take on a very old format:  the classic 1950's variety/talk show.  The show is hosted by Derwin Blanshard (played by Wes Borg), an eccentric millionaire who is "so classy you can smell the Queen on him".  The show walks a fine line between actual intellectual elegance and complete chaotic subversion, all filmed with imaginary cameras for a fictional global television network.
Join Derwin and his guests, stay classy and have fun! Reduced ticket prices for the "over-dressed". Sunday January 27th with guests Dean Fortin, Mayor of Victoria and Sunshine Coast MLA, Nicolas Simons.
Sin City: Bedlam-by-Sea, Tuesdays from January 8th (preview) with season opening January 15th.
Continues weekly to May 28th. Victoria Event Centre.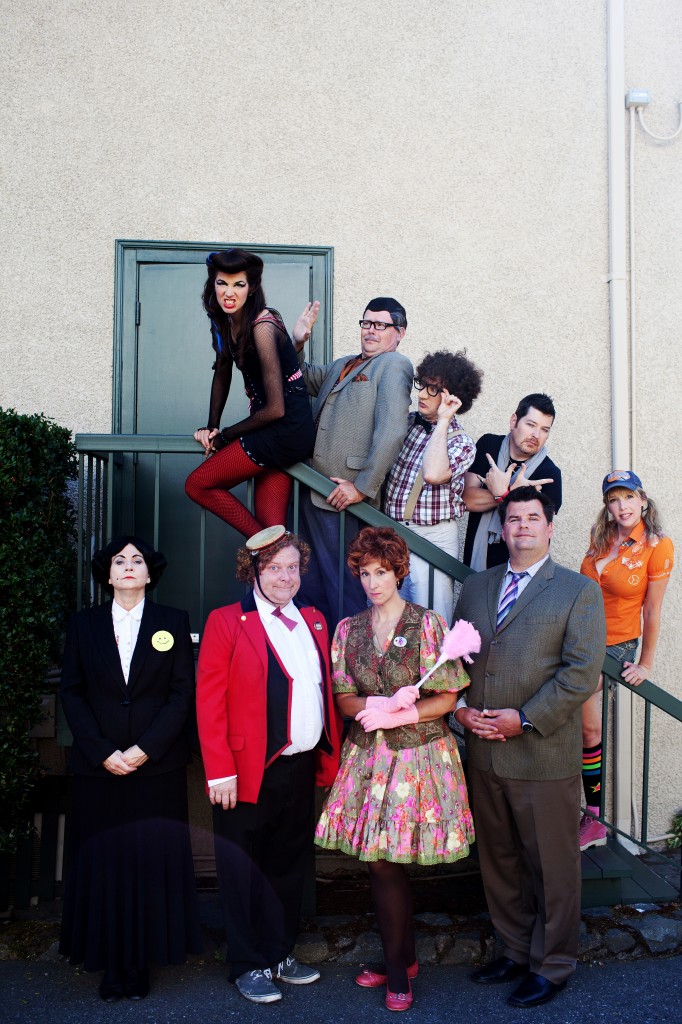 I've made no secret of my admiration for Sin City, and can't wait to see what this talented group of improvisers has cooked up for our theatrical enjoyment in their third season. We're very fortunate indeed that Ian Ferguson and Kirsten Van Ritzen, creators of the series, decided to make Victoria their home. Their Season Two: Carnies was so popular, it needed to be extended, and ran for 30 episodes.
Coronation Street meets Fawlty Towers (with a dash of Austin Powers, Hot Fuzz, and Calendar Girls). SinCity Season Three takes place in a pub-hotel located in a quaint seaside English village "Bedlam-By-Sea". The show is completely improvised, and the story continues weekly over 21 episodes.  SinCity is thrilling, hilarious unscripted theatre that combines the best elements of improvisation, character comedy, and storytelling.

The talented SinCity improvisers debut a whole new cast of quirky characters.  Directed live by Ian Ferguson, starring Kirsten Van Ritzen, Wes Borg, Morgan Cranny, Christina Patterson, Chris Gabel, Robert Conway, Karen Brelsford, Charlie de Pape, Alan Penty, Christine Upright, Bill Nance.  New musical director Alexander Brendan Ferguson improvises live musical scores & songs; technical director Theodore R. Sherman returns on lights & sound.
Diversion 1, (every 2nd Wednesday of the month), January 9th – inaugural episode. Victoria Event Centre.  All proceeds go to helping the VEC upgrade facilities.
A new variety show hosted by Wes Lord.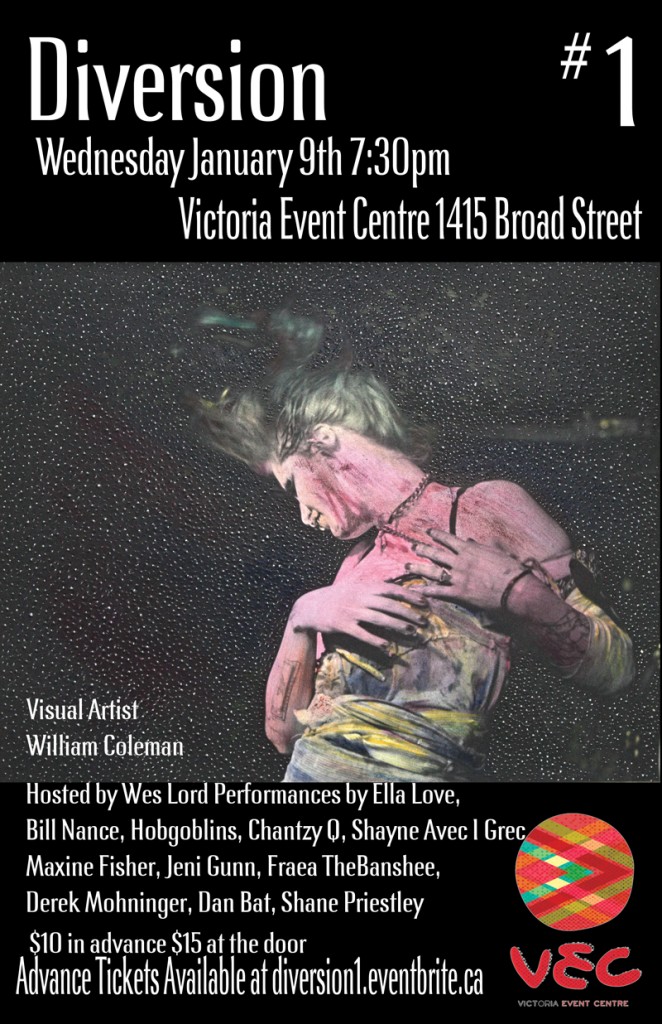 Watch for Bones, January 10th – 13th8pm at the Intrepid Theatre Club. The creative team at Launch Pad introduces a new sketch comedy show to Victoria audiences.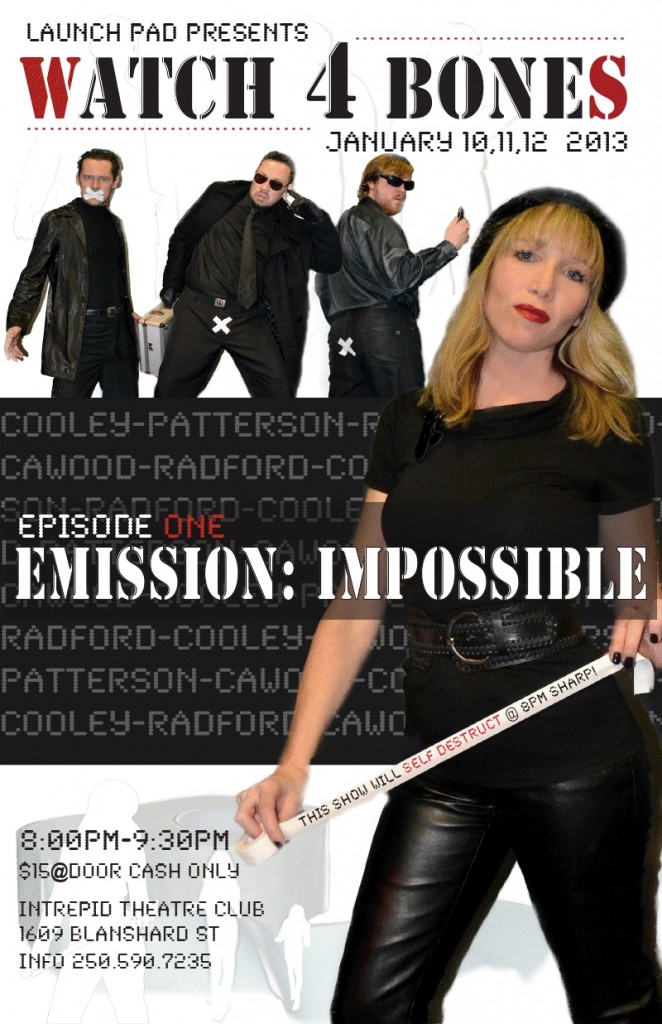 Watch 4 Bones, Episode 1 – Emission: Impossible features Launch Pad favourites: Chris Cooley (Tara Firm and the Lunar War Chronicles), David Radford (Dracula, Influence), Christina Patterson (Tara Firm, Sin City: Carnies and Die Nasty, Shining City) and introduces Stewart Cawood (co-writer-The Saints of British Rock)

This 90 minute (including intermission) show features sketches, comedy, comedic songs, stand up, laffs, laphs, and even laughs. Audience members will find themselves reflecting on such modern day concerns as internet dating, genetically modified foods, mimes, anger issues, anger issues toward mimes, and hugging.
Theatre SKAM's 18th Birthday Party "Almost Legal" January 12th at the historic and venerable Odd Fellows Hall.
SKAM has been producing innovative, often-site-specific theatre since 1995. To celebrate their birthday, they're throwing a bash and YOU are invited. Featuring the famous SKAM raffle, and all sorts of good natured hi-jinks.
That Face, Langham Court Theatre, January 16th – February 2nd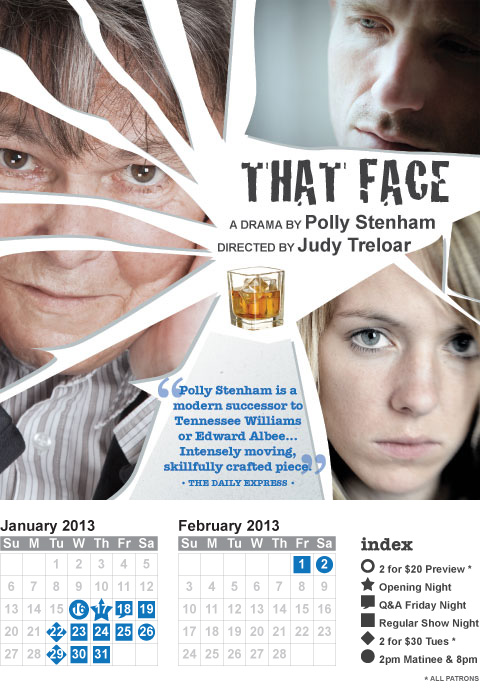 Kirsten Van Ritzen is an extremely busy performer. In addition to Sin City, a comedy series on television, and comedy classes, she is the lead in That Face at Langham Court Theatre. The role of a controlling, alcoholic parent is a clear departure for Van Ritzen. Judy Treloar directs.  Production and ensemble work values are high at Langham Court, and ticket prices very affordable with two for one Tuesdays, and preview specials.
Polly Stenham's first play is a hard-hitting, intense and visceral dissection of children who become parents to their parents and a family at breaking point. Stenham's Olivier Award-winning drama will keep you on the edge of your seat for an unforgettable night at the theatre. Suitable for Mature Audiences. Some violence and coarse language.
Tim Gosley: A Man Behind Some Puppets – a dolly wiggling retrospective, January 18th at Merlin's Sun Home Theatre.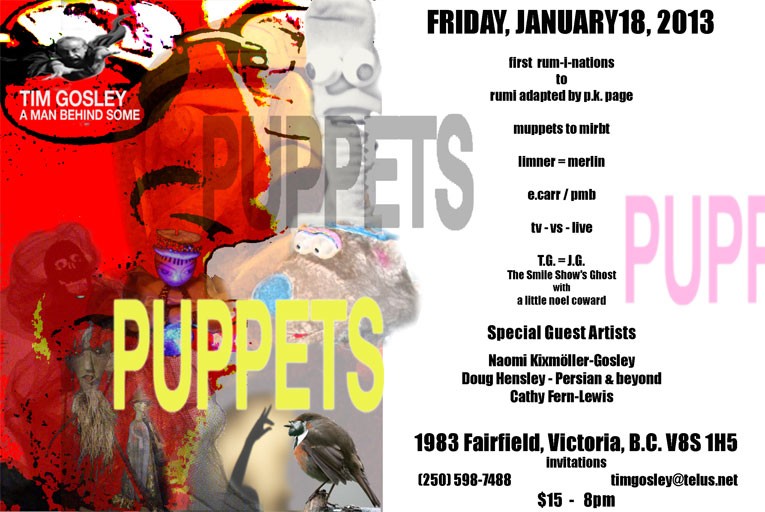 Tim Gosley is a Victoria native and well respected puppeteer who has worked with the Muppets, Fraggle Rock and Sesame Street. Since returning to Victoria, he and his wife Petra Kixmöller have revived the former La Run Theatre and renamed it Merlin's Sun Home Theatre. Programming at Merlin's Sun includes music, puppets and theatre.
The Runaway, YOU Show, by Mika Laulainen, Intrepid Theatre Club.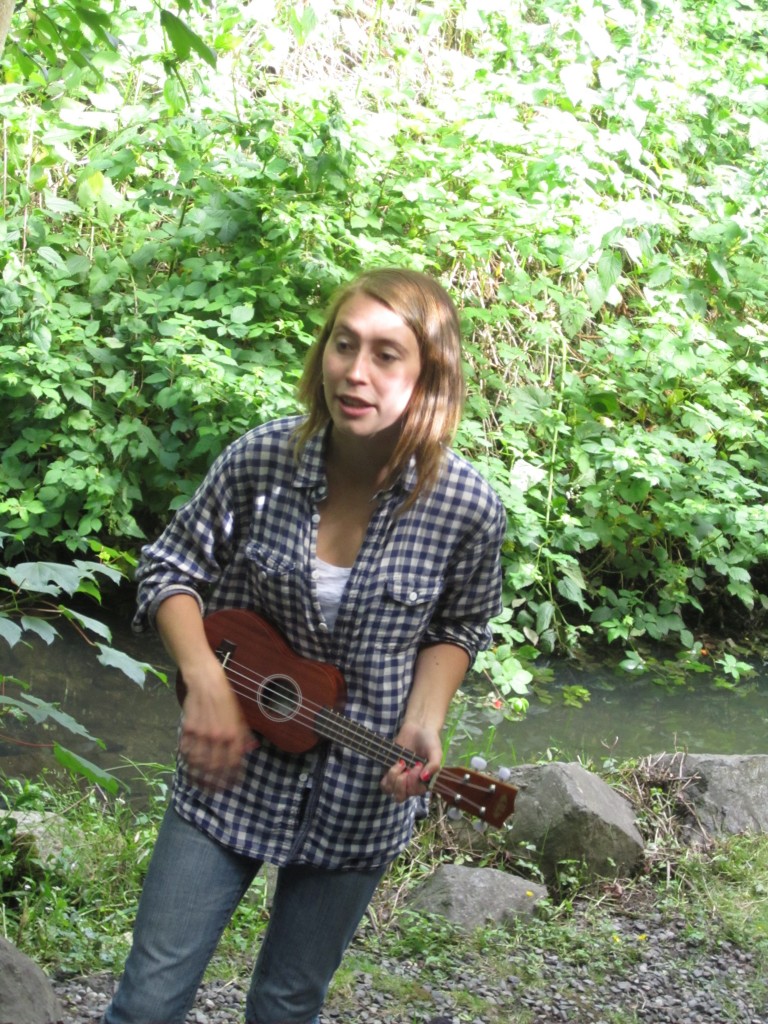 Mika Laulainen in Runaway at Theatre SKAM's Bike Ride, Summer 2012
I first saw The Runaway at Theatre SKAM's Bike Ride, summer of 2012. It was selected to remount as part of a Capital Arts Council event at VictoriaCity Hall in the fall.
The Runaway is a show about love, loss, acceptance, and extra terrestrials. Sam runs away from home to live in the forest in order to convince passersby to help her save the world from an alien abduction on the ten year anniversary of her sister's death.  A supposed stranger aims to help Sam's campaign, but this stranger may be more than she appears to be. Through narration, physical storytelling, audience inclusion, and ukulele duets, Sam's story takes us on a journey from crazed activism to a place of real heart. This show is a bittersweet slice of life with a dash of humour and a pinch of song. Recommended for ages 8 and up.
Speaking in Tongues, Belfry Theatre, January 22nd – February 24th
The Company Theatre from Toronto produced the Canadian premiere of Speaking in Tongues in 2012, and is co-producing the Victoria run. This award- winning play by Australian Andrew Bovell, written in 1995, has played to enthusiastic audiences in London and New York, but had somehow missed running in Canada.
It's a dark play dealing with the shadow side of human nature.
This fascinating and erotic play from Australia pays homage to film noir. Nine parallel lives – interlocked by four infidelities, one missing person and a mysterious stiletto – are woven through a series of fragmented confessionals where the lines between right and wrong become dangerously blurred. Bovell delves into secrets and lies revealing a darker side of human nature. A thoroughly modern mystery, Speaking in Tongues twists and turns in spooky and unexpected ways.
The Belfry has written a show guide which includes a suggested reading list and information about audience talk backs, talks at the Greater Victoria Public Library, and B4Play, Saturday January 19th, a collaboration with CBC radio which includes a live studio audience. I attended the B4Play for A Christmas Carol, and learned a great deal about the upcoming production. It's a wonderful way to gain insights about the creative and artistic process that goes into crafting a show.
Winterlab Festival, Intrepid Theatre, January 23rd – February 3rd        
Intrepid Theatre recently announced their brand-new winter theatre festival – multi-dimensional theatrical expressions for all tastes.  I'm pleased to see a return of the 2011 Pick of Victoria Fringe Grim and Fischer, and visual/performance artist Daniel Barrow, and am more than intrigued by Il Pixel Rosso's when the birds fell from the sky. The entire festival line-up merits attention.
Looking for Love in the Hall of Mirrors and Thief of Mirrors, January 23rd, Winterlab, Intrepid Theatre
Daniel Barrow awed Uno Fest audiences in 2009 with his live, manual animations on overhead projectors. These two performance pieces showcase his stunningly beautiful imagery and colourfully touching narratives. The Thief of Mirrors is a new experimental moving picture experience and monologue that creates an emotionally complicated portrait of wealth and privilege. Looking for Love in the Hall of Mirrors, a classic comic book narrative accompanied by a live monologue and soundtrack, follows a foppish man who moves to the city in pursuit of love, sex and artistic success.
Winnipeg Babysitter, January 24th, Winterlab, Intrepid Theatre
Another piece by Daniel Barrow.
When SHAW cable purchased Winnipeg's local cable station VPW, a rumour was circulated that SHAW had destroyed the public access television archives and were systematically dismantling the public access services. Shortly thereafter, Daniel Barrow began researching, compiling and archiving a history of independently produced television in Winnipeg,Manitoba. In the late '70s and throughout the 80s,Winnipegexperienced a "golden age" of public access television. Anyone with a creative dream, concept or politic would be endowed with airtime and professional production services.
and the birds fell from the sky, January 25th – February 2nd  lunch time and evening viewing sessions. Call to book. Winterlab, Intrepid Theatre.
Slip on your personal video goggles and headphones and get ready to take a dreamy and dangerous joyride for two people.

Combining cinema and theatre, this immersive, intimate performance casts you as the main character in a wild journey through the world of the Faruk clown. With your eyes and ears completely hijacked and liberated, you will find yourself surrounded by a wild and anarchic fictional world. As the narrative unravels, your new reality will become even more immersive through live interactions that engage your sense of smell, touch and movement through space.
Look Mummy I'm Dancing, January 26th, Winterlab, Intrepid Theatre
Belgian performer Vanessa Van Durme, who was born a boy in 1948 and underwent gender reassignment when the process was still in its infancy, has sought to redress this balance and tackle public prejudice head-on by bringing her highly personal monologue Look Mummy I'm Dancing to audiences around the world.
Family Sunday, Merlin's Sun Home Theatre, January 27th2pm (Please note: This is NOT part of Winterlab)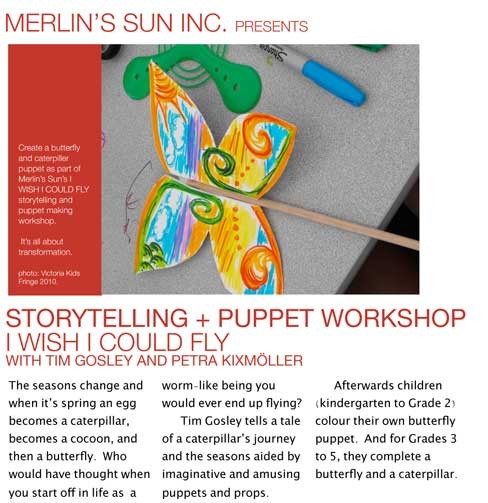 I Wish I Could Fly: storytelling with a butterfly activity by Tim Gosley for school children 5 to 12. Admission: sliding scale $7 – $15
Grim and Fischer by Wonderheads, January 30/31, Winterlab, Intrepid Theatre
In this acclaimed full face mask comedy from physical theatre duo Wonderheads, an aging grandmother is pitted against the Grim Reaper and must confront the inevitable question that we all face: what is it to know your end is nigh? A tender telling of an absurdly epic journey; watch as one woman's fight for survival takes fantastical flight in a showdown with Death himself.
One of my favourite shows of the 2011 Victoria Fringe Festival.
Playwrights Cabaret, February 3rd. By donation at the door only. Winterlab, Intrepid Theatre.
A selection of readings of brand new works by local playwrights. Featuring members of the Playwrights Guild of Canada.
Hitchhiker's Guide to the Galaxy # 2 , This is Twisted Theatre, Feb 1/2, Maritime Museum of BC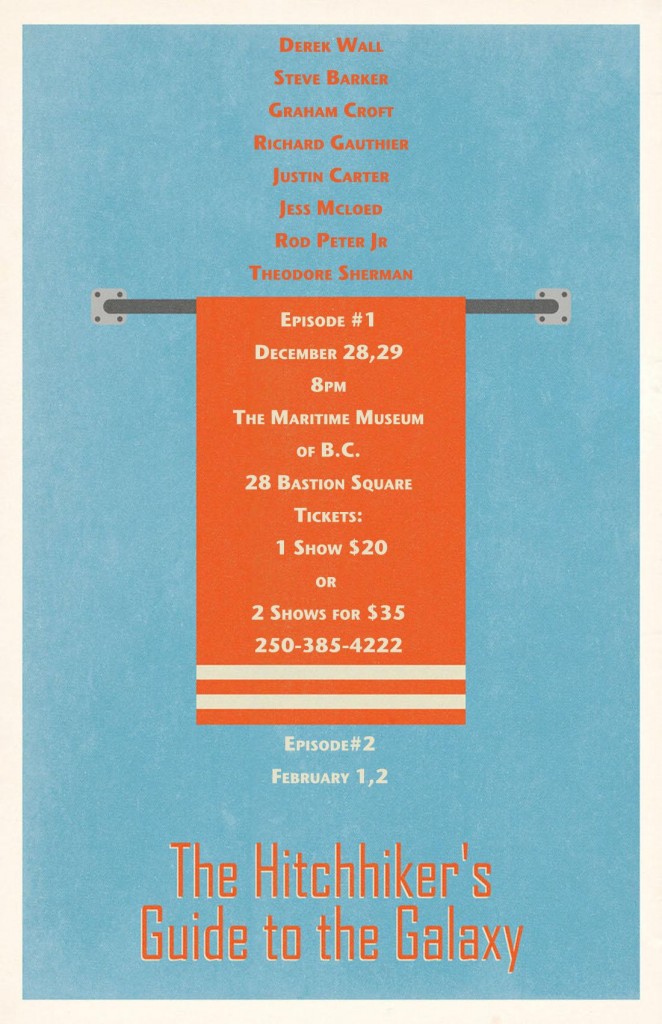 This is Twisted Theatre enters the year with a new location (the Maritime Museum of BC) and a new radio play series.  Banking on the popularity of Douglas Adams' The Hitchhikers Guide to the Galaxy, they presented part one to a rapt audience at the end of December.  We were left, hanging, at the planet Magrathea, just as Arthur Dent and crew discover the existence of the computer, Deep Thought.
Even if you are not familiar with the books, and have only seen the movie, you'll be happy to follow along.
Casino Royale 4,a fundraiser for the Canadian College of Performing Arts, Feb 2, Oak Bay Beach Hotel.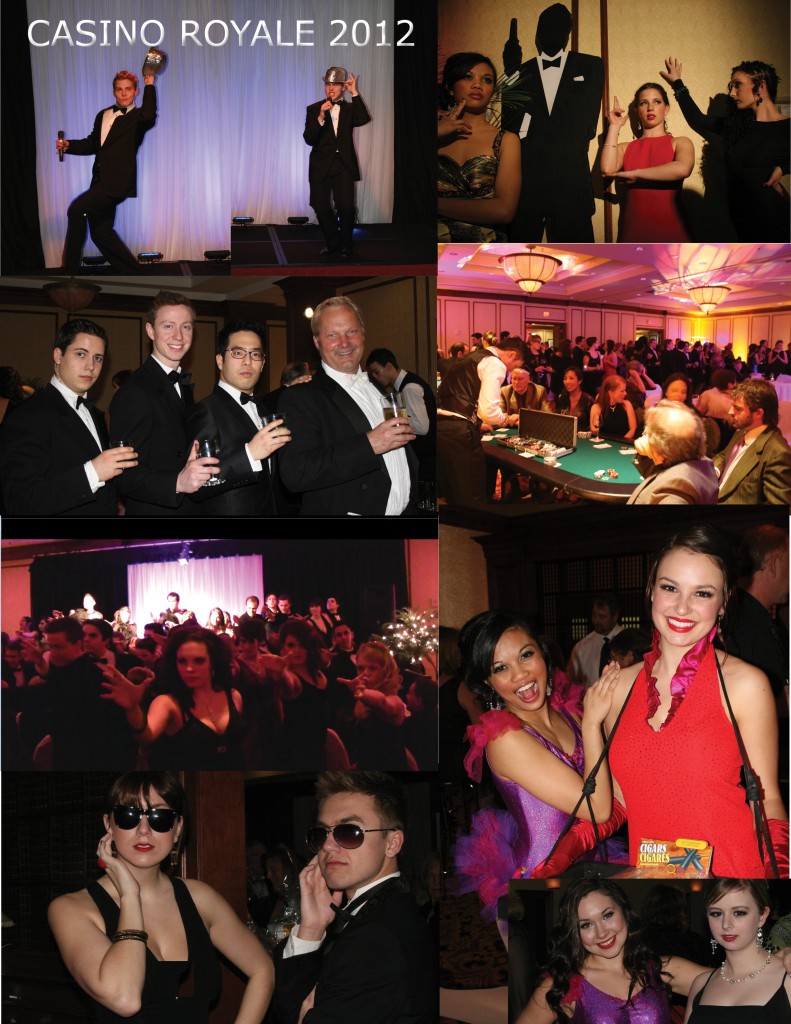 Break out your best duds, and head to the newly-reopened Oak Bay Beach Hotel for a fantastic evening of cabaret entertainment, food, silent auctions and gaming. This Bond-themed event is an M Award winner for Best Artsy Fundraiser, and is sure to be popular in its new location.
"We are always working hard to keep this popular event fresh and vibrant" says CCPA Artistic Director Darold Roles. "We're also excited to host the event during Bond's 50th anniversary".
WorldPlay, a series of play readings by Puente Theatre, has been rescheduled to March 7-10th.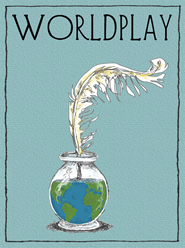 This year's line-up has yet to be announced. I will publish details as soon as I have them. Directors are: Joel Bernbaum, Graham McDonald, Kim Harvie and Mercedes Bátiz-Benét.
Shakespeare in Love: Scenes of Love from Shakespeare, February 6-14th, Craigdarroch Castle.  Giggling Iguana and the Greater Victoria Shakespeare Festival. Tickets by pre-purchase only.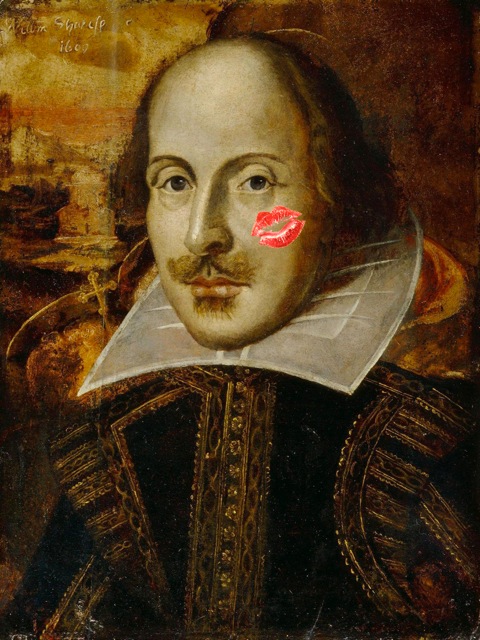 The site-specific work of Giggling Iguana is extremely popular, and all their shows sell out. Don't delay in purchasing your tickets.  This is a remount of a show that was originally staged at the Castle over 10 years ago.
The Bard's works are filled with a multitude of loves and this year, Craigdarroch Castle, Giggling Iguana Productions and the Greater Victoria Shakespeare Festival (GVSF) celebrate Valentine's Day with Shakespeare in Love: Scenes of Love From Shakespeare featuring love scenes from Shakespeare's plays, sonnets and songs; all staged site-specifically, using the Castle's magnificent rooms and landings as perfect settings for a Valentine treat.

Expect scenes from Romeo and Juliet, Taming of the Shrew, Much Ado About Nothing and many more. "We reveal the many kinds of love that Shakespeare so beautifully illuminates in his works," says GVSF Artistic Director Michael Glover. "At evening's end refreshments and dessert will be served in the Castle's magnificent Dining Room – the perfect Valentine's gift for the special love of thy life!"
Family Theatre Festival, February 8-11th

Produced by Kaleidoscope Theatre, in collaboration with Puente Theatre, Suddenly Dance and Urban Arts, and held at Berwick Royal Oak's gem of a theatre. Tickets $10. Limited festival passes are available from the Kaleidoscope offices.
Introduce your children to live theatre for the same price as taking them to a movie.
Gruff by Puente Theatre
The Troll had been under the village bridge for as long as anyone could remember.  He filled the Great Gorge with his bloated and oily body, stuck there like an enormous wad of chewing gum, his mouth gaping fanged and gulchy, and no goat could clip-clop across the ancient stones spanning the monster's maw, for the Troll ate all who passed, and the village was forever divided between the side of grass, and the side of stones.  But there was one young goat named Gruff who dreamed of crossing….

GRUFF is a story by acclaimed children's author Judd Palmer and Puente Theatre's Mercedes Bátiz-Benét, brought to life by a novel cross between puppetry and animation.
Kiki by Suddenly Dance
Adults mistake her for a punk and for being lazy. They don't understand: Kiki just loves to hang-out in her favourite chair where all her ideas are born. Most of all, she dreams of having a big sister to sing with and to dance circles around. When Kiki feels lonely, she plays electric guitar – and her best friend in the whole world shows up.

Featuring dance, masks, and video projection, KIKI is an original play by Suddenly Dance Theatre's DAVID FERGUSON, starring JUNG AH CHUNG with songs & design by MILES LOWRY.
Wilde by Urban Arts
High above the city, on a tall column, stood a beautiful gold statue admired by all. Everyone called him the Happy Prince, and happy he was, if beauty be happiness. But so high was the the column that the beautiful statue could see all the ugliness and misery of his city, and although his heart was made of lead, he could not choose but weep. With the help of a little swallow the sad but beautiful statue must sacrifice his own beauty to bring new hope to the people of his beloved city.
The Dragon's Handbook by Kaleidoscope Theatre
"Finder's, keepers," Brian says to the dragon.

"I won't return your handbook until you teach me a trick from it"

"Oh, all right," sighs the dragon. "Pick a trick."

The dragon has a trick for everything – but Brian soon discovers that a dragon's tricks can lead to dragon-sized trouble.
Helen's Necklace, Belfry Theatre, February 12th – March 3rd

The Belfry returns to regular programming in their smaller studio space.
Carole Fréchette won the Siminovitch Prize for Theatre in 2002. Her plays have been produced internationally.

"Anyone in need of a reminder of just how good Canadian theatre gets is urged to catch this gossamer beauty…" TheVancouverSun

In the heart of a chaotic Middle Eastern city, Helen, a Canadian, tries to retrace her steps in the hopes of finding a lost necklace. Her journey brings her face to face with the realities of a war-torn city and the many facets of loss.
In the Next Room (or The Vibrator Play (by Sarah Ruhl), Theatre Inconnu, February 12th – March 2nd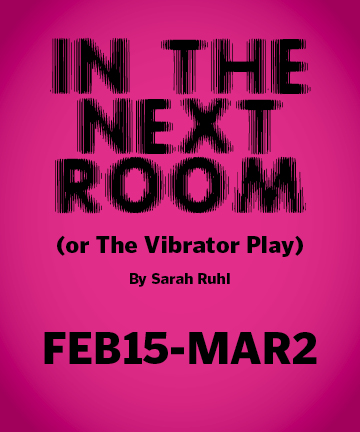 Theatre Inconnu is Victoria's longest running alternative theatre company. TI regular, Naomi Simpson, (Franz Kafka the Musical, Crackwalker, Pornography, Copenhagen) makes her directorial debut.
A play of love and longing, commissioned by Berkeley Repertory Theatre, In the Next Room (or The Vibrator Play) illuminates the lives of six lonely people seeking relief from a local doctor — but, despite his expertise with a strange new technology, all they really need is intimacy. It's a tender tale that takes place in the twilight of the Victorian age, an elegant comedy lit by unexpected sparks from the approaching era of electricity, equality, science, and sexuality.

"A true novelty: a sex comedy for adults with open hearts and minds." —New York Times
The Vibrator Play, written in 2010 and nominated for three Tony awards, pre-dates the 2011 film Hysteria. For theatre buffs who are also cinephiles (or vice-versa), it would be interesting to compare the two.
Reasons to Be Pretty, Phoenix Theatre, February 14 – 23, UVic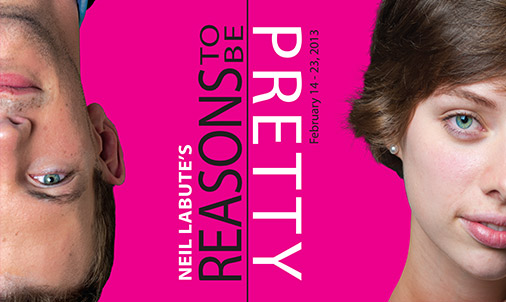 Support young aspiring thespians by attending the Phoenix Theatre.
What is it to be "pretty"? Why do we care about it so much? And why do we get so caught up in what other people think? After all, as LaBute says in the play "Love is blind, sh#*!head."

Presented through the relationships of four friends and lovers, this black comedy mines the humour and painful truths that lay between self-image and self-esteem in our contemporary, beauty-obsessed society.

LaBute's mastery of the cutting, culturally-conditioned cruelty of how we speak to each other has been called "some of the freshest and most illuminating American dialogue to be heard anywhere these days," (New York Times). Reasons to Be Pretty was a Tony Award nominatee for Best Play in 2009.

Advisory: This play is definitely four-letter word friendly. Mature subject matter and very coarse language.
Mini Smile Show, February 16, Merlin's Sun Home Theatre.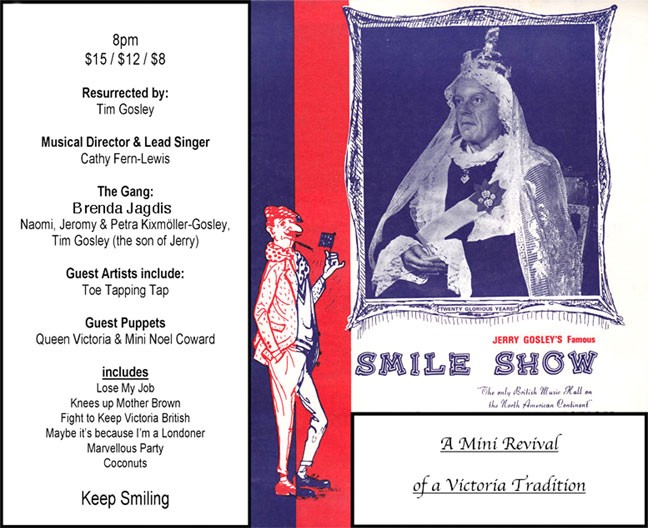 A British variety show with tap & puppets.  Tim Gosley, local puppeteer is also the son of Jerry Gosley, the creative mind behind the long-running local Smile Show. He's reviving it for a new audience, in a mini-version.
Gotta Getta Gimmick Chorus | Line |cabaret 7: Sondheim, February 18th, Belfry Theatre
The first part of the evening will feature works by Sondheim, hand-picked by Gotta Getta Gimmick and Belfry Artistic Director, Michael Shamata.

In the second part, you sing us what you've got. We'll take to the lobby bar, and let the musical theatre party really get rolling. Join in, or listen and toe tap. No Holds Barred – Any Musical Theatre song is fair game. Bring your sheet music, sign up at the door to Jump Up, belt a favorite and win a prize. As always, we bring you the infamous "Diva Tag", Games, and a big overhead projector for Sing-alongs. Featuring Mr. Jim Hill as Resident Ivory Tickler . The taps are open, bring your ID! (CASH ONLY).
Mary Walsh Dancing With Rage,February 19th, a fundraiser for Intrepid Theatre's "Raise the Roof" campaign in conjunction with the Victoria Conservatory of Music.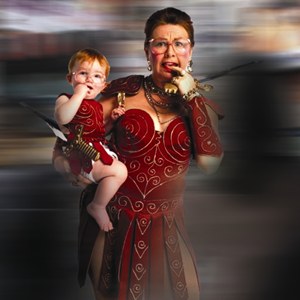 Canada's favourite comedian, Mary Walsh, has created a new show that incorporates all the characters she has played over the years, including the infamous warrior princess, Marg Delahunty, with her armour-plated breasts and razor-sharp wit to "cut through all the BS." Outrageous, original and totally honest, DANCING WITH RAGE will have you jumping for joy.

A woman beginning to go blind finally starts to see. A mother who travels across the country to find her lost child, rediscovers the child she has always had. A little girl who is always searching for her place in the world, finds that she's already there. Dancing with Rage follows all their stories while summoning the help of some familiar faces- Marg Delahuntey, a Warrior Princess, Dakey Dunn, Miss Eulalia Turpin, Mom Reardon, Connie Bloor and many more, new and constantly emerging characters. This is a one-in-lifetime opportunity to see this Canadian icon and  she is coming to Victoria for ONE NIGHT ONLY!
Call Mr.Robeson – A Life, With Song. February 20th, 8pm at the Metro Studio, 1411 Quadra Street.  Part of Black History Month in Victoria BC.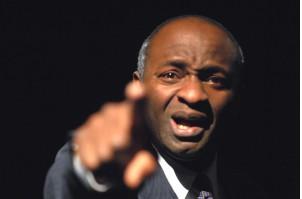 Paul Robeson is a great and famous actor, singer and civil rights campaigner whose life is written and acted by Tayo Aluko.  A roller coaster journey through a remarkable and eventful life highlights how his radical activism caused him to be disowned and disremembered, even by the leaders and descendants of the civil rights movement. It features much ?ery oratory and some of his famous songs, including a dramatic rendition of Ol' Man River.
Co-sponsored by BC Black History Awareness Society and Intrepid Theatre
Written and performed by: Tayo Aluko
Piano Accompaniment by: Michael Conliffe
Directed by: Olus Olaoyeleye
Designed by: Phil Newman
The Grapes of Wrath, February 22/23, Canadian College of Performing Arts, 1701 Elgin Ave.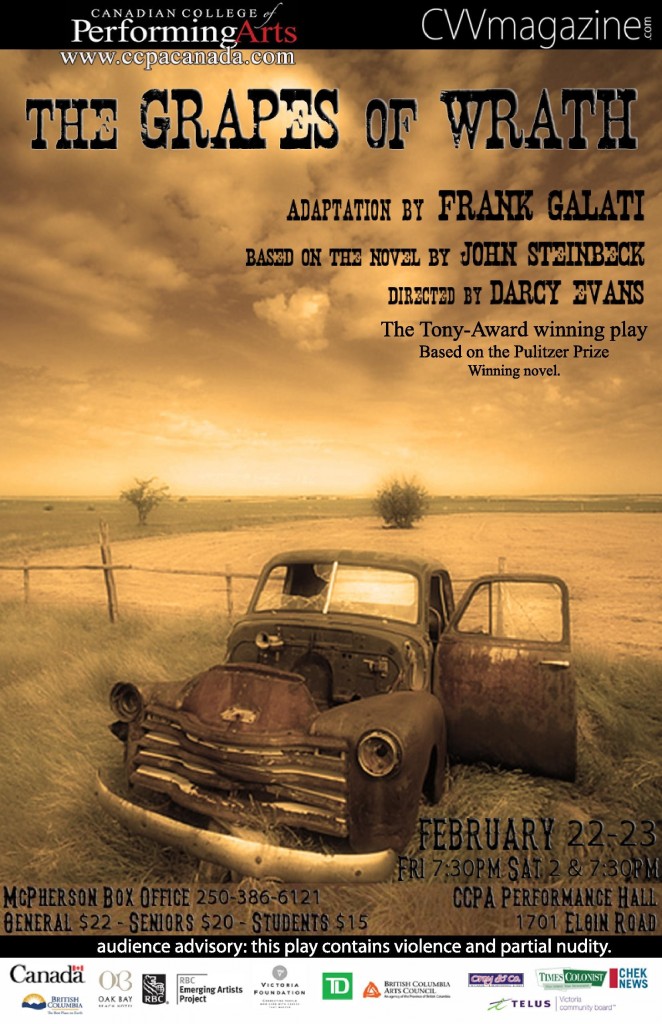 Year II students of the Canadian College of Performing Arts perform Steinbeck's classic, under the direction of Darcy Evans.
"Intense and provocative material like this provide such strong learning opportunities for our performers," says the College's Artistic & Education Director Darold Roles "So many of our students will perform on stages across Canada and around the world, once they graduate and this experience gives them a great head start on their careers".

Evans has put his unique stamp on this compelling production. He was the Associate Director for Little Women on Broadway (starring Sutton Foster) and remounted the Broadway staging for the first U.S. national tour (starring Maureen McGovern). During his 7 seasons as an actor and associate director with the Stratford Shakespeare Festival, his credits include: Dangerous Liaisons (assistant director), To Kill a Mockingbird (associate director), Fuente Ovejuna, The Winter's Tale, The Two Gentlemen of Verona, Fiddler on the Roof, Man of La Mancha, Patience, The Three Musketeers, Hello, Dolly! (Associate Director).
Hello Baby! February 22/23, Theatre SKAM and PilotcoPilot Theatre, written and performed by Lucas Myers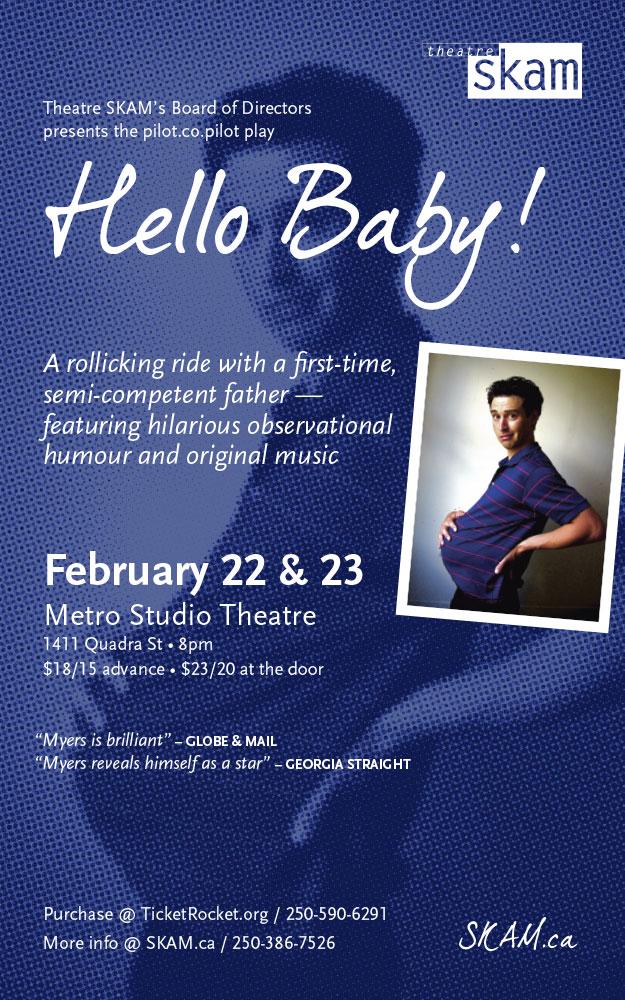 Theatre SKAM is celebrating their 18th birthday, and has just announced their 2013 season.  Lucas Myers, SKAM's out-of-residence playwright, and Nelson's cultural ambassador, has been performing this "lecture to expectant fathers" since the birth of his first child in 2007.  He's now the father of two, so we can expect an update.
A one man comedy examining the procreative process from the male perspective, answering such essential questions as "Is your life as you know it really over?" And "Can you safely operate a fax machine/belt sander/breast pump on two hours sleep?" And "Is it really possible to become so obsessed with bowel movements and nipples that you make up little nicknames for them? Like 'Jerome'? Or 'Kath'?" Starring a cast of eclectic characters, and featuring Lucas Myers' hilarious and unique brand of observational humor, this is one lecture you won't want to miss.

Featuring Original Tunes on ukulele, guitar and miniature keyboard including What If…..?, Nobody Warned Me Bout the Drool, and Yes, Honey, I'd Be More Than Happy To Make Dinner And Hand Wash All These Cloth Diapers As Soon As I Finish Giving You A Foot Rub And Vacuuming The Floor And Walls Again Because You Are Hyper-Paranoid About Germs, Really I Would, No, I'm Not Just Saying That Because I Think Its What You Want to Hear, I Want to Do It, Look, I'm Doing It Right Now, See?

WARNING: For anyone who is going to be a Dad, is a Dad, has a Dad or knows a Dad ONLY.
The Occupied Mind of Mr K, February 23rd, John Green, the YOU Show, Intrepid Theatre Club
The Occupied Mind of Mr. K. is a riotous, unnerving black comedy of the supernatural and the 1%. When jobless programmer Vijay learns of a billionaire's recent death, he hatches the ultimate scheme: to get his friend Pericles, a psychic meditation expert, to take over the billionaire's "vacant" body and gain them control of his business empire.