Since I began regularly attending shows in 2005, Theatre Inconnu has consistently presented theatre that challenges me—in both the script and the execution. Frankenstein by David Elendune, directed by Ian Case (who also created the spooky light and sound (with Jason King) design as well as the period appropriate costumes), is set in the round (design Hannah Case) with most of the audience at eye level with the action, making this already unsettling story even more so.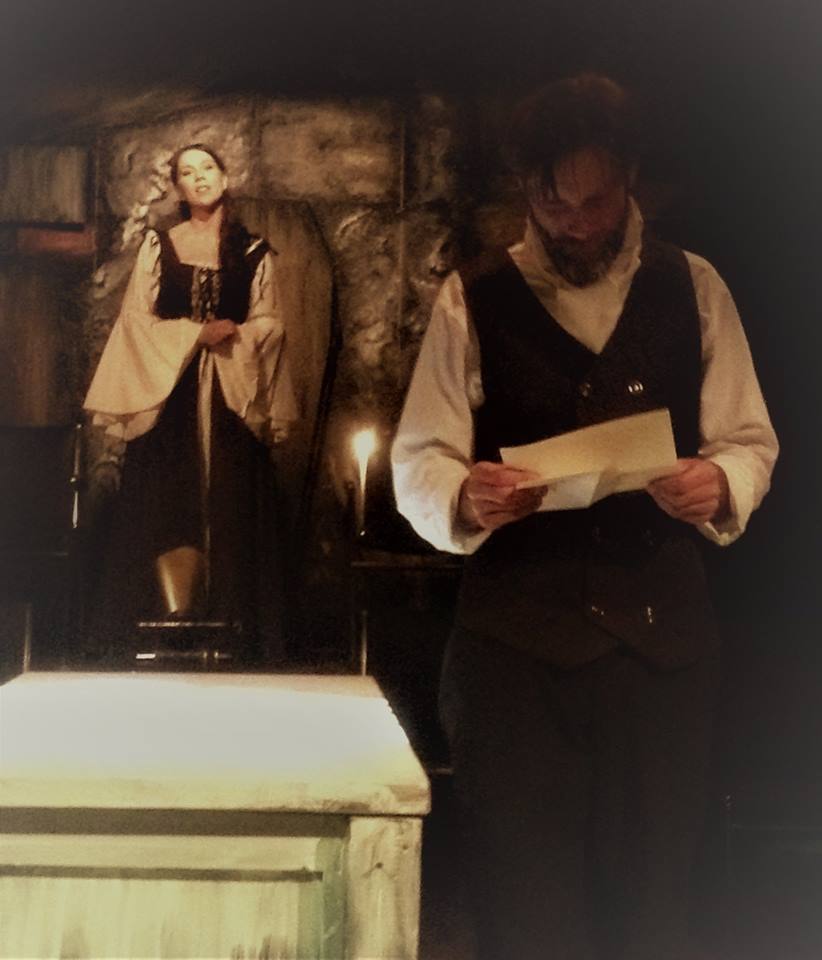 Brian Quakenbush portrays Dr Victor Frankenstein as a man on a dangerous edge. Scenes with his dear cousin Clerval (Tenyjah McKenna brings a terrific authenticity to this role) add further complexity to his moral quandaries, while those with Ursula Szkolak (radiant and luminous as Elizabeth) highlight the depths of his sacrifice in pursuit of his scientific goals.  Evan Roberts as the Creature is truly pitiable, even as he toys with his creator and wreaks havoc around him.  Ken Yvorkchuk as Frankenstein's Father introduces a societal rigour—full of compassion and love.  Michelle Mitchell's performance as the nanny Justine is incredibly sad.
The special effects, inspired by a steam punk esthetic, are outstanding—particularly in the scenes in the laboratory as the creature comes to life.  Sound and lighting are also used very effectively as thunder crashes and lighting crackles—startling the audience—while the moody rain drenched streets of the town are dramatically summoned during the late night encounter between Clerval and Victor.
Elendune's script is full of surprises—moments of laughter punctuate the tragedy. The language is precise and carries a beautiful formality while conveying the deep feelings the characters carry for one another. As Clerval, Elizabeth and his father draw upon every possible argument to sway Victor from his dangerous path there is a profound sense of the loss to come, in foreshadowing ever so subtle.
Audiences looking to indulge their taste for the macabre will be drawn to this intelligent, expertly crafted rendition of Frankenstein, playing until October 13th at the Paul Phillips Hall 1923 Fernwood Road.
Frankenstein by David Elendune, directed by Ian Case
Theatre Inconnu, 1923 Fernwood Road in the Paul Phillips Hall
September 25-October 13
Tickets $14 regular, $10 seniors (60+) /students/unwaged
Sept 25 – Preview is $7
Tuesday Oct 2 is Pay-What-You-Wish admission

Through TICKET ROCKET:  ticketrocket.co or   250-590-6291 (a $2.50 surcharge will be added).
Directly through THEATRE INCONNU: Phone (250) 360-0234  or  by  Email.
Starring (alphabetically):  Tenyjah McKenna, Michelle Mitchell, Brian Quakenbush, Evan Roberts, Ursula Szkolak, Ken Yvorchuk.
Set Design – Hannah Case
Costume, Lighting, & Sound Design – Ian Case
Sound Design—Jason King

The show is about 110 minutes long, including one intermission.
Theatre Inconnu is located at 1923 Fernwood Road (across the street from the Belfry Theatre). For parking we suggest the side streets west of Fernwood Road as these do not have parking restriction signs.
We are wheelchair accessible