Reverberations by Brian Linds at Belfry Theatre SPARK Festival 2017. A review.
Well-respected actor and sound designer Brian Linds has had a "thing" for sound ever since his dad bought a tape recorder when he was 13.  In Reverberations, his sound installation/performance piece currently at the Belfry Theatre SPARK Festival 2017 until March 26th, learn more about Linds' personal and family history in a series of vignettes, set in various locations at the Belfry Theatre and the Paul Phillips Hall across the street.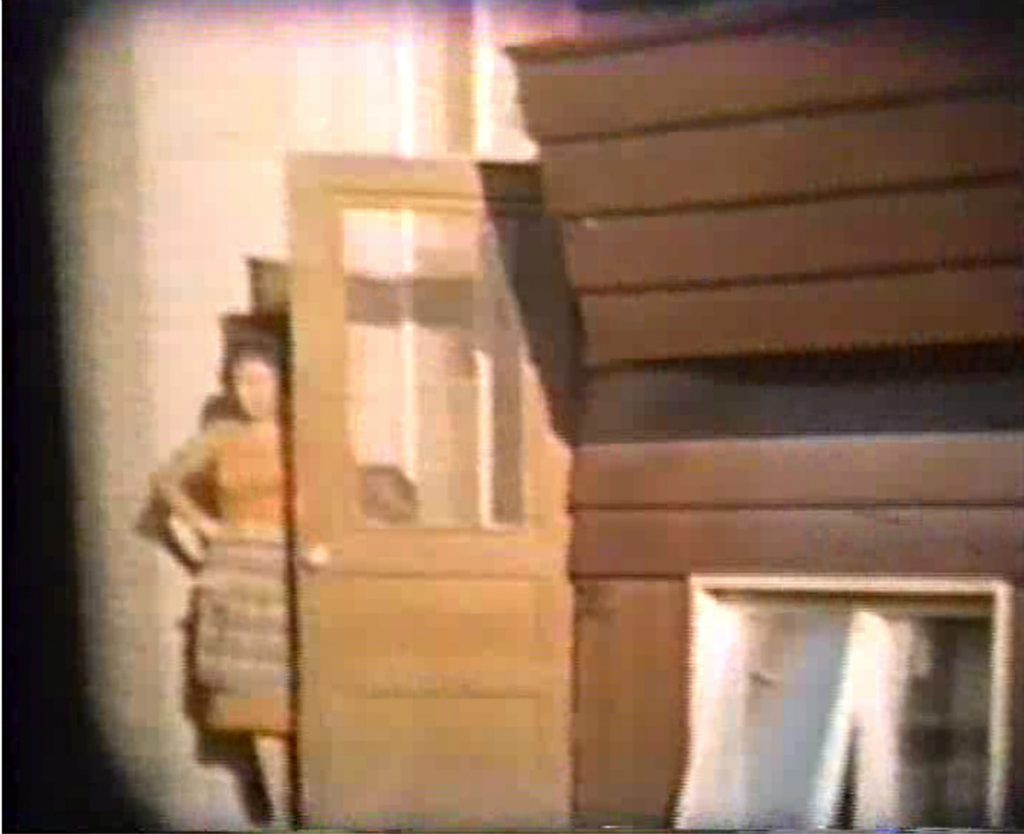 Still from Brian's home movies. Photo: Brian Linds
The audience is divided  into several groups of 10-15 people and taken on a journey. The order of the vignettes will vary—this is an intriguing concept, and one that is sure to inform a viewer/listener's understanding and perception.
In Studio A, a woman (Jan Wood) stands immobile in front of a small desk, a phone in her hand.  The décor and clothing (Catherine Hahn) suggest an earlier time in the past.  A disembodied voice recounts the woman's troubled state of mind as, over and over, she tries to dial a phone number, and then, when the phone rings, doesn't know how to reply.  There's an air of mystery to the situation—something faintly reminiscent of Twilight Zone, or, in a more modern context, Broken Mirror. Gradually, sounds of other people begin to filter in and the normalcy of everyday life returns. The effect is discombobulating as told from the woman's point of view. Experiencing this episode first, there is certainly, then, a sense of expectation and foreshadowing.
Across the street at the Paul Phillips Hall, a man (Billy Marchenski) stands in front of a curio cabinet filled with old family photos. Linds' voice fills the space as he narrates the story of his grandparents—Lithuanian and Latvian Jews who met, married and moved to England and then to Canada. Marchenski, as Linds' dad Albert, is voiceless, his lithe and precise movements—a dance. The audience travels a timeline that includes his young working years, time in the army and meeting Ruth, his future wife.  There are many clever instances of miming, and of object manipulation.  The very air is permeated with nostalgia, aided in part by the atmospheric lighting design of Michael Frantzmann.
The next room is, in contrast, flooded with bright and harsh white light, reflecting off sheer white curtains enclosing a bed in a hospital.  An old woman, Linds' mother Ruth (Angela Henry) lies immobile under a hand crocheted coverlet.  In this, the most vulnerable and personal story, Ruth's decline and final years is revealed. Henry has one brief moment to illustrate the extraordinary miracle that occurred.
In a warm inviting basement room at the Belfry, individual stations have been set up and audience members listen to an embarrassing story of childhood infatuation and betrayal.  Anyone who is familiar with the tales of humourist Jean Shepherd (In God We Trust: All Others Pay Cash) will hear the similarities—gently self-mocking and aware.
Flickering family films—snippets of reunions, celebrations and gatherings over the years, play on the walls of an alcove in the last sequence.  Over-dubbed voices add context.  By the end, it's as if we've been there too—as a small child blowing out birthday candles, dressed in chapeaux for the Easter parade, slurping pop out of glass bottles.
Finally, back in Studio A, master of ceremonies Linds welcomes us all into his den—sound equipment (including an impressive 1970s solid-state stereo cabinet) spread everywhere.  An inveterate collector of eclectic Jewish recordings, he's happy to share some of his more unusual finds before telling us about an important moment in his life—his bar mitzvah—and the sound recording that started it all, a mixed tape he sent to his sister Barb, volunteering abroad with CUSO.
This last was part of the mini-play Linds débuted at the SPARK Festival in 2013.  Since then he's  participated in the Belfry Theatre's New Incubator Project and worked with dramaturge James Fagan Tait (who also directed Joan for Theatre SKAM), director Mindy Parfitt and an ensemble of accomplished actors to flesh out the stories.  Linds' sound designs are intricate works of art that continually astonish (a personal highlight still remains The Skin of Our Teeth with the screeching glacier advancing into the audience) for their complexity and breadth of sonar and musical knowledge. At a time when the world is inundated with sound, much of it repetitive, or, used in a Pavlovian manner to manipulate a reaction, it's a pleasure to focus on sounds and music that has been carefully selected—as if a chef incorporating an essential spice to an already well-rounded dish, or a painter carefully daubing the tiniest smidge of colour to highlight a shadow.
Despite the dis-ordered nature of the narrative, director Parfitt and actors have worked hard to create vivid and memorable moments in time, complete unto themselves, capable of sustaining attention in a compact form, yet adding greatly to the story as a whole. Reverberations is a celebration of life and family, filled with joy and the bittersweet. L'chaim.
Reverberations by Brian Linds
Belfry Theatre SPARK Festival
Belfry Theatre, 1291 Gladstone Avenue
March 21-26, 2017
Tickets: $30 online, in person or by phone 250 385 6815

Cast:
Angela Henry
Brian Linds
Billy Marchenski
Jan Wood
Voices:
Barbara Pollard
Grace Vukovic
Alen Dominguez
Tom McBeath
Shayna Linds
Jordon Wessels
Aiden Wessels
Jan Wood
Director Mindy Parfitt
Creator/Sound Designer Brian Linds
Set & Costume Designer Catherine Hahn
Lighting Designer Michael Franzmann
Dramaturge James Fagan Tait
Stage Manager Sadie Fox
Disclaimer: I received complimentary tickets to attend Reverberations