Victoria Fringe 2015. My "away" picks. Victoria Fringe August 26 – September 6, 2015
I am an avid supporter of the Victoria Fringe Festival, now in its 29th year. It didn't start out that way though. Other priorities took precedence and it wasn't really until 2006 that I became a Fringe fanatic. That year was the 20th anniversary and I saw more shows than in the 20 previous years combined. In the intervening years, I've caught up—I volunteered from 2007 to 2013, regularly see 30-40 shows every year, and last year, for the first time, posted snippet reviews under the headline "Dispatches from the Victoria Fringe". Look for more reviews this year.
I get to applaud local artists I've met over the years, and be introduced to people whose work is, as yet, unknown to me. During the rest of the year, I also attend theatrical productions, many from emerging companies and artists. These recommendations are personal—based on my knowledge and tastes. I hope you find them helpful.
Fringe is all about taking risks—this year's slogan is even "Fringe at Your Own Risk". We are fortunate indeed to have a series of festivals across Canada that is un-censored and un-juried. Take advantage of the opportunity to see original and live art for the modest price of $9-$11 (plus Fringe button $6 good for all shows). Did you know that all box office proceeds go to the artists?
For my "away" picks, I depend on previous experience with performers, and inside intelligence from other performers and a small coterie of cross-Canada loyal Fringe fans like myself.
The shows below are listed, by venue, as they appear in the Fringe program. I may add a few more after the Preview Night (Wednesday August 26th). Happy Fringing!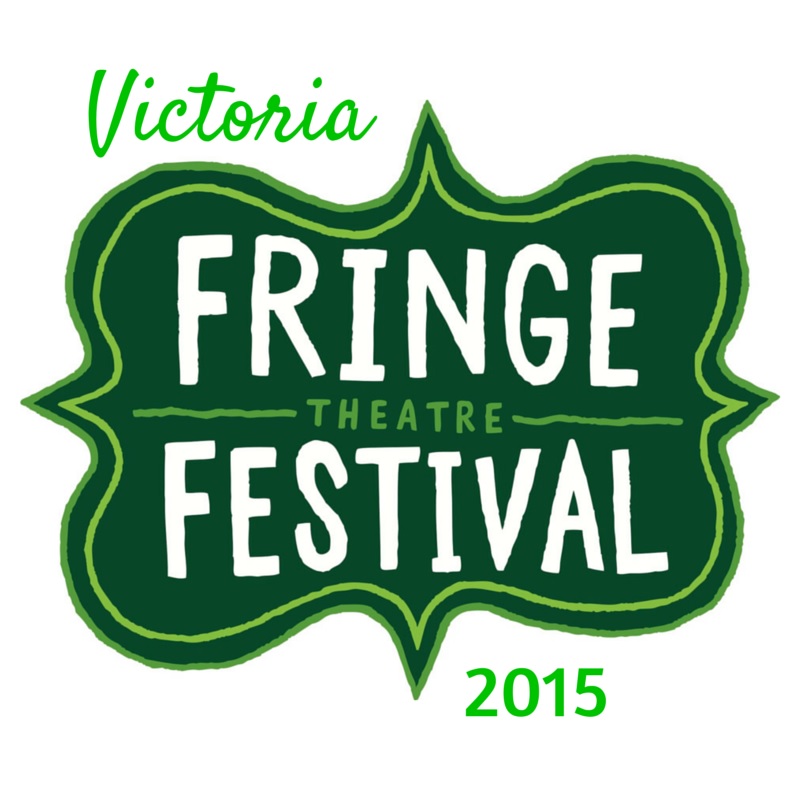 Venue 1, the Victoria Event Centre, 1415 Broad Street
2 Ruby Knockers, 1 Jaded Dick: A Dirk Darrow Investigation
Tim Motley, from Australia, first introduced Victoria audiences to Dirk Darrow in NCSSI (Not Completely Serious Supernatural Investigator) which was a big hit at the Victoria Fringe Festival in 2012, winning Pick of the Fringe. He returned in 2013 with The Big Bang Query.
Expect film-noir references, and memes that harken back to Dragnet and gumshoe mysteries. Motley blends cheesy one-liners with magic tricks that never fail to flummox me. He has a steady, unflappable patter that is capable of quelling even the most boisterous and obstreperous theatre-goer (the person who just lives to try to derail a show).
Adult humour. Rated 14+
www.dirkdarrow.com
Patron's Pick Winnipeg Fringe 2014
"Funniest Show" Award – London Fringe 2014
The Birdmann in Momentous Timing
Trent Baumann (aka The Birdmann) has one of the most distinctive Fringe personas and performances I have ever experienced. Blending one-liners and original vaudeville with feats of juggling and magic, he will capture your heart with his quirky exploration of life.
Definitely one for the memory books.
NB: The Birdmann's last performance is Thursday September 3rd.
www.thebirmann.com.au

Pick of the Fringe, Victoria 2013
Nominated "most original comedy" at the Edinburgh Fringe

Venue 2, the Downtown Activity Centre, 755 Pandora Avenue
Pretending Things Are a Cock, written and performed by Jon Bennett
With a provocative title and premise,  Jon Bennett's show comes highly recommended by my son, who is a performer. It's the product of five years of wandering the globe, taking pictures of phallic shaped objects and then spinning stories to accompany these photos.
www.jonbennettcomedy.com
4x Just For Laughs Best Comedy Nominee
Montreal Fringe Critics Pick Award
San Diego Fringe 3x Best Comedy Nominee
Perth Fringe World
The Moth Story Slam Winner
New York 2015 Golden Gibbo Nominee
Melbourne International Comedy Festival
Kiss Around Pass Around by Yanomi
Yanomi Shoshinz won hearts with her endearing, largely-silent character Miss Hiccup. Her very physical and playful style of performing encourages audiences to return to a state of childish wonder, to a place made up of questions. "Are you human? Are you kind?"
Do you have children in your life? Bring them.
This unruly innocent creature will steal your heart.
Patron's Pick & Best International Show. Orlando Fringe 2015
Critic's Pick, Cincinnati Fringe 2015
Venue 3, Metro Studio, 1411 Quadra Street
Dreamscape: Our Dreams Told Through Dance by Viva Dance Company
I make a point of seeing as many dance productions as possible at the Fringe, in order to expand my appreciation for an art form of which I know little. The performance length (45-75 minutes) is perfect for someone, like myself, who lacks a dance vocabulary.
Viva Dance promises work that is "accessible and captivating to audience members of all kinds"—it sounds perfect.
www.vivadancecompany.com
Critics' Choice Award, Best Dance Show, Orlando Fringe 2015
For Body and Light Presents: Bear Dreams
I have my friend Shayne avec igrec, a local and touring spoken word artist, to thank for his introduction to For Body and Light at last year's Victoria Fringe Festival. Melding the spoken word and music of Ian Ferrier with the choreography of Stéphanie Morin-Robert, this performance was one of my highlights of 2015 (including hors-Fringe shows). I expect nothing less than astonishing from Bear Dreams. If you believe in the power of the unseen, the magical, the mystical—you will want to see this show.
Animal magic fired by stories, music and dance.
www.forbodyandlight.org
The Untitled Sam Mullins Project, Sam S Mullins
Sam Mullins is one of a handful of storytellers to watch. Again, and again and again. His easy style and thoughtful pacing—where every word is carefully considered–somehow makes the painful and awkward moments of life understandable.
Four stories of four "truths".
Canadian Comedy Award-winner
Featured on The Moth Story Hour
The Great Canadian Tire Money Caper by Corin Raymond
Corin Raymond's last Fringe hit, Bookworm (Pick of the Fringe Victoria Fringe 2012) spoke to his love of books and reading. In this true tale, he recounts how, as a musician, he made an entire album with financing from Canadian Tire money. With dramaturgy by TJ Dawe, this is a quintessential Canadian story of quiet triumph over adversity.
www.corinraymond.com
Venue 5, St. Andrews School, 1002 Pandora Avenue
The Exclusion Zone by Martin Dockery
When it comes to storytelling, Martin Dockery is prodigious with eleven current titles to his name—either solo or two-hander shows–and awards from Orlando to New York, Ottawa to Edmonton. Originally introduced to Victoria audiences in 2010 when he toured Wanderlust, we have rarely had the opportunity to see him in subsequent years (in 2013 he appeared in Bursting Into Flames and the two-hander The Pit with Vanessa Quesnelle).
Dockery's style is intense and often quite philosophical.
The Exclusion Zone is a true story about a cult film about a journey to The Zone, the very heart of the irradiated ghost-city of Chernobyl.
www.MartinDockery.com
Two by Break Contemporary Circus, written and created by Cameron Fraser and Sarah Peterson
I met Cameron Fraser in 2013 when he performed Sense;Or as part of Intrepid Theatre's YOU Show. Combining contemporary circus arts and acrobatics with physical comedy and dance, this multidisciplinary show will be unique in its design and execution.
Two explores a young couple's relationship evolution from budding romance to established.
www.bccircus.com
Venue 6, Langham Court Theatre 805 Langham Court
The Inventor of All Things, Big Word Performance Poetry, Jem Rolls
In the pantheon of Fringe performers, Jem Rolls is at the pinnacle, having performed in more than 100 Fringe Festivals over the past decade. His flyering technique is legendary. Fringe awards and kudos have piled up. The Fringe is Jem's livelihood, for as he will attest, he has no records, books or merch to catalogue his endless creativity. It's all in the moment.
Known for his exceptional ability to twist the English language on its ear, and wring every possible definition from connected syllables, this year Jem embarks in a new direction. Rather than spoken word musings, The Inventor of All Things recounts the life of genius Leo Szilard, the forgotten physicist who wrecked the Nazi Atomic Bomb.
Everyone should experience the wizardy of Jem Rolls.
www.facebook.com/TheInventorOfAllThings
The Honeymoon Period is Officially Over, written and created by Gemma Wilcox
Versatile physical performer Gemma Wilcox continues to collect accolades (16-time Best of Fest winner) for her multi-character shows. Imagine—a leaf, a cat, a car, people, birds—over 20 characters in a story of loving and letting go. Whimsical, humourous with a poignant sense of the inevitability of loss, this show will strike a chord with many.
www.gemmanwilcox.com

Best Female Performer, Victoria Fringe 2009, 2014
Icarus Dancing, written and created by Rob Gee
Gee has a particular blend of spoken word and comedy that is unmatched. With a perpetual twinkle in his eye and a wicked sense of the absurdities of daily life, this former psychiatric nurse will have you howling with his observations.
Previous Fringe hits include: Fruitcake, The Genghis Khan Guide to Etiquette, Smart Arse, Forget Me Not. Gee is a popular performer and multi-Pick of Fringe award winner, and his shows do sell out.
www.robgee.co.uk
Venue 7, Fairfield Hall, 1303 Fairfield Road
How Often Do I Dream…Written and Created by Katie Dorian and Alexis Milligan
Highly recommended by fellow Fringe fanatic Brian Carroll who saw the show in Winnipeg and wrote:
One of the advantages of the Fringe circuit is that you have a chance to see shows unlike anything you've seen before. I don't remember ever seeing a show like this one. If you like Fringey, this is for you.
How Often Do I Dream…. has a wide audience appeal according to Carroll.
An exploration of how memory functions. What do we become when our memory begins to fade?
The Old Woman, by John Grady
If 2014 was the year for magic, juggling, puppets and circus, then 2015 is the year of storytellers. John Grady is a multiple Moth Storytelling Slam winner and a former member of Ballet BC. He appeared in Fear Factor: Canine Edition (since renamed The Dog Years) at the Victoria Fringe in 2012 and UNO Fest in 2014. His elegant style will immediately capture and command your attention. Grady is a consummate professional.
A true life faerie tale about dementia.
Venue 8, the Roxy Theatre, 2657 Quadra Street
Hitodama, Mochinosha Puppet Company
They had me at "horror comedy puppetry". Mochinosha performed ONI, a "sexy" Japanese shadow show at the Victoria Fringe 2014, and followed it up with Devil's Circus, a family show at the inaugural Puppets for Peace Festival. Their complete mastery of this ancient art form is a joy to behold for any aficionado of shadow puppetry.
Be prepared to have your blood curdled and your spine chilled.
Adults only.
www.mochinosha.com